Here we are midway through the last third of the year, and most community bands are busy rehearsing, for a variety of programs from formal concerts to Santa Claus Parades; the last thing that any band needs at this time of year is any disruption of rehearsals. Many community groups rehearse in schools, so for many bands in this part of the world there was near panic that these schools might be closed due to a possible labour dispute. Fortunately, at the very last minute the matter was settled. I, myself, received notices a few days later that all rehearsals would proceed as scheduled.
It was, however, a sobering reminder of a topic I have been known to occasionally rant about: the dilemma facing many community musical groups regarding rehearsal space. Most groups are tenants of schools, churches or community centres. Few have any real means of avoiding such matters. School music rooms are ideal rehearsal spaces, complete with music stands, and much of the heavier percussion equipment. However, most music teachers and many principals have concern for the safety of this equipment. I have known of a number of situations where a new music teacher, or principal, arrived at a school and expressed concern for equipment safety. All of a sudden, a band which might have rehearsed there for years, found themselves homeless. Even if they manage to obtain another kind of rehearsal space, where do they keep larger percussion instruments, stands and maybe music library?
Actually, we just recently heard of a good compromise. When the band Resa's Pieces were told that the music room they had been using would no longer be available, they were offered a different, much larger room with no instruments or stands. With a bit of ingenuity the band was able to negotiate a compromise. Members of the band were given permission to construct a storage space at the end of the rehearsal room to store percussion equipment. Members still have to bring their own music stands.
Might it be time for community bands to be recognized as important components of the local culture and be accorded more assistance in obtaining and retaining a home?
Speaking of rants, I'd like to refer to one that I overheard at a rehearsal recently. One member of a band referred to it as the "band practice." Another vigorously disputed the choice of words: stating that he was at "a band rehearsal." The matter was eventually settled amicably; all agreed that they should "practice" at home to prepare for the "band rehearsal."
Conspicuous cold weather commitment
Now, for coming band activities. When I first entered the band world, parades were an integral part of almost every band's activities. My very first public performance was a Labour Day Parade. In smaller communities particularly, the town band was a major component of community activities. How often do community bands parade now? For many, the answer is never. We just received word from one of the few exceptions in this part of the world. The Newmarket Citizens Band (by their own admission, Canada's oldest town band) has announced no fewer than three such events in the coming (chilly) weeks. These include a Remembrance Day Parade, A Candlelight Parade and Treelighting Ceremony, and Santa Claus Parade. For those who have never played their instruments on parade before, help is available from more experienced band members. That band even has a set of special cold weather band parkas as part of their uniforms. They look at these events as an important part of their community involvement. What percentage of community bands in our part of the world can match that?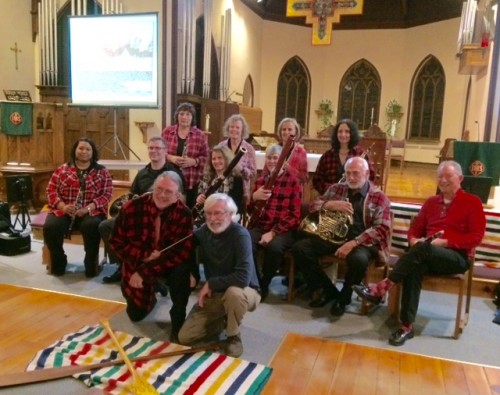 "Blowhards" by name
On October 11, I had the pleasure of attending a very different type of concert from anything that I had ever experienced before, by an instrumental group I had never heard of before. Made up of 10 wind musicians, conducted by John Liddle, they call themselves "Fanfarones." The first portion of the concert consisted of relatively familiar music including: Wedding Day at Troldhaugen from Grieg's Holdberg Suite, Tango Op.165 by Albeniz, Jamaica Farewell by Irving Burgie, and excerpts from Rocky Mountain Suite by Canadian composer Pete Coulman. To end the first portion of the program, conductor John Liddle played Hoagy Carmichael's Stardust on his trumpet.
The second portion of the program featured the Fanfarones performing a new work, Canoe Dancing, by local composer Stu Beaudoin. Beaudoin's original idea had been to produce a ballet, and Canoe Dancing could still be described as a dance-like programmatic musical journey. As the work progressed, its musical impressions of canoeing were reflected on two large viewing screens on either side of the stage, capturing the many different aspects of canoeing in the music. The pictures taken by Beaudoin himself, and fellow canoeing enthusiasts, portrayed both scenic beauty and the sometimes terrifying experiences of the canoeists in rough water: from views of canoeists gently paddling along tranquil waters at sunset to others struggling to stay afloat while trying to negotiate violent rapids with surf thundering over rocks on all sides. At times, audience members felt as though they were participating in a journey, with emotions ranging from tranquillity to terror. In all, a fascinating and entertaining performance, by a group worth knowing more about.
I contacted Helen Graham, one of the founding members of the group. Here's how she described their birth: "Fanfarones was invented in 2012 as an experiment in sound, to add a pair of flutes to a wind octet. We decided it was more fun with ten, and so have kept with this formation. Core members at the time in 2012 were Tom Fleming, Bill Krangle, Helen Graham, Dorothy Ward and John Liddle. Our player-members are drawn from the wind sections of community orchestras across the Toronto area.
"The name Fanfarones is Italian for 'blowhards,' which we consider to be both a pun on wind players, and poking some fun at ourselves if we ever got too arrogant, given the English language meaning (somebody who boasts and brags). We also like to say that Fanfarones means "quirky, elegant music."
They perform music originally written for their instrumentation, as well as arrangements, and their programming ranges from classical through to modern day popular music. The earliest original piece for such instrumentation that they have found so far is a work by Donizetti.
All in all, Fanfarones are 11 musicians who celebrate beautiful music that surprises as well as delights. The group is comprised of pairs of flutes, oboes, clarinets, French horns and bassoons. Sometimes they refer to themselves as a "dectet." The 11th member is conductor John Liddle, who on occasion plays trumpet with the group. In Helen Graham's words: "We create a sonority that plays with a broad palette of instrumental colours. Orchestral musicians who also revel in that small group vibe, we provide quirky, elegant music."
Other News
As I have mentioned previously, for many years my contact with Silverthorn Symphonic Winds has been Heather Engli. Heather decided to make a drastic move to Wolfville, Nova Scotia a few weeks ago. She now tells me that she is loving Wolfville. She already has hooked up with Dan Kapp, of New Horizons renown, who moved there some months ago. She is also very busy playing with the Symphonic Band at the university and singing in a church choir. Dan Kapp also plays in the Symphonic Band and has invited her to play in the King's County Community Band. It's a great example of the social benefits of playing in musical groups, and of how one can find community through music.
Just Missed
As I write this, I am looking forward to the Wychwood Clarinet Choir's Halloween concert "Creepy Clarinets" on October 27. Unfortunately, it will have passed by the time this issue is available. It includes Humperdink's Overture to Hansel and Gretel; Moussorgsky's Baba Yaga's Hut and Great Gate of Kiev; Mancini's; The Pink Panther and Grieg's In the Hall of the Mountain King.
BANDSTAND QUICK PICKS
NOV 2, 2:30PM: The combined Navy bands of Toronto's HMCS York and Hamilton's HMCS Star present their Remembrance Concert at the Cathedral Church of St. James, 106 King St. E in Toronto.
NOV 2, 7:30PM: Toronto's Professional Flute Choir, Flute Street will be joined by special guests, Les Flûtistes de Montréal, at the Church of St. Peter and St. Simon-the-Apostle, 525 Bloor St. E. If you are not familiar with the variety of flute sizes, this is a great chance to hear them. From the usual concert flute this group includes alto flutes, bass flutes, contrabass flutes and even a giant sub contrabass flute. Compared to the regular flute, about two feet long, this instrument stands over six feet tall.
NOV 2, 7:30PM: "A Little Wind Music" by Upper Canada Brass will include Impressions by Paul Lovatt-Cooper, When Thunder Calls by Len Ballantine and Hannaford Street March by Kevin Lau. St. Paul's Anglican Church-Innisfil, 3294 St. Paul's Crescent St., Barrie.
NOV 23, 7:30PM: Silverthorn Symphonic Winds will present their fall concert at the Wilmar Heights Events Centre, 963 Pharmacy Ave., Toronto.
NOV 29, 7:30PM: The Newmarket Citizens Band will be at Newmarket's historic Old Town Hall, 460 Botsford Street, to present their formal seasonal concert, "Winter Fantasy," with special guests, Marquee Theatrical Productions Elite Intermediate Youth Group.
Jack MacQuarrie plays several brass instruments and has performed in many community ensembles. He can be contacted at bandstand@thewholenote.com.