A few months ago I mentioned a trip to Ukraine by Bob Gray, a local band conductor, teacher and trumpet player. What he learned on that trip inspired him to pay another visit, with two primary goals in mind. The first was to investigate the feasibility of start-up brass bands in Ukraine during his eight-week stay in Kiev. The second was to be there for the celebration of the 25th anniversary of the Salvation Army's ministry in Ukraine. In a recent email from Kiev, Bob reported on how things are going there, and unfortunately his first goal is not working out as easily as he had hoped. The idea was to investigate the feasibility of establishing new brass bands there. However, at present, there are no Salvation Army bands in Ukraine to use as models. Since there is no tradition upon which to build, there are no qualified leaders or instructors already active within the Salvation Army organization, making it difficult for some of the congregations to sustain and support the start and development of any band. Other setbacks: he has also learned that their music for worship in Salvation Army services differs greatly from the rest of the Salvation Army world. There are no brass band arrangements of the songs used there. Even for Christmas, the carols used in many places elsewhere differ from those familiar and popular in Ukrainian culture.
His second purpose for his extended trip will likely have a happier outcome. He will be there for the celebration of the 25th anniversary of The Salvation Army's ministry in Ukraine. This event will take place on the weekend of June 8 to 10 in Victory Park and Hotel Bratislava. For this occasion, the Salvation Army band from Winton Corps, in Bournemouth, England will be participating. Bob has been asked to sit in with that band, as one of their cornet players is unable to make the journey to Kiev. It is the hope that the activities of this well-established band will stir some interest in resurrecting the brass band movement within the ranks of the Salvation Army in Ukraine. We wish him every success, and hope to hear of the establishment of new bands there in the near future.
Strings Attached
From messages about all-brass music thousands of miles away, we move to news about all-strings music right here in town. We have just heard from Ric Giorgi about the next concert of the Strings Attached Orchestra, their final concert for this year on June 3, again at the Isabel Bader Theatre. As usual, the program was designed to span a wide spectrum of music from such classics as Handel's Arrival of the Queen of Sheba and Bach's Brandenburg Concerto No.6 to Ashokan Farewell and the Best of ABBA.
The Plumbing Factory
Speaking of all-brass bands, we also just had a message from Henry Meredith of the Plumbing Factory Brass Band where he referred to the "devastating and relentless winter" we've all just been through. Rather than paraphrase what he said, here is his musical response to Mother Nature, verbatim: "Because of the ice storms only a week before our 'spring' concert, and the snowstorm on the night of our dress rehearsal, the PFBB has now decided to expand our concert season into the late spring and early summer. It is hoped that this will make it easier on both us and our audience, not to have to battle the weather to prepare and enjoy our brass band music. So we have decided to keep rehearsing, and to develop a brand new concert for you, to be performed on June 27."
In typical Henry Meredith style, he outlines the program in one of his poems.
This little rhyme will explain the reason
Why we established a new summer season
It also provides a few hints about
The music which you will enjoy, without doubt.
The concert, "Summertime Musical Adventures" (June 27, 7:30pm at Byron United Church, 420 Boler Rd., London), will include such band favourites as Ringling Bros. Grand Entry, Barnum and Bailey's Favorite, Bernstein's Candide and The Whistler and his Dog by Arthur Pryor.
A Musical Movie
Something entirely new appeared on my radar screen recently: a Russian-Canadian film production company that is in the process of making a documentary about Benny Goodman's historic tour of the USSR in 1962. Now, over 55 years later, this story is still alive in the minds of people who remember those concerts of the jazz orchestra of Benny Goodman, those "strange" but incredibly attractive American musicians. They remember the joy of buying scarce tickets and enjoying music, and screaming "encore" up to ten times. The whole world as we knew it was struck by the headline at the time. "The King of Swing Benny Goodman Plays Yankee Doodle Dandy on Red Square." Certainly Russians had never seen anything like that before.
This full-length feature film, Trojan Jazz, will retell the events of the exchange of talented musicians between the US and the Soviet Union. The anticipated appeal is to jazz enthusiasts in both English- and Russian-speaking cultures. The concept of Trojan Jazz likens the Benny Goodman Orchestra to members of a Trojan horse that brought Western jazz culture into an isolated Eastern jazz culture. The impact was unpredictable. Jazz musicians of both cultures exchanged written ideas, which began a collaboration second to none.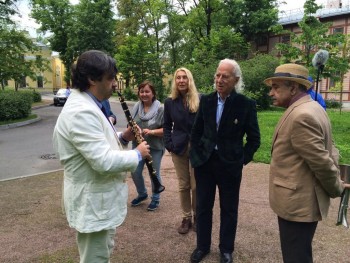 Local concert clarinetist Julian Milkis, son of former TSO concertmaster Yasha Milkis, is cast as Benny Goodman. Milkis actually studied with Goodman while attending the Juilliard School of Music in New York City. He can be seen in a variety of ensembles recreating some of Goodman's hit songs.
To illustrate the Goodman legacy of playing big band music continuing to this day in community groups around the world, the producers wanted to show such a group in rehearsal So, all of a sudden, one evening a few weeks ago, I and my bandmates found ourselves being bombarded by bright studio lighting and surrounded by at least a half-dozen cameras. The Toronto-based rehearsal band Swing Machine, of which I have been a member for many years, was chosen and filmed to exemplify this ongoing tradition. There we were many years later, still enjoying the performance of big band music. We haven't heard anything of when or where this movie might be seen, but I am told a visit to https://firstjazztourinussr.com will provide more in-depth information as the project develops.
Mikhail Sherman
A few weeks ago, at a regular rehearsal of the Swing Machine Big Band, I looked across at the saxophone section. The usually very reliable baritone saxophone player, Mikhail Sherman, was missing. We later learned that he had decided to have a nap before leaving for the rehearsal, but never woke up.
Born in the USSR, Mikhail grew up with a love of music in a country famed for great classical musicians. After serving time in the army and playing in a military band, he went on to become the principal clarinet and saxophone player for the famed Moscow State Circus, City of Lviv, for seven years.
In 1979 he left and came to Toronto to pursue more opportunities. He started his life here as a refugee with nothing. He washed dishes and became a cook at the Windfields Restaurant. His love for music led him in another direction. It was here that he met Frank Fermosi and Rocco Nufrio, the owners of the then-successful Saxophone Shop. They quickly spotted Mikhail's love for music. He, in turn, showed a keen ability to learn the trade of repairing instruments. They offered him a job and training, in which he quickly excelled!
In 1986, when the Sax Shop closed, Mikhail decided to would open his own shop in North Toronto. Still with little in his pocket, he started Mikhail Sherman Music Service, which was to become one of the most successful woodwind repair shops in Canada, servicing the educational system and many top professional musicians. Mikhail passed away peacefully and suddenly in his sleep on April 26, 2018. Many of the great musicians and music educators in the GTA will miss his quick response and expertise. A true rags-to-riches story.
Uxbridge Community Concert Band
After a year's absence from the local band scene and some questions about the band's rebirth, the Uxbridge Community Concert Band, with Steffan Brunette at the helm, has now had its first rehearsal. Steffan took a year off to study composition and to do some travelling. Rather than assume all of the many duties required to operate a band successfully, Steffan now has an executive team to help with the many details, but it is, once again, a superbly organized band. After their first rehearsal it became evident that a few more trumpets would be welcome. The band is a summertime-only group that rehearses in Uxbridge on Wednesday evenings. For information, email uccb@powergate.ca.
Toronto Summer Music Festival
On Sunday, July 29 at 2pm, the 2018 Toronto Summer Music Festival will commemorate the 100th anniversary of the end of WWI with a concert titled "Reflections on Wartime" at The Bentway. This will include a full afternoon of events with a feature performance by the "Canadian National Brass Project." For those not familiar with it, The Canadian National Brass Project brings together many of the best brass players from professional symphony orchestras throughout North America, and each summer this all-star ensemble, led by conductor James Sommerville, joins forces and performs across the country. The program will include Tchaikovsky's 1812 Overture, Mussorgsky's Pictures at an Exhibition, and Mars from Gustav Holst's The Planets. Concertgoers can also take in the sights and sounds of the Fort York Guard, enjoy a demonstration of artillery firepower, and hear military music by the Fort York Drums. There will also be a "Musical Petting Zoo" for children to test out a variety of musical instruments. For those not familiar with it, The Bentway, 250 Fort York Boulevard adjacent to Old Fort York, is being described as Toronto's most exciting new outdoor concert venue.
A few days later, on Thursday, August 2 at 7:30pm in Koerner Hall, TSM will present "A Big Band Celebration," which will focus on music of World War II. During the darkest days of the war the big band music of Benny Goodman, Count Basie, Glenn Miller and others was a major source of entertainment for life on the home front. As the presenters suggest, these familiar tunes became a metaphor for the way of life soldiers were fighting to preserve. This promises to be a stimulating evening of the best of the big band era as interpreted by music director Gordon Foote and featuring JUNO Award-winning jazz singer Ranee Lee.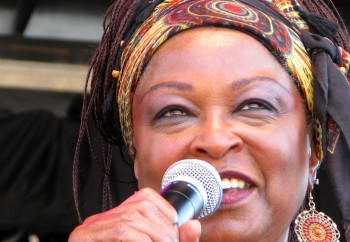 Coming Events
By the time this issue is available in print, some of the events mentioned below will have taken place, but for the record and for online users, they are included here. Now that summer is close at hand, Resa Kochberg's three musical groups have announced their current concert plans:
On Sunday, May 27 at 7:30pm, Resa's Pieces Concert Band will perform at the Flato Markham Theatre, 171 Town Centre Blvd., Markham.
On Sunday, June 3 at 7:30pm, Resa's Pieces Strings Ensemble will be at St. Basil College School, 20 Starview Ln., North York.
On Monday, June 4 at 7:30pm, Resa's Band will present another concert at Mel Lastman Square in Toronto.
On Monday, June 11 at 8pm, Resa's Singers Ensemble will perform at Beth Emeth Bais Yehuda Synagogue, 100 Elder St., North York.
Jack MacQuarrie plays several brass instruments and has performed in many community ensembles. He can be contacted at bandstand@thewholenote.com.