Here we are, it's December already, but with many community ensembles still more focused on sesquicentennial projects as the year draws to a close than on events that could be described as special for the Christmas season. Let's start with two band projects we have recently learned of that warrant mention, both of which have significant historical aspects.
Cobourg: The first of these is the announcement of a CD by the Cobourg Concert Band. Although this CD, Pride of Performance, was officially released on Canada Day at the band's concert in the Cobourg Victoria Park Bandshell, it did not come to our attention until a few days ago. There are a number of ways in which this CD is special. Not only is it a sesquicentennial project, but it marks the 175th year that there has been a town band in Cobourg. That's 25 years longer than Canada has been a country. Whether that sets a record for the establishment of a town band in Canada will be left for this Cobourg band to dispute with the Newmarket Citizens' Band and any others that might claim such a title. Every track on this recording is either a new arrangement of an established work or a completely new composition. All are by local musicians, including some band members. Even the cover artwork was created by contest winners from the local St. Mary's High School. I hope to see a review of this CD in a future issue of The WholeNote.
(A side note: this band also bears the title The Band of Her Majesty's Royal Marines Association – Ontario, and is allowed, by royal assent, to wear the uniform of the Royal Marines. How could this be, you might ask. Some years ago a man named Roland White moved from England and took up residence in Cobourg. He just happened to have been an assistant bandmaster in the Royal Marines working under the renowned conductor Sir Vivian Dunn, and had studied conducting under Sir John Barbirolli. When the town band needed a new conductor, there was White to take over, get that royal assent and change the image of the town band to its present pride of Cobourg.)
London: Where else might we look for a sesquicentennial band project? The first place that comes to mind, of course, is Henry Meredith's Plumbing Factory Brass Band in London. On Wednesday, December 13, 7:30pm at Byron United Church – 420 Boler Rd., London, Ontario – the PFBB will celebrate Canada's 150th birthday with "The Golden Age of Brass," featuring music from the 1800s on period instruments. Since Confederation-era music will be highlighted, von Suppé's exuberant Jolly Robbers Overture, written exactly 150 years ago in 1867, will open the program. Then, band music by big name composers will include Beethoven's Marsch des Yorck'schen Korps and Mendelssohn's War March of the Priests. The centrepiece of the program will be the challenging Raymond Overture by Ambroise Thomas.
Last month I mentioned the importance of musicianship for ensembles to really tell their story. Well, in this program, Dr. Hank has selected a set of four up-tempo compositions to test the skill of his band's musicians. One highly regarded composer of the 1800s, famed for his toe-tapping pieces based on popular dance forms of the mid-19th century, was Claudio Grafulla. To demonstrate their skills, the band will play a set of four of his works: Cape May Polka, Freischutz Quick Step, Skyrocket March, and Hurrah Storm Galop. Another seasonal favourite, Johann Strauss Sr.'s famous Radetzky March from 1848, will bring the concert to a rousing close. I'm sure that many instruments from Dr. Hank's vast collection will be front and centre at this concert.
(Another sidenote: While brass bands have many loyal followers, particularly in England and much of North America, that has not always been the case. With the origin of the brass band movement coming largely from company "works bands" in England, there were often considerable derisive comments about them. Sir Thomas Beecham was famous (or infamous) for two of these comments. "The British Brass Band has its place – outdoors, and several miles away" is perhaps his most often quoted. But the one that drew the most ire was when he referred to the brass band as "that superannuated, obsolete, beastly, disgusting, horrid method of making music." However, attitudes gradually changed, and in 1947 Beecham even guest-conducted a mass band concert at Belle Vue.)
Ukraine: Speaking of brass bands, recent Salvation Army news caught my attention. The Salvation Army is represented and active in 127 countries around the world. In many of these countries, Salvation Army groups have brass bands. Ukraine, in particular, is a country where there is a will but not the required leadership to develop the brass band movement. Several attempts have been made over the last 25 years to stimulate interest. While some attempts have been successful, with the political unrest of recent years, these have been difficult to sustain.
Enter Bob Gray, a Toronto high school music teacher, trumpet player and conductor with whom I play regularly, who has been active in the Salvation Army for many years. About six years ago, at the Salvation Army's music camp at Jackson's Point, he met two young men from Kiev, a cornet player and a euphonium player. After they had returned to Kiev, Bob decided to look into the SA band situation in Ukraine. After the revolution of 2014, Salvation Army churches throughout Ukraine closed, and now there are only two remaining in Kiev. Having learned of the demise of that Salvation Army movement, Gray decided to try to do something to rectify the situation. Item one on his agenda was language study. For over a year he actively studied in preparation for visits to Ukraine for Salvation Army activities. He went to Kiev for the first time in June 2016, then in May 2017, and again in October 2017. Gray, along with the people he met at Jackson's Point years ago, are trying to resurrect the brass band movement in the Ukraine and, in particular, Kiev. A survey showed that there were 25 instruments in working order and a few players who were willing to commit time and effort to form what would be a divisional band base in Kiev.
The Salvation Army will be celebrating their 25th anniversary of operations in Ukraine this coming June. It is hoped that the divisional band in Kiev will have its debut during that weekend of activities. The Winton Citadel Band from Bournemouth in the United Kingdom will be the featured band for the festivities. The city of Kiev hosted the Eastern block countries Eurovision Song Festival this past June. During the event many groups entertained in local parks and squares. The Salvation Army provided a musical presentation in Victory Park. Bob Gray was a featured cornet soloist as part of these outreach concerts.
A trip to Belgium: A couple of months ago I heard from longtime friend Colin Rowe that he would be travelling to Belgium. I first met Colin some time around 1984 when we were both playing in a swing band at the Newmarket Jazz Appreciation Society. After that, he played trombone in the Governor General's Horse Guards Band and subsequently became their drum major. Having moved East some years ago, Colin now has the same duties with the Cobourg Concert Band.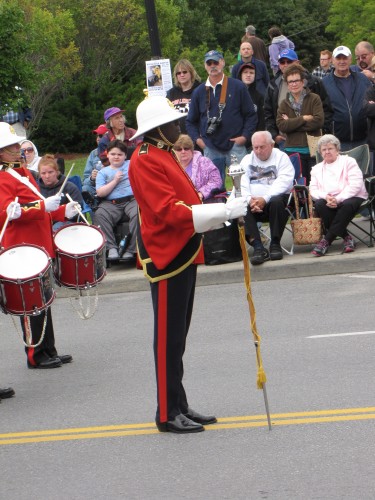 To commemorate the 100th anniversary of the battle of Passchendaele, Veterans Affairs Canada decided to mount a very different form of memorial. Specifically they identified nine recipients of the Victoria Cross from that era and the nine regiments in which they served. Then they selected a living representative of each regiment to go to Belgium, but that person could not be a currently serving member of the regiment. One of those VC recipients was Private Tommy Holmes VC from the 48th Canadian Mounted Rifles. At some time after WWI that unit's name was changed to the Governor General's Horse Guards. As the representative from the GGHG, Veterans Affairs selected Colin Rowe. All of regimental representatives, along with the band of the Royal 22nd Regiment, embarked on an RCAF transport for their trip to Belgium on November 5.
Another formerly local musician was Kevin Fleming, who was originally introduced to the GGHG by Colin as a trombone player. Later, like Colin, he continued to play trombone, but became Drum Major of the GGHG. Some time later Fleming transferred to the Regular Force, and a while ago to the Royal 22nd Regiment, nicknamed the Van Doos. Their band was selected as the lead band because Passchendaele was one of that regiment's battle honours. While there were many ceremonies, the highlight for Fleming was at Passchendaele, with a torchlight parade from the WW1 monument to the town square followed by a concert.
Those who went on that trip commented that it had been meticulously organized by Veterans Affairs, and that on the flight over, they were presented with a six-page detailed itinerary for their ten-day visit to memorials and cemeteries, informing them of the time and place of their every move.
(Aside, again: speaking of Belgium, one significant recent event I attended was a concert by Toronto's Wychwood Clarinet Choir on November 19. While most of the works performed at their concerts are special arrangements, the opening work, Claribel, was written by Belgian composer Guido Six specifically for his Claribel Clarinet Choir in Ostend. This was a wonderful rousing opening. The arranging talent of choir member Roy Greaves was certainly on display as the choir's moods traversed from the Irish folk song The Lark in the Clear Air and a Mozart Serenade to three tangos by Astor Piazzolla. Harmonically the choir sounded better than I had ever heard it. Their harmonies were so well blended that one might think that their sounds were coming from a single source.)
Greenbank, Ontario: From the tiny Ontario hamlet of Greenbank, conductor and composer Stuart Beaudoin brought his Orpheus Symphonietta to the small town of Uxbridge for another memorable recent event – a concert featuring his new composition Elegy II: Lament and Tchaikovsky's Symphony No.5. This was the first performance of his composition which conveys, in musical terms, some of the spectrum of the composer's emotions arising from world events during his lifetime. It's an interesting work which bears more listening. This same man will be back two weeks later with his Greenbank Cantorei sine Nomine choir and the same orchestra for a three-hour performance of Bach's Christmas Oratorio in English.
Flute Street: That other local same-instrument-family group, Flute Street, unfortunately had their most recent concert on the same date as the aforementioned Wychwood Clarinet Choir. Their featured soloist was Christine Beard playing alto flute and piccolo. Those types of same-instrument ensembles would seem to be competing for the same audiences, and it is unfortunate that there is not a central registry to avoid such overlaps. Flute Street's Nancy Nourse had hoped to have her new contra alto flute, but it wasn't available on time. She says that it will be the first of its kind in Canada. She intends to unveil it in time for their next concert, possibly in March. It's an unusual instrument made in Holland. She may even travel there to get it and bring it home.
Jack MacQuarrie plays several brass instruments and has performed in many community ensembles. He can be contacted at bandstand@thewholenote.com.