What a way to kick off the fall music season. Although I had often heard of Quartetto Gelato since they first hit the Toronto music scene 25 years ago, I had never had the opportunity to hear them in person. Now, here they were almost on my doorstep, at the classic Uxbridge Music Hall, 15 minutes from home. If you have not heard of Quartetto Gelato, you have been missing out on first-rate entertainment provided by a very skilled, classically trained ensemble with the most unusual instrumentation of violin, oboe, accordion and cello. The group has had numerous personnel changes since 1992 with violinist and tenor singer Peter De Sotto being the only original member still in the group. Alexander Sevastian, who joined in 2002, was the winner of the renowned Coupe Mondiale International Accordion Competition in Washington in 2007. In 2009 they were joined by Colin Maier on a wide range of instruments including oboe, clarinet, violin, five-string banjo, electric/acoustic bass, flute, guitar and musical saw. In that year Elizabeth McLellan also joined the group on cello.
With the unique sounds of this instrumentation, and their years of classical training, the ensemble boasts an eclectic repertoire that ranges from Brahms, Bach and Weber to Argentinian tangos, gypsy music and much more. Initially, from my vantage point in the balcony, I assumed that the accordion was the fairly well-known large piano accordion. After watching the dazzling movement of the fingers of Sevastian's right hand, I realized that this was not the instrument that I had assumed. It is a rare Bayan accordion where the right hand has an amazing array of buttons. (For those who might be curious about the Bayan accordion there is a 30-minute lecture on YouTube detailing its complexities.)
There was not a scrap of music in sight the entire evening. All of the shows musical and choreographic intricacies were performed by memory, with De Sotto switching routinely from violin to his fine tenor voice. Other than the cellist, who remained on her private podium, the others were often in movement. At one point, with De Sotto playing his violin while kneeling on centre stage, Maier put down his oboe, removed his shoes and socks and began a gymnastic routine flip-flopping back and forth over the violinist. It turns out that he is also a dancer and acrobat who spent a time in his career with Cirque du Soleil.
How does this musical group get away with such histrionic showmanship, and what does this all have to do with this column? The answer: first and foremost, is that, for community bands there is a lesson to be learned here. Quartetto Gelato displays outstanding musicianship. With the music under complete control, then a musical group can afford to indulge in showmanship. Unfortunately, in many community bands, either showmanship takes precedence or remains completely hidden. Either way, the end result can be a lacklustre show.
Musicianship
What's the best way for a community band or orchestra to achieve their musicianship goals? I'm sure there are many ways, but we just heard of an interesting procedure used by Ric Giorgi, conductor of the Strings Attached Orchestra. Here's the kind of email message he sends to members of his group after a rehearsal: "1. Keep working to make a difference in the sound of notes according to the staccatos, tenutos, caps or accents etc they have over or under them. The rhythm was starting to sound pretty classy once you started playing these. Check your accidentals and see how far into the section after letter E you can get. 2. After letter E the arranger throws the melody around in bits to different sections, so write in (in pencil) the beat numbers and sub-beat 'and's with vertical lines over them so it's clear how much you have to rest between notes as well as how you play when you have notes. Remember that an accidental affects every note in a bar after the accidental and any note that's tied into the next bar."
This may all sound very elementary, but it certainly doesn't hurt to honour the basics.
While on the subject of Strings Attached, we just received word of their Young Composers Initiative (YCI). In November they will be performing Cassiopeia with the 2016 YCI winner in Orangeville. Last year's second-place winner (now 12 years old) has said that he's determined to outdo his previous effort. More power to him.
A trip to London
Next recent musical journey for me was a trip to London, Ontario. The first part of this trip was to sit in as an observer of a class reunion of music graduates from Western University. While I did not attend this university, it was interesting to observe class mates of years gone by. Having not seen each other for years, they soon coalesced into a band and a choir in the morning and performed on stage in the afternoon. Again: musicianship at play.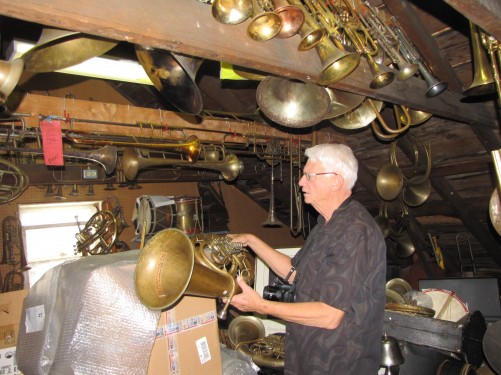 The other part of my journey took me to the home of Professor Henry Meredith, also known as Dr. Hank, the conductor of the noted Plumbing Factory Brass Band. Having donated some of my older instruments to his collection of old brass instruments, I was expecting to see a large array of instruments including some obscure vintage items rarely seen in public these days. Astounding would be a better to describe what I saw. On the ground floor of his house there were a few instruments. Then, in the basement I saw rows of trumpets, cornets and bugles hanging six deep on pegs in one section, with larger instruments in nearby nooks. Then it was off to the two-car garage. There were two cars in the driveway, but no room for them in the garage. Hanging all over were framed pictures of town and military bands from years gone by. How many forms of tubas, sousaphones, ophicleides and other bass instruments could there be? Then we went up to the loft over the garage. More varieties of instruments, row on row, greeted us.
More about all this later, but, in short: I'd say all that Dr. Hank wants for Christmas is a museum to display his collection of 6.000-plus musical instruments.
Eddie Graf
It is with great sorrow that I report on the passing of Eddie Graf. Edwin John Graf was a composer, arranger, musician and bandleader. During WWII Eddie was a band leader in an army entertainment troop in Europe. It was there that he met his wife-to-be Bernice (Bunny), who was at his bedside when he passed away 73 years later. I first met Eddie in the late 1960s when I was acting as MC for many concerts in Toronto parks. Over the past few years Eddie had been gradually declining, but continued playing and writing music. He played in and wrote music for the Encore Band and his son Lenny's band. He last played his clarinet at a band concert just a few days before his passing.
On my return from London I headed straight to a service to celebrate Eddie's life. Such services are frequently very sombre memories of a person's life, but not this time. This was truly a celebration of Eddie by hundreds of fellow musicians and family members. Son Lenny spoke and showed a video which he had compiled about his father. This was followed by music from a small band of friends. I personally met up with many people with whom I had played as long as 50 years ago. Before we knew it, people were dancing to the band's music. Why, I even had a dance with Resa Kochberg the founder and director of Resa's Pieces Band. (By the way, Monday, December 4 at 7:30, Resa's Pieces, which over the years has grown to four distinct ensembles, presents "Music from your Favourite Films" at York Mills Collegiate, 490 York Mills Rd.)
Missed
Too late to attend, we learned of an interesting evening in Richmond Hill called "Notes and Quotes" on October 22. There was a lecture and concert on the music history of York Region by professor Robin Elliott, Chalmers Chair, University of Toronto. This was a partnership with the Richmond Hill Historical Society and Richmond Hill Heritage. The Richmond Hill Concert Band performed a newly commissioned piece by Bobby Herriot.
A different kind of missed concert for me, will be the Northdale Concert band's 50th anniversary concert which will take place on Saturday, November 4, 3pm, at the Salvation Army Citadel on Lawrence Ave. E., at Warden. Having been a member of the band for several years, I had hoped to be able to attend their special concert but a long-term prior commitment has to be given precedence. On a visit to one of their recent rehearsals, however, I did manage to hear Gary Kulesha's new Dance Suite for Concert Band and guest trombone soloist Vanessa Fralick's stunning performance of Arthur Pryor's Thoughts of Love.
Upcoming
Nov 2 and Dec 7 at 12pm: The Encore Symphonic Concert Band presents their "Monthly Concert" of big band, swing, jazz and film scores. John Liddle, conductor. Wilmar Heights Centre, 963 Pharmacy Ave., Scarborough.
Nov 3 at 8pm: Etobicoke Community Concert Band presents "Movie Magic" featuring current and past motion picture box office hits; Hollywood blockbusters, Disney at the movies, Queen's Bohemian Rhapsody and more. Etobicoke Collegiate Auditorium, 86 Montgomery Rd., Etobicoke.
Nov 19 at 3:30pm: The Wychwood Clarinet Choir presents "Harvest Song" featuring Claribel by Roland Cardon, The Lark in the Clear Air (arr. Roy Greaves), and many others too numerous to mention; conductor and clarinet soloist, Michele Jacot. Church of St. Michael and All Angels, 611 St. Clair Ave, W.
Nov 25 at 7:30pm: Silverthorn Symphonic Winds open their 2017/2018 season with "Fall Festival" at the Wilmar Heights Event Centre Concert Hall, 963 Pharmacy Ave, Toronto (just north of Eglinton).
Jack MacQuarrie plays several brass instruments and has performed in many community ensembles. He can be contacted at bandstand@thewholenote.com.