New Horizons. For the past several years this column, in the October issue, has reported on the progress of established New Horizons bands and the establishment of new beginners' bands. This year the news is even better. As mentioned here some months ago, a documentary on the establishment and growth of New Horizons bands in Toronto was featured on TVO. At the time we all wondered how this might stimulate interest in prospective members; then came the annual Instrument Exploration Workshop.
I was unable to attend the event this year, but I hear it was a bigger success than ever. In the words of director Dan Kapp: "As for the past week, a whirlwind of happy 'kids,' it was busy, exciting and full of happy reunions as folks came back to band class." It wasn't just a reunion for past members though. New Horizons Toronto now has 90 new members. Of those, 80 are beginners in two classes. This year there were three couples who joined together, two siblings of existing members and a few friends of other members who joined.
Being a low brass player myself, I have often lamented the lesser interest in the lower instruments. For many starting out on a new instrument there seems to be a certain snobbery in that they consider that the instruments which usually get the melody are in some way superior. My standard response is to suggest that they look at all of the great cathedrals in Europe and show me one where the construction began with the steeple. None! None would exist if they did not have a firm solid foundation. In any band the tuba is that foundation. Without the tuba the structure would be flimsy and incomplete.
So I am happy to report that, finally, after seven years, there is to be a new tuba player in the Toronto New Horizons bands! A woman who attended the instrument exploration evening was concerned about her carpal tunnel syndrome. She asked for a suggestion and at the same time asked what the group needed. Kapp suggested the tuba. Once she gave it a try, she fell for it and immediately took the mouthpiece home to practice.
Beginning this year there are a few new membership policies. The most innovative is "One fee, play in as many bands as you wish." Also, they now have had a few members at the advanced and intermediate level sign up for beginner classes on a second instrument. Another change is that, for the first time in their short history, they have had to cap classes for the remainder of the year for all woodwind, and high brass. They still have spots open for French horn, trombone, euphonium, and of course, tuba.
Finally, in previous years the band has produced a very special Remembrance Day program with a narrative based on letters from a soldier who was killed during World War II. They will be performing this concert, "A Time To Remember, " in Lindsay this year. The show is being billed as "A moment to reflect on war and its costs through word, music and images." More on the date and time when we have details.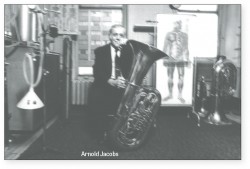 Time for tubas. Having been involved with low brass instruments most of my life, my ears perked up recently when I heard the unfamiliar term "Tubatorium" on the radio while driving. (I have no recollection of the actual program I was listening to, but I was determined to find out about the Tubatorium. With the help of Mr. Google and other friends I began my exploration. Was this a dealer who sold tubas or a place to learn to play the instrument? No! This is a tunnel under some railway lines in Nashville Tennessee. A man named Joe Hunter, who plays electric bass in a couple of local Nashville groups, had routinely been frustrated while stuck in long traffic jams while driving through this tunnel at rush hours. One of the websites I visited shows Hunter, a young man with shoulder length blond hair, playing a sousaphone beside all of the cars inside the crowded tunnel. With his right hand playing the instrument and the left one holding a container for donations from motorists stuck in the traffic of the tunnel, Hunter plays selections from his repertoire. It's not unusual to find buskers in unusual locations, but this was a new one. For many Nashville motorists the Thompson Lane Tunnel has been renamed the Tubatorium. If you're interested in seeing this on the internet, the words "sousaphone in tunnel" yield several results.
Low brass. Quite by accident, while looking for Tubatorium information, I stumbled upon a fascinating website dedicated to low brass instruments. Hosted by Sean Chisham, this website, chisham.com, contains a wealth of information for any brass instrument player, not just for those interested in the tuba. Right off, after you look at the options on the opening TubeNet page, one of the first sections that you will see is a set of complete fingering charts for B-flat, E-flat, C and F tubas.
For many years when anyone spoke of symphony tuba players, the pre-eminent name was Arnold Jacobs of the Chicago Symphony. This website contains an immense amount of information from Jacobs who was considered the master of instruction for low brass instruments. Such topics as "Warming up," "Play by sound not feel" and "Imitate others" are there complete with the sounds of Jacobs demonstrating. The most impressive component of this site is that of a complete 1973 masterclass conducted by Jacobs. Also on the site is extensive information on many famous musicians and their recordings
One final gem on the subject of tubas is the recent release in January of a new Concerto in B-flat Major by American composer Daniel Simpson. I have not had a chance to hear this work yet, but I have been told that the Finale: Tango movement is particularly impressive. Hopefully there will be more to report in a future issue.
CBA-Ontario Community Band Weekend. It's that time of year again when the Canadian Band Association, Ontario Chapter, will be holding another of their Community Band Weekends. This one will be hosted by the East York Concert Band from Saturday, October 22, at 8am until Sunday, October 23, at 5pm. With a Social Meet and Greet scheduled for Friday October 21 starting at 7:30, this event accords an excellent opportunity to experience a weekend of music making with like-minded individuals who share a passion for wind band music. It all takes place at the Royal Canadian Legion, Brigadier O. M. Martin Branch 345, 81 Peard Rd., Toronto. If you are a band member, this is a chance to meet with members of other bands and share ideas as well as rehearse and perform new music with guest conductors from across the province.
Aurora Community Band. In the last issue of this column I challenged band members to send us information on their bands and their activities. Fortunately one band member responded immediately to tell us about her band. Here's what Connie Learn, one of the band's directors, had to say: "The Aurora Community Band is now entering its sixth season of 'creating beautiful concert band music with and for the citizens of Aurora.' With musical director Gord Shephard at the helm, the band's membership continues to increase and we're looking forward with enthusiasm to this year's activities. The band rehearses in Brevik Hall at the Aurora Cultural Centre, 22 Church St., Aurora, on Sunday evenings from 7pm to 9pm. We would like to invite you to attend one of the band's rehearsals and experience the exuberance of this lively group of musicians. Brevik Hall is on the second floor of the Cultural Centre but there is an elevator for assistance, especially if you choose to bring your tuba!" For Canada 150 festivities, the band has commissioned a composition from professor Bill Thomas of York University. The band will have the premiere performance of this number at its concert on Canada Day 2017. We'll have more on this band's activities in coming issues.
The Originals Band. We recently had a request from Ian Miles, a member of the Royal Canadian Legion Concert Band, Branch 344, for any information on the history of that band. Many years ago, when Legion Branch 344 was located on Elm Street in downtown Toronto there was an active band. After the branch's move to their present location on Lakeshore Blvd., many of us lost contact with that band. In its early years the band was known as The Originals. In his message Ian states: "The RCLCB has rebuilt itself over the last year, and is doing quite well, but only two long-serving members (ten-plus years) are still with us, and what is missing is a historical perspective of the band." I personally remember well attending a farewell party for the conductor, Scotty Wilson, who was leaving to move back to Scotland. If any readers have any information on the history of this band, please contact us.
Band happenings. As reported on previous occasions the Newmarket Citizens Band spent years hoping for a new home after theirs was destroyed by fire. Over those years they had hoped to find a new home upon completion of the restoration of the old town hall. However, the restoration process took much longer than expected and finally about a month ago the band moved into its new home elsewhere. The irony of the situation is that, barely a few weeks after moving into this new home, they were invited to play at the opening ceremonies of the now-restored town hall.
Oct 11: Silverthorn Symphonic Winds will present their "59 Minute Soiree" at Wilmar Heights Centre, Scarborough. Refreshments, conversation with the musicians and open rehearsal to follow.
Oct 16: Markham Concert Band will present "Road Trip!" In honour of their recent journey to Markham's sister city Cary, North Carolina, they will present a tribute to great Canadian and American music: Broadway, jazz, marches and more. The concert will feature vocalists Solveig Barber and Bill Mighton.
Oct 18: The Barrie Concert Band will present "Veterans Salute," a musical tribute to the veterans and service men and women in the Canadian Forces. The concert, at the Army Navy and Air Force Club, will include military-related themes and will feature the Base Borden Brass and Reed Band as guests.
Oct 23: Wellington Winds present "Moving Masterpieces for Winds": Four Last Songs, Allerseelen, Der Rosenkavalier and other works by Richard Strauss; Amy E.W. Prince, soprano; Daniel Warren, conductor. At Knox Presbyterian Church, Waterloo. The concert will be repeated Oct 30 at Grandview Baptist Church, Kitchener.
Oct 28: The Etobicoke Community Concert Band will present "Aaarrr Matey," music of sailors, pirates and adventurers at Etobicoke Collegiate Auditorium.
Oct 29: The "Festival of Remembrance Concert" commemorating the 150th anniversary of the Ontario Regiment begins at 2pm.at The Embassy Church, 416 Taunton Road, Oshawa. Bands will include the Pipes and Drums of Branch 43 Royal Canadian Legion, the Oshawa Civic Band, and the Band of HMCS York.
Jack MacQuarrie plays several brass instruments and has performed in many community ensembles. He can be contacted at bandstand@thewholenote.com.