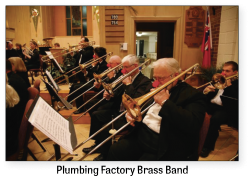 At this time of year the majority of bands we hear from are preparing for fall concerts, and only a few already have their sights set on Christmas. After attending the rehearsals of two different bands in mid-October, two weeks before Halloween, with nothing but Christmas music in their rehearsal folders, I was beginning to wonder if fall was going to be bypassed this year. Then we heard from the Wellington Wind Symphony. In their program November 1, "On the Road Again," conductor Daniel Warren takes the audience on a trip, with a broad selection of works by Grainger, Reed, Hazo, Mahler and Koetsier. In a similar vein, Silverthorn Symphonic Winds' November 28 concert, "Music that Tells a Story," is built around music from such shows as Anne of Green Gables. So chalk a couple up for fall fare. One day later, though, the Markham Concert Band tilts the balance slightly the other way with a concert titled "A Seasonal Celebration" including Christmas and Hanukkah favourites. (Although, to be fair, it also includes music from all eight Harry Potter films.)
Plumbing the Depths: If as some suggest the pun is the lowest form of wit, then hats off once again to "Professor Hank," Henry Meredith, for once again plumbing the depths of imaginative programming. For the London-based Plumbing Factory Brass Band's December 2 concert, Meredith has pulled out all of the thematic stops and put them to practical effect. Many bands will frequently feature a small ensemble of band members for one selection, but this time every section of the band gets to display the talents of its members. Rather than attempt to paraphrase, here is a lengthy excerpt from the December 2 program announcement.
"The 'agenda' for the Semiannual Convention of The Plumbers Union includes small ensemble music by its offshoot subcommittees and delegations of like-instruments, as well as music for the entire membership.
1. The conference begins with two pieces heralding the bonds of comradeship typically found at such a conclave – 'Emblem of Unity' March by J.J. Richards and Overture 'Fraternal' by M. M. Snyder.
2. Following these opening ceremonies, the first delegation on the agenda, the Slush Pumps trombone ensemble, enters, sounding a 'Royal Procession' dedicated to their union boss.
3. Then the trombone section proceeds to discuss its regional interests in shipping with two familiar Newfoundland folk songs, 'Jack was Every Inch a Sailor' and 'I'se the B'y that Builds the Boat.' The entire 'caulk us caucus' responds with its rendition of a medley of several additional folk songs describing life on the ocean.
4. The Siphon Sirens are next to take the podium, playing two Austrian hunting tunes on valveless Parforce Horns. Their haunting Nocturne from Mendelssohn's Midsummer Night's Dream, follows, performed on traditional alto horns.
5. The names of each committee evoke plumbing terminology, so the Rusty Pipes cornet ensemble continues the serenade with the elegant aria 'Leise, Leise' from Weber's Der Freischütz, followed by their Flanges and Flugelhorns contingent.
6. Subsequently, the Saucy Faucets of the cornet section become Hipster Hosers when they play Jimmie Lunceford's 'Count Me Out.' After these detours ... the convention recesses for an intermission card game featuring 'King of Diamonds,' the seldom heard Overture by Calixa Lavallée, composer of O Canada.
7. The semiannual conference adjourns for the holidays with two versions by Georges Bizet of the familiar medieval Christmas carol, "March of the Kings," both as a "Prelude" with variations, and also as a 'Farandole' folk dance."
Other sectionals: While this program of the Plumbing Factory Band features separate performances by just about every section of the band, it is quite common for bands to include one or two numbers in a concert by a small ensemble of band members. In their concert this fall, the Wellington Wind Symphony will feature a section by their Slide by Slide Trombone Quartet.
Another smaller outgrowth of a concert band is the After Hours Big Band which consists almost exclusively of members of the Newmarket Citizens' Band. Unlike other groups formed from within a concert band, this groups has never performed in a concert with the mother band. On the other hand, they do perform regularly quite independently from the concert band. For many years the Newmarket Citizens' Band rehearsed in the local Lions Club hall. There the band had its own section for music storage and a refrigerator to store refreshments. It was common practice, after the regular rehearsal was over, for a few members to remain on "after hours" and play big band music. In time this group became more formalized and adopted the name The After Hours Big Band. In time they started playing engagements independent of the activities of the concert band.
Several years ago the Lions' Club hall was destroyed by arsonists. Over the years the Citizen's Band has moved from one temporary location to another. On the other hand, the After Hours Big Band has been able to settle into a regular rehearsal location which would not be suitable for the full concert band. While I don't have any information on their future performances, I do know that they quite regularly entertain at retirement residences and long-term care facilities.
Instrumental Choirs: In past issues we have mentioned a few of the choirs, or ensembles, of like instruments including Flute Street and the Wychwood Clarinet Choir. We have just learned of another such group, the Flute Flight Community Flute Choir. Their concert on November 15, "A Whole Lot of Treble," will include works for flute ensembles of various sizes from trios to full flute choir. This will all take place at the Cosmopolitan Hall of Cosmo Music in Richmond Hill on November 15.
Handbells: Speaking of small ensembles, for several years I have thought about researching and writing about some of the lesser-known groups. In particular, I was interested in learning more about Handbell Ensembles. Then suddenly without any planning on my part I found myself listening to two different Handbell groups within one week. The first of these was at the 12th Annual Sandford Music Gala at Sandford United Church. For those not familiar with the geography, Sandford is a small hamlet north of Uxbridge. The last time I had been to one of these events was a couple of years ago when I was playing in a brass quintet. This year, not being a part of the show, I was attracted when I read that one of the groups performing would be a handbell ensemble known as Rhythm A'Peal.
Marilyn Meikle: Less than a week later I heard another handbell group, The Embellished Handbell Ensemble. However, this latter event was very different. The handbell ensemble was playing at a memorial service for one of its members, Marilyn Meikle. Marilyn was not only a member of this handbell group. She, along with her husband Tim, were long time members of the Newmarket Citizens' Band. Her passing has significantly impacted our household. For years I have been sitting beside Tim in the tuba section and, when she was able to attend, my partner Joan sat beside Marilyn in the flute section. Less than two weeks before Marilyn's passing, I was chatting with her at a rehearsal. She told me how much she had enjoyed their cruise around the British Isles just a few weeks earlier. She certainly will be missed.
Jack MacQuarrie plays several brass instruments and has performed in many community ensembles. He can be contacted at bandstand@thewholenote.com.