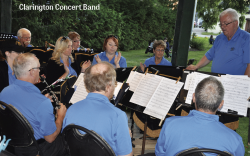 Now that fall is here, information is starting to come in about the seasonal offerings of several community bands, some of them quite enticing and unusual, such as the concert offered by Clarington Concert Band on October 2 at 7:30.
The concert in question is Clarington's annual evening of classical music, this year featuring works by Felix Mendelssohn.
It isn't often that concert bands have string instrumentalists appearing as guests, but the Clarington Band does so quite regularly. For the third time the sanctuary of the Rehoboth Christian Reformed Church in Bowmanville, noted for its well-designed seating and exceptional acoustics, will be the scene of this year's concert. Featured will be American violinist Andrew Sords and Canadian collaborative pianist Cheryl Duvall. This duo will, on this occasion, be joined by the exciting young American virtuoso cellist Sawyer Thomson. Another unusual note: it isn't often that bands or orchestras give feature billing to an instrument. However, they are doing so this year, noting that Mr. Thomson will be performing on a rare Italian cello crafted by Giovanni Grancino in 1690. For more information, visit the band's website at claringtonconcertband.ca.
Fanfarones: Every once in a while we get invitations to concerts and are unable to attend. That was the case recently when we learned of a concert (September 18 at the 918 Bathurst Centre)by a group we had not heard of before. Fanfarones is a double wind quintet who advertize their programs as "quirky, elegant music." With a double wind quintet it is possible to have such combinations as oboe and English horn, piccolo and flute or clarinet and bass clarinet playing at the same time to broaden the range of colours. Having not heard the term fanfarones before, it was time to learn its meaning. According to the Oxford Italian dictionary the word "fanfarones" is a term from Tuscany meaning braggarts or loud mouths. One would assume that they are proud and willing to show it. The major work on their program was Rocky Mountain Suite by Toronto composer and arranger Peter Coulman.
Cobourg: Last year and the year before, we had the pleasure of joining up with the Cobourg Concert Band on their annual visit to Plattsburgh, New York, and their participation in the ceremonies commemorating the final battle of the War of 1812. Last year's Bandstand column (October 2014) lamented that it had "rained on our parade." This year we stayed home, and we have just been informed that the weather was absolutely perfect. Is there a hidden message in that news?
North Durham: Although we rarely here from them, we have just heard from The North Durham Concert Band. They have started another season with rehearsals in Port Perry and have the welcome mat out for new members. They rehearse 7pm to 9pm every Wednesday, September to May. For information go to northdurhamconcertband@gmail.com.
CBA: In recent years the Canadian Band Association's Ontario Chapter has sponsored the CBA Community Band Weekend. The next such weekend will take place October 16 to 18. The host band this year will be the Mississauga Pops Concert Band. For information go to cba-ontario.ca/cbaonew/ or mississaugapops.com.
Markham Concert Band: As part of the Markham Theatre's 30th Anniversary Gala on Sunday, October 18, the Markham Concert Band will perform not one but two concerts at 2pm and 7 pm. For information go to mcband.ca. Included in the program will be Haydn Wood's Mannin Veen, a rarely heard classic of the concert band repertoire. Wood was an accomplished violinist and a prolific composer of a wide range of musical styles including some 180 songs. One of these was Roses of Picardy which he wrote for his wife, soprano Dorothy Court. Wood was born in a small English town and at age 3 his family moved to the Isle of Man. The tone poem Mannin Veen (Manx for Dear Isle of Man) is based on four Manx folk melodies. It is one of only two of his works which were written specifically for wind band.
The early part of the twentieth century saw the evolution of the concert band into such groups as those of John Philip Sousa, Edwin Franko Goldman and Guiseppe Creatore which toured the world. With the advent of radio and television such major professional bands largely disappeared. Fortunately there are in many countries true "world class" military concert bands. The bands of the Royal Marines, the US Marines, the Garde Républicaine, the Belgian Guides, the Carabinieri da Roma and many others are in that category. Unfortunately few composers of note have turned their talents towards the writing of serious works for such instrumentation.
In Search of Repertoire: Although great bands existed in the early part of the twentieth century, few composers considered writing music for such instrumentation. When bands wanted to perform concert overtures, suites and such larger works they had to turn to transcriptions of orchestral music. This frequently resulted in the need to compromise because of the problems arising for wind instruments having to play music intended for string instruments. In the early 1920s, lamenting the dearth of such music for bands, the Royal Military School of Music at Kneller Hall commissioned composer Gustav Holst to compose some music to fill the void. The Holst Suites in E-Flat and F were the result of that collaboration. Add to that a few works such as the Vaughan Williams Folk Song Suite and you have almost exhausted the repertoire.
In a recent personal search I decided to try to find some information on an excellent work that I knew of in this category but had not heard in years. I first heard composer Carl Friedemann's Slavonic Rhapsody years ago on a double-sided 78 rpm recording. On this old record was a stunning performance of this work by the Massed Bands of the Aldershot and Eastern Commands of the British Army. All I could find was a performance on YouTube. If you hear of a work and would like to assess its suitability for your band, it's now possible to get a good idea with a little Internet search. But be warned! The results will range anywhere from excellent to painful.
Royal Marine Bands: Earlier, I mentioned Royal Marine Bands as being top-notch. I have heard that a band of the Royal Marines will be coming to Toronto late this fall. Having served in the Navy aboard a British ship which just happened to be an admiral's flagship, I regularly was treated to music of the Marine Band which we had on board. Some time later, back in Canada, I had the pleasure of operating the sound system for the Band of the Royal Marines Plymouth Division at the CNE Bandshell for two performances a day for two weeks. It's safe to say that I happen to have a special affinity for Royal Marine bands and their music. So far there are no details, but I believe that this band may be performing in Roy Thomson Hall.
Setting the Bar Too High? Over the years I have often played with groups which have held their rehearsals in the music rooms of schools. In such cases it is not uncommon to read the notice boards to see what is being passed on to the future musicians of our country. These frequently have the rating systems by which the students are ranked. I have been accustomed to seeing bronze, silver and gold. In recent years some have added the category of platinum to indicate a level superior to gold. This summer I saw the latest extended ranking system. That school had band achievement awards: bronze, silver, gold, platinum, titanium and unobtainium.
What's In a Name? In recent times it is increasingly common to hear of wind groups being called a variety of terms including "choir." How did this come about? Having consulted The Oxford Companion to Music, the Oxford Dictionary and Webster's Dictionary, I could not find any reference to any instrumental music. They all refer only to human voices. Wikipedia does refer to choirs of instruments, but only as a subset of a larger group. As an example they refer to "the woodwind choir of an orchestra." If any readers have information on this trend please let us know. In a recent conversation with Michele Jacot, conductor of the Wychwood Clarinet Choir, she had no answer. In fact she expressed the possibility of a name change because she was getting questions as to the kind of ensemble she directs.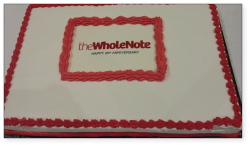 Musical jokes. A few days ago on September 25 at Trinity-St. Paul's Centre this magazine held an amazing concert/reception to celebrate 20 completed years of The WholeNote. During the evening's program Sophia Perlman talked about how the song she had written and was about to sing was a musical joke (as in making a sly reference to a previously composed piece of music). It put me in mind of that other kind of musical joke, namely the groaner, for which, as regular readers of this column can attest, I have a fondness. So here's one:
A boy is about to start music lessons at school. His mother goes with him to meet with the music teacher. She insists that the boy must start his music training on the tuba. When the teacher asks why she is so insistent about the tuba, she says: " I know he can be led astray and I don't want him to get into any treble."
Keep them coming: Whether it be musical jokes, daffynitions, or just interesting news about your band's upcoming events and activities, keep them coming! We are always interested to hear from you.
Jack MacQuarrie plays several brass instruments and has performed in many community ensembles. He can be contacted at bandstand@thewholenote.com