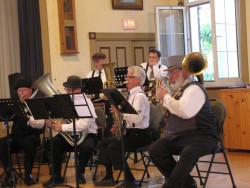 Well summer, what there was of it this year, is almost over. What a difference from last summer in my musical life. Last summer we (Joan and I) drove to Halifax for the very first North American Brass Band summer school, which included playing in all performances of the Royal Nova Scotia International Tattoo. Even though that was a very rewarding experience, this year we decided to stay closer to home and explore some local musical offerings. This included playing in a few concerts, but the variety came from a few quite unexpected sources most of which wouldn't really qualify as band events.
The first of these took place in early July when we were invited to attend a concert by students of the Durham Music Camp. This was not a band concert. Rather it was an end of year performance of children as young as six performing on violins and cellos. To see six year olds take up centre stage and perform, from memory, with all of the aplomb of someone four times their age certainly reassured us that we will have a good supply of musicians in years to come.
Two weeks later we were treated, by the older generation of musicians, to an unusual big band jazz event. Organized by French horn player James MacDonald, a former member of the very first Boss Brass, we attended a concert by "Amis du Jazz - Encore," as they styled themselves that day. The 20 member Rex Hotel Orchestra, led by John MacLeod, performed on the back deck of James MacDonald's house in Port Perry as members of the audience relaxed under the trees in the back yard. There were a few members of the group (clarinetist Bob DeAngelis and trombonist Alastair Kay in particular) whom I remembered from the days, more than thirty years ago, when they were star performers in high school band festivals.
Adding a bit of variety to the summer's offerings, we also took in an amazing amateur performance of the musical A Chorus Line, followed a few days later with a block "Birthday Bash" for a neighbour celebrating a milestone. Although not exactly to my taste, there was lots of folksong playing by the guest of honour and friends.
(As you will see, it was a chance encounter at the second of these summer musical forays that led to the main story in this month's column. But first a roundup of other band news.)
New bands: I am in the fortunate position of being able to announce the establishment of two new bands in the Toronto area. The first is a new concert band which is forming for seniors in Oakville. As yet we haven't heard of a name for this band, but they say that they are looking for beginner/intermediate musicians who have played in their youth or new musicians who need a concert band setting to hone their craft. They meet every Monday evening(except holiday Mondays) year round. Unlike some other bands, they will not be going on break during the summer. For information contact Russ Abbott at 905-465-3352
The other new group is an all brass band called The York Brass Ensemble. They are scheduled to start rehearsals in September on Wednesdays from 7:00 to 9:00 pm at the Alexander Muir Residence in Newmarket. For details contact Peter Hussey at pnhussey@rogers.com.
Open Rehearsal: About to begin their second full season, The Toronto Concert Band is inviting adult musicians from across Toronto to sit in with them as they kick off rehearsals for their second concert season. Amateur community players, post-secondary students and professionals who want to play in the community are all welcome. Under the musical direction of Ken Hazlett and Les Dobbin, the Toronto Concert Band has local roots in Etobicoke but far-reaching musical goals. Anyone interested is asked to pre-register by phoning 647-479-2941 or visiting their website: www.torontoconcertband.com, The first rehearsal is September 22 from 7:00 to 9:00 pm at Lambton Kingsway Junior Middle School, 525 Prince Edward Drive.
Returns: The summertime only group, the Uxbridge Community Concert Band wound up this season with another of their theme concerts on August 29. This year's theme was Music of the Night with selections ranging from Mozart's "Queen of the Night" aria and selections from Andrew Lloyd Webber's Phantom of the Opera.
The Toronto New Horizons group will be establishing yet another new band termed Beginner Level II for people joining who want a more challenging level. Anyone interested is invited to attend their Instrument Explorations night on Friday, September 25 from 7 to 9pm at the Long and McQuade main store 925 Bloor St. W in Toronto. For anyone who has thought about playing in a band, here's a chance to check out any instruments that have interested you and decide which would be the one for you. All classes beginning the week of September 14. Scheduled dates and times are on their website: newhorizonsbandtoronto.ca and classes will be held at the Salvation Army Hall, 789 Dovercourt Rd., until further notice.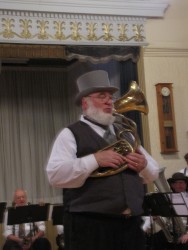 The Orono Cornet Band: While I was at the aforementioned Amis du Jazz concert in Port Perry I bumped into two friends that I hadn't seen for some time. I first met Dave Climenhage about twenty years ago in the Clarington Concert Band. I first met Herb Poole over thirty years ago while playing in the Metropolitan Silver Band. They invited me to a concert by the Orono Cornet Band in the town of Orono, where Dave Climenhage had organized the Great Canadian Town Band Festival (GCTBF) in Orono from the year 2000 to the year 2005.
For six consecutive years this festival brought together some of the finest brass and woodwind ensembles in Canada and the U.S. such as The Boss Brass, The Hannaford Street Silver Band, The True North Brass, The Spitfire Band and The Central Band of the Canadian Armed Forces. It also hosted guest artists like conductor and trombone virtuoso Alain Trudel.
After the annual festival was discontinued, the Great Canadian Town Band Festival still existed as an entity in name. Dave was looking for a project that would bring alive Canada's musical heritage and further the objectives of the GCTBF. He still had the charter for the GCTBF and the desire to continue in some fashion. He was a long time collector of brass and woodwind instruments and eventually linked up with fellow collector Herb Poole, bass trombonist with the Canadian Opera Company.
Together they began to work on the idea of a Heritage Brass band that would recreate the 19th century Brass Band movement in Canada. From the early 1850s on, the saxhorn band concept (12 brass instruments) had spread to almost every town and village in Canada. This movement began in France and England in the 1840s and quickly spread all over Europe and North America. These newly developed valved brass instruments were relatively easy to learn to play and could play any notes on the chromatic scale. They became the mainstay of musical performance in Canada, which did not have a classical orchestral tradition at the time. These bands performed at local dances, in parades and at all civic events including July 1 which later became Canada Day. In short it was the music that was most accessible to Canadians from 1850 to the end of the century.
Herb and Dave decided that they would hire professional brass players from the GTA who were interested in taking up the challenge of performing on 150-year-old instruments and who were willing to work with them as they tried to establish an audience for the brass music of 19th century Canada. Herb recruited musicians from the Canadian Opera Company Orchestra and a number of top level freelance brass players from other GTA ensembles.
The aim of the Orono Cornet Band is to recreate a 12 piece brass band of the Confederation period in Canada to perform on period instruments and to play music composed in Canada or known to be regularly performed in Canada. Gathering Canadian music of the period took time. As they looked at brass band music collections from the period, it was clear that most of the music they performed came from American publishing companies. They worked hard to glean from these sources important works by Canadian composers such as Calixa Lavallee (Marche Indienne). They have also found music originating outside Canada but performed regularly here, such as popular marching songs like The Girl I Left Behind Me.
Herb Poole is the band's artistic director and has sourced music with very distinct Canadian period content. The instruments the band performs on come from Herb's and Dave's collections and were built in the period 1850 to 1870. Many of these were restored by Herb. They are both constantly researching historic events for important music. The Battle of Ridgeway in 1866 is one such event, for example. It resulted in the composition of The Maple Leaf Forever and the words to the Canadian Militia Fenian Marching Song. They hope to perform these at a re-enactment of the Battle of Ridgeway in June next year.
The band has been performing now for over five years. They have performed at heritage events each of those five years, including the V-Brass festival at Toronto's Harbourfront, Clarington's Heritage Festival and the RCMP Musical Ride. For the RCMP Musical Ride they performed music of the Band of the Royal Northwest Mounted Police at Fort MacLeod, Alberta, first performed in 1876.
They are currently working on getting people to know about the Orono Cornet Band and have completed their first recording. They also have a new website at oronocornetband.com with videos and soundtracks. It's worth checking out that website.
Definition Department
This month's lesser known musical term is stringendo: An unpleasant effect produced by the violin section when it doesn't use vibrato. We invite submissions from readers. Let's hear your daffynitions.
Jack MacQuarrie plays several brass instruments and has performed in many community ensembles. He can be contacted at bandstand@thewholenote.com