On more than one occasion in the past I have opened this column by grumbling about the weather. Unfortunately, Old Man Winter has interfered with plans once again. His relentless dumping of snow has kept me from attending a very special concert. I had planned to travel to Waterloo for the Wellington Winds concert February 22. However, mountains of snow and poor driving conditions forced us to cancel the 310-km round trip. The Wellington Winds were performing the Canadian premiere of Dutch composer Johan de Meij's euphonium concerto with Canadian soloist Robert Miller. In part, this performance was in memory of former euphonium soloist Harvey Gleiser who played with the Winds for about 20 years. Gleiser met de Meij some years ago when de Meij first conducted the Wellington Winds.
De Meij studied trombone and conducting at the Royal Conservatory of Music in The Hague, since then earning international fame as a composer and arranger. His work includes original compositions, symphonic transcriptions and arrangements of film scores and musicals. His Symphony No. 1 "The Lord of the Rings," based on Tolkien's bestselling novels of the same name, was his first composition for wind orchestra. Some years ago he received the Dutch Wind Music Award for his role in the worldwide advancement of wind band music. Besides composing and arranging, de Meij is active as a performer, conductor, adjudicator and lecturer. As a trombone and euphonium player he has performed with many major orchestras and bands in many parts of the world. In 2010, he was appointed regular guest conductor of the Simón Bolívar Youth Wind Orchestra in Caracas, Venezuela. In 2014, de Meij became principal guest conductor of both The New York Wind Symphony and The Kyushu Wind Orchestra in Fukuoka, Japan.
For those band members, especially euphonium players, who are not familiar with de Meij's work, there is no better time than now to acquaint yourself and your band with his music. I have played a few of his works; they are challenging but very satisfying.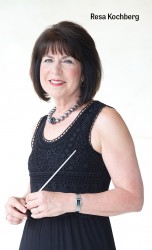 Resa's Pieces: When talking about Resa's Pieces the question is where to start. Since Resa's Pieces Concert Band was the first unit of what has grown over the years into a number of ensembles, that's as good a place as any. Resa Kochberg continues as music director of this ensemble which she started some 16 years ago. The band welcomes new members on an ongoing basis, and has a current membership of 56.
Some years after the concert band was formed and doing well, Kochberg decided to branch out and start a group where beginning string players could find a place to develop their skills. Thus Resa's Pieces Strings was born. Now this group is thriving under its new conductor, Ian Medley. As a full-time professional string specialist with degrees in both education and musical performance, Medley brings new strength and experience to the group.
Once the string group was on its way, Kochberg decided that she just couldn't discriminate against singers. Ergo, Resa's Pieces Singers was hatched. Under the baton of Robert Graham, pianist, accompanist, vocalist and repertoire coach, the choir has grown to over 65 members.
In case you might be wondering, yes, there is now going to be a Resa's Pieces Symphony Orchestra. For their inaugural concert, wind players from the band will join the string orchestra to perform a few orchestral selections. As music director of Resa's Pieces, Kochberg guides all ensembles in all music-related details and sticks by her foundational mantra of: "Just do your best and have fun"!
So what's next for Resa's Pieces? Might it be a banjo band or a ukelele ensemble? I doubt if it will be a pipe band, but I wouldn't bet on it. All of Resa's Pieces groups will be performing their concerts in June. Watch for their listings in your favourite music magazine.

Plumbing Factory Brass Band: From time to time, in this column, I have referred to Henry Meredith and his Plumbing Factory Brass Band. How did this band come by this name? Well it turns out that Dr. Hank (as he's affectionately known) is a collector of brass instruments. I stress the term collector and not the derogatory word hoarder. Over the years Dr. Hank has amassed somewhere around 6,500 instruments. "Plumbing Factory" is the term that was originally bestowed upon his home because of the ubiquitous brass instruments that live alongside Meredith, his wife, Victoria Meredith, associate dean at Western's Faculty of Music, and their dog Nema. This amazing collection of brass instruments inspired Meredith to establish the Plumbing Factory Brass Band in September 1995.
With the collection growing, Meredith recently has focused more on quality than quantity. An example is his 1830s ophicleide, a conical brass instrument in the bass register with woodwind-like keys. Probably his oldest and most valuable instrument is a valveless hunting horn in D that was made for King George I by John Harris in 1717. On July 17, 1717, Handel's Water Music accompanied the king's excursion on the Thames, and, as horns in both D and F are called for in the score, this instrument is likely one that was played during the premiere performance of Handel's famous composition. The band's next concert, bearing the clever title "Tsar Trek" (Meredith is good with titles!) takes place April 15 at Byron United Church. It's the continuation of their November performance of the "Rousing Russian Repertoire Voyage," a performance I had also hoped to attend, but once again the weatherman had different ideas for me. For the April concert we can look forward to the music of Kabalevsky, Shostakovich, Rachmaninoff, Tchaikovsky and more.
A real pressing goal, is the need to establish a museum for this amazing collection of instruments and related paraphernalia. Once the weather improves, and a trip to London becomes reasonable, I hope to visit with Dr. Hank and come back with enough information on this treasure for a future feature article in The WholeNote.
Toronto Concert Band: In last month's issue I mentioned that I hoped to attend the inaugural concert of the Toronto Concert Band. Usually when I attend the first concert of a newly formed band, I am fully prepared to overlook the usual varied problems of a fledgling group which has not yet developed the cohesion of a group which has been together for a few years. There was no need for such at this concert. A well-polished performance by a tightly knit ensemble delighted a full house at the CBC's Glenn Gould Studio. Congratulations. Here's to many more concerts.
Long and McQuade: With the resounding success of their many New Horizons bands, Long and McQuade have recently announced the establishment of the new Ontario Pops Orchestra for those who would like to learn a string instrument and play in a group. This is yet another example of the growing trend for adult community musical ensembles at the novice level. Perhaps people have been reading about the benefits of musical participation in later life. An article on this subject from the Washington Post and another in a recent issue of the journal of the Retired Teachers of Ontario indicate that more and more studies are proving that such benefits are significant.
Recently, I learned of World Fiddle Day which will be coming up soon. There are preparatory practices now underway in Toronto leading up to the big day. Toronto participants will all be together playing at historic Old Fort York in a few weeks time. Now how about world trombone day or world euphonium day? Let's campaign for that.
Uxbridge Community Concert Band: The Uxbridge Community Concert Band is a summertime-only band which was formed years ago to provide a group for students during the summer months. Initially the band was made up mainly of students, but over the years has evolved to include a wide range of members from high school and university students to all ages and occupations. This year, their 24th season, they will begin rehearsals on May 20 under the direction of conductor Steffan Brunette. For information email him at uccb@powergate.ca
Definition Department: This month's lesser known musical term is pastorale: The beverage to drink in the country when listening to Beethoven with a member of the clergy. We invite submissions from readers. Let's hear your daffynitions.
Jack MacQuarrie plays several brass instruments and has performed in many community ensembles. He can be contacted at bandstand@thewholenote.com.