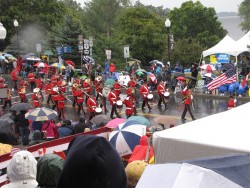 Last summer, as you may recall, I wrote about travelling with the Concert Band of Cobourg to Plattsburgh New York to take in some of the celebrations around the annual joint Canada-U.S. celebration of the Battle of Plattsburgh, which ended the War of 1812. For many years The Concert Band of Cobourg has been the featured band in these celebrations: in their role as The Band of Her Majesty's Royal Marines Association, this band has royal permission to wear the uniform of the Royal Marines on parade and in concert.
Many years ago I had the privilege of serving, on exchange duty for some months, aboard a large ship in the Royal Navy. Since our ship was the admiral's flagship in a squadron of ships, we had a band of the Royal Marines as part of our crew. It was during that time that I developed a strong affinity for the appearance and musicality of Royal Marine bands and their ceremonies. So it is a special pleasure for me to see and hear this Cobourg band emulate those characteristics.
While attending the festivities last year, it was suggested that we must not miss this year's events. Since that battle ended in 1814, the 2014 events were to be the most extensive ever, commemorating its two hundredth anniversary. We committed ourselves to attend and made our reservations early to ensure accommodation at the same hotel as the Cobourg band and their friends. In short we became groupies for the weekend.
As promised, this was a much bigger celebration with more events, a longer parade with more floats, more bands and more battle re-enactments. Unfortunately, there also were far more umbrellas. Whether or not there was rain during that battle 200 years ago, I can't recall, but we certainly had our share. Most of the participants in their elaborate period costumes were soggy to say the least, despite the occasional surrender to modern technology, as in the case of a beautifully outfitted fife and drum band with their drums neatly protected in the latest plastic drum covers.
Fortunately there was sufficient time between the end of the parade and the concert for the Cobourg Band members to dry their uniforms and appear on stage looking resplendent as usual. As might be expected, this concert had a theme emphasizing the strong bond now existing between the descendants of that conflict 200 years ago.
Numerology: The Oxford English Dictionary defines numerology as the "study of supposed occult significance of numbers." Looking at the numbers evoked by the Plattsburgh event, one might be excused for thinking there might have numerological mischief at work. The battle being commemorated ended in 1814. World War One started in 1914, and we are celebrating the 100th anniversary of its end in 2014. Then there are 9 and 11. It was on the morning of September 11, 1814 when opposing troops battled at Plattsburgh, with opposing ships in battle on Lake Champlain. Here we were, 200 years later, on September 11, gathered to celebrate two centuries of peace and harmonious relations. At the same time, we were reminded that on that date only 13 years ago the World Trade towers and other targets were struck with far more casualties than the Battle of Plattsburgh.
CBA Community Band Weekend: Another CBA Community Band Weekend is imminent. This year it will be held in Newmarket October 3, 4 and 5, and will be hosted by none other than the Newmarket Citizens' Band. Why participate? As the CBA promotional material states: a) to perform in a massed band setting, learn new repertoire and work with inspiring conductors; b) to perform at the Newmarket Theatre in Newmarket, Ontario; c) to meet many wonderful musicians who share the same passion for band music as you do. NCB artistic director Joseph Resendes is well known as director of three community concert bands in the GTA. Conducting duties will be shared with no fewer than seven other conductors.
While many have already registered, if you still wish to attend, it's not too late. Online registration is still possible at
cba-ontario.ca (follow the links). In the worst case, you could register at the door on Saturday, but there might not still be parts available for all of the music.
On the Friday evening at 7:30pm there will be a Meet and Greet reception at one of the town's favourite meeting places: The Lion and Firkin at the corner of Leslie and Gorham in Newmarket. All day Saturday there will be rehearsals at the Newmarket Theatre, 505 Pickering Cres. On Saturday evening there will be an optional formal dinner for those who wish to attend at 8pm. The final concert will be at 2pm Sunday afternoon in the Newmarket Theatre.
New Horizons: Regular readers of this column know my thoughts about the importance of lifelong musical involvement. By the time you read this, there will have been another New Horizons Instrument Exploration Workshop on Bloor St. W. in downtown Toronto, with over 20 members signed up for the new beginners' band. The first class for the new beginners' group will take place on Wednesday, October 8 at Long and McQuade, 935 Bloor St. W. in Toronto. In addition to this new beginners' group, the Bloor New Horizons organization will now have the previous five concert bands plus the jazz band. Total membership of these groups is now estimated to be close to 180.
New Horizons Periodically, when their regular rehearsal space is unavailable, the Downtown Toronto New Horizons bands rehearse at the nearby Salvation Army Temple. As a token of appreciation, artistic director Dan Kapp will take the groups back for a special remembrance concert. Saturday, November 1 at 7:30 will be "A Night to Remember" at 789 Dovercourt Road in Toronto.
The Toronto Concert BandLast month I noted that the new Toronto Concert Band was scheduled to begin rehearsals for the fall. I am pleased to report that the band is now rehearsing regularly every Tuesday evening; they had over 20 members with all major sections covered. However, they are a bit short of trombones. If that is your instrument and you live in Toronto's west end, they would love to hear from you. Check their website, torontoconcertband.com.
An instrument orphanage
In recent months I have been contacted by two different organizations that have band instruments, surplus to their requirements, and are looking for homes for them. These aren't necessarily top of the line instruments, but are still in good playing condition. Their owners are either looking for a nominal sum or simply want to find homes where the instruments will be played and appreciated.
During a discussion with publisher David Perlman the idea arose for an "instrument orphanage" or some other way of linking those needing instruments with those who have instruments to offer. If you have any ideas for such an enterprise (or know of people already doing this facilitating work), please contact us.
More on music and aging from Baycrest
You may recollect that I have written in this column from time to time about participating in ground-breaking studies at The Baycrest Centre. For the most part, the experiments in which I have been involved have focussed on cognitive function and aging, in particular on differences in cognitive function between subjects active in music and those with little or no musical experience. These have all indicated significantly better cognitive function amongst older people who are musically active.
It was no surprise to me, therefore, to receive an update on one component of their research which indicates much broader benefits at all stages of life for musically active individuals. The update came from Stefanie Hutka who is a Ph.D. Student in the Rotman Research Institute at Baycrest. In addition to her work in this field, Ms. Hutka is an accomplished violinist with an ARCT. Rather than paraphrase the text of her message it is worth repeating verbatim here:
"Everyone can benefit from music training. A wealth of empirical, neuroscientific evidence supports the positive influence of music training on numerous non-musical brain functions, such as language, reading, and attention. Such benefits are seen in children and continue across the lifespan into older adulthood. Despite this evidence, music education is still often seen as a supplemental and expensive subject in schools, and often is the target of budget cuts. Increasing awareness of the real-world benefits associated with learning music, as well as making music training more accessible, are critical steps towards supporting the inclusion of this important subject in curricula.
"Our NeuroEducation Across the Lifespan laboratory is directly targeting an increase in awareness and accessibility of music training. On the awareness side, we are heavily involved in public outreach such as the Brain Power conference, which presents accessible information about neuroscience findings on music to scientists, educators and parents. On the accessibility side, we have studies supporting the benefits of music, including via short-term training on software ... In one 2011 study, school-aged children used music training software called Smarter Kids, developed by our Lead Scientist, Dr. Sylvain Moreno. After only 20 days of training, improvements on measures of verbal intelligence were observed. We are currently extending this theme of accessibility, creating software using music to train the aging brain, with very positive preliminary data."
As I said, it's no surprise! We'll keep you updated.
Definition department: This month's lesser-known musical term is espressivo: Used to indicate permission to take a coffee break. We invite submissions from readers. Let's hear your daffynitions.
Jack MacQuarrie plays several brass instruments and has performed in many community ensembles. He can be contacted at bandstand@thewholenote.com.