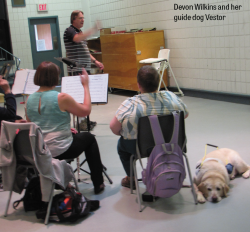 As most readers will have observed by now, summer has finally arrived. I'm torn between duty and the desire for pleasure. The editor tells me that my deadline was yesterday, but my brain tells me that the vista of a cloudless sky has more appeal than the computer screen in front of me. However, it is time to reflect on a few of the musical happenings of the past month. For many in the band world it has been spring concert season, time to display to their audiences the fruits of their musical labours over the past dreary months. This year, for me it has been more as an audience member than as a band member.
The first of my visiting forays took me to Oshawa and a concert by the Clarington Concert Band and their guests, the County Town Singers. After an absence of a few years, this band is once again in the capable hands of Mr. Barrie Hodgins as director. The feature of the evening was a performance of a work composed and conducted by renowned Canadian composer Howard Cable. As an introduction to this work, Howard explained to the audience how he came to write it. During a visit to Alberta, he had been challenged by a rancher about many of his works with an "Eastern Canada" theme. Too much about Quebec, Newfoundland and other aspects of the East. Where were his compositions about the ranches and other features of the West? The result was McIntyre Ranch Country. For our pleasure it was conducted by the composer himself. As for other Canadian content, the band played an excellent arrangement by Eddie Graf of Rodrigo's Concierto de Aranjuez, and the County Town Singers gave us Lydia Adams' arrangement of We Rise Again.
My next outing couldn't have been more different. After a visit to a rehearsal of The East York Concert Band, I attended their Spring concert. What a contrast to any other band concert that I have ever attended. The concert was in the large, beautifully appointed hall of Saint Clement of Ohrid Macedonian Orthodox Cathedral in Toronto. When we arrived there were already a large number of people seated at tables at the rear of the hall enjoying food and drink prior to the concert. We sat near the front in a section without tables. Apparently, as part of the cooperation between the band and the cathedral, the ladies' auxiliary of the cathedral do the catering for a broad spectrum of delicacies for the audience to enjoy with the music. In case you were wondering, there was a wide selection of drinks available with the food. Yes, beer, wine and other alcoholic beverages were being served and consumed in a church on Sunday. It certainly did not detract in any way from the imaginative program, titled "Once Upon a Tune."
The atmosphere of the evening reminded me very much of cabaret-style concerts offered many years ago by the York Regional Symphony under the direction of the late Clifford Poole. These, billed as "Wine and Cheese Concerts," were performed in several small communities throughout the York Region. Admission for a couple included a bottle of wine. There were cheese and crackers on each table. At each large round table, two seats were to be left vacant. There were a number of intermissions where orchestra members would go into the audience and occupy these empty chairs. The inevitable "what instrument do you play" was frequently followed by such comments as "what does it look like." After each intermission these audience members would locate the instruments in the orchestra, and be more aware of the role each played. It was a great way to get the audience and players involved.
New Horizons: During the past month I had the opportunity to learn more of New Horizons' activities in this part of the country. First it was off to Peterborough to experience a day in their lives. What a day, even as an observer without playing a note, it was almost non-stop. In the morning there were two large distinct bands preparing for concerts in two parts of the building. After an hour lunch break it was back observing two different, more senior, groups in rehearsal. Every once in a while, someone would get up from a seat in the band and move to the other room, pick up a baton and conduct that other band. All of this was in preparation for their final concert on May 30.
My hat, which I rarely wear, must go off to Dan Kapp of the Toronto group for his energy and commitment. From that beginning single small group, he has guided the organization, taught and conducted to the present situation with 160 members in seven band classes. He is looking forward to the next group of prospective members with this year's "Instrument Exploration Workshop" scheduled for the evening of Friday, September 12.
One of the most impressive aspects of both of these New Horizons groups that I visited was the open door inclusion of many who would never ordinarily have the opportunity to play music in a group. Canes, walkers and wheelchairs are a common sight. Two people in particular are worthy of special mention. Randal Pilson of the Toronto band and Devon Wilkins in Peterborough are totally blind. Of all of the instruments that he might have chosen, Randal plays the bass trombone, while Devon plays flute. In Devon's case, her guide dog, Vestor, lies quietly by her side throughout the performance. Devon also serves on the board of the band. When you see that in a musical group, you know that there is complete inclusion and acceptance.
Just down the road: Then there is the NABBSS. The North American Brass Band Summer School is a new venture jointly supported by the Royal Nova Scotia Tattoo Society and the Buffet Group. The summer school is based on well-established models in Britain. Participants will receive tuition from a team of Buffet soloists on the traditional British all-brass band style, and will explore some of the newest brass band repertoire in a series of workshops and rehearsals. Although participants will not be doing any marching, they will be dressed in uniform and perform on the tattoo stage together with the massed bands. For those not familiar with it, the Royal Nova Scotia International Tattoo has been an annual event in Halifax for 35 years and is billed as the "World's Largest Annual Indoor Show."
The camp will be under the direction of noted conductor Dr. Robert Childs, supported by a group of clinicians on all of the instruments of a traditional brass band. Among the instructors will be euphonium soloist David Childs, son of Dr. Childs, who was the featured soloist with the Hannaford Street Silver band a couple of years ago. It all takes place in Halifax from June 28 to July 8. Our household is already signed up and plans are well developed to get ourselves and our instruments ready for what promises to be an interesting new approach to our music making.
Looking ahead: Toronto is to have a new community band. To be located in the west end of the city, the Toronto Concert Band will rehearse Tuesday evenings in John G. Althouse Middle School, starting in September. With its tag line, "We Love to Play," the Toronto Concert Band's stated mission is "to create a positive and supportive environment in which to cultivate musicianship." In short, TCB promises an enriched musical experience for its members. Everyone is welcome to join, including amateur community players, post-secondary students and professionals who want to play in the community. The founding conductors are Ken Hazlett and Les Dobbin, both with long careers in music education. For more information visit their website:
torontoconcertband.com.
Steve Fuller: It is with sadness and a sense of loss that we announce the passing of Steve Fuller, another longtime member of the band community in Toronto. A retired high school biology teacher, Steve's life was focused around music. After open heart surgery some years ago, he worked hard at recovery and began active playing again. Then, about a year ago, he was back in hospital for some weeks. Shortly after his release, I was speaking with him and he was back playing and talking about reactivating his beloved saxophone quartet. I hadn't heard from him for a while and was going to call when I received the news of his passing.
Definition Department
This month's lesser known musical term is: col legno: An indication to cellists to hold on tight with their lower extremities. We invite submissions from readers. Let's hear your daffynitions.
Jack MacQuarrie plays several brass instruments and has performed in many community ensembles. He can be contacted at bandstand@thewholenote.com.