In last month's column I solicited responses on selecting band repertoire and programming. While I would still love to hear from more readers on these topics, the responses received to date were very welcome.
On the subject of who should have a say in these matters, most people indicated that they would like to have a greater voice, but had reservations on how to establish a decision making system. Fred Cassano from the Columbus Centre Concert Band pointed out that, in addition to other considerations, their library is influenced by their main sponsor and tailored to their main audiences. Since the Columbus Centre bills itself as "the heart of Toronto's Italian community," it is only natural that this band has a greater percentage of Italian music than other bands might have. In fact the band has already built a program for next year around the theme of the 150th anniversary of the unification of Italy, and another to honour the 200th anniversary of Verdi's birth. As for additions to our list, they suggest Neopolitan Overture, Verdi's Nabucco and Grand March from Aida, Count Basie Salute, Souza marches, Dixieland Band selections (featuring soloists) and music from The Lion King.
Last month I also asked for some suggestions to add to a list of "hackneyed or over-performed works." From responses to date, Harold Walters' Instant Concert is a front-runner followed closely by his Hootenanny. However, as Fred Cassano also mentions, Instant Concert is a "crowd pleaser." It's a matter of reconciling the different preferences between performers and audiences. Personally, having had to play each of these works many times per year for the past 45 years or more, I would be happy to relegate them to the archives for a year or so. However, many audience members may have never heard them and are entertained by a bit of novelty.
When it comes to selecting new concert works written specifically for concert band, while the internet makes it possible to hear what these works might sound like, there is little opportunity to assess the challenges they may present to the performers. There is no relying on recalling familiar melodies. On the other hand, if the work is of good quality, not only are the band members rewarded with new reading challenges, but the audiences experience new music. Three works which fall into that category have come to my attention in recent months. Commissioned by the Kobe Symphonic Band in Japan, Tanczi (2006) is a set of three Russian dances by Belgian composer Jan Van der Roost. Not for the faint of heart, this is an ideal selection to provide rehearsal challenges to all sections of the band. Once mastered, it is a very rewarding number for the audience. Another good contemporary choice is Concerto d'Amore (1995) by Dutch composer Jacob de Haan. It is considerably less demanding, but still provides challenges and entertainment. Another is Transformations by American composer Robert Longfield (2003). Commissioned for a school music festival in Dade county Florida, this work develops a wide series of variations based on the musical notes DADE in honour of the county where it was first performed. While a good reading exercise, it is less entertaining for an audience than the other two.
As was mentioned in the September issue, the last weekend in September was designated as the third annual Culture Days weekend. My only foray was to accept the invitation of the Hannaford Street Silver Band to sit in and join them for an afternoon of music making. With a prior morning rehearsal elsewhere on trombone, I had a choice to make. Should I take the trombone and switch from bass clef to treble clef, or should I try something bolder. There was an instrument lurking in one of my closets which hadn't seen the light of day for over 25 years; an E-flat horn.
Some call this E-flat horn an alto horn and some call it a tenor horn. By either name it is normally never seen anywhere but in a brass band. Here was my chance. So, in the space of a couple of hours, it was a switch from a B-flat slide in bass clef to a three-valve horn in treble clef. "Never fear" thought I, "the Hannaford folks will have simple music for us visitors." The first couple of numbers were just fine. Hymns are always a good way to get the tuning settled. Then it happened. In rapid succession, we went through the two suites for military band by Gustav Holst followed by Mozart's Marriage of Figaro Overture. The parts for my newly adopted instrument were more challenging than I expected. The "peck horn," as it is sometimes referred to with some derision, gained new respect from me. If the hospitable hosts of this worthwhile event do it again next year, I'll be there.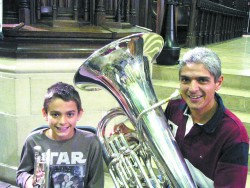 While on the subject of the Hannaford Street Silver Band, they have a very special treat for lovers of brass band music. Their first concert of the season, "Trumpets of the Angels," on Saturday November 3 at 8pm in the Metropolitan United Church, will feature the renowned British composer and conductor, Edward Gregson, leading the HSSB in performances of his brass band masterworks, Trumpets of the Angels and Rococo Variations. The HSSB will also premiere John Burge's Cathedral Architecture, commissioned by the HSSB, with organ virtuoso William O'Meara, and the beloved overture, Fall Fair, by Godfrey Ridout in a newly authorized transcription by Stephen Bulla.
As for what is happening on the community band scene, I am happy to report that the new Brampton Youth Concert Band is now in full swing under the direction of their new music director, Susan Barber Kahro. If you live in the area and have a young musician in the family, here's a great opportunity. For additional information, including how to join and membership fees, visit their website at bramptonconcertband.com. Also on the youth band scene, the 2013 National Youth Band of Canada will be meeting in New Brunswick and Nova Scotia from April 27 to May 5, 2013. Musicians 16 to 21 years of age are encouraged to audition by December 1, 2012. For more information visit their website at canadianband.ca.
Over the past few weeks we have received far more information on community band activities than can be included in this month's column. On the New Horizons front, there are now six bands at three levels with over 100 regular members. This year, the Canadian Band Association (Ontario) held its Community Band Weekend in Richmond Hill on October 13 and 14, with host band, the Silverthorn Symphonic Winds. On the first day as many as 50 band members from various community bands across the province, along with the Silverthorn Symphonic Winds, rehearsed seven selections, each with a different conductor. The second day featured a concert at the Richmond Hill Centre for the Performing Arts.
It may be rushing things a bit, but we are already getting information on Christmas concerts. The Markham Concert Band is presenting "A Seasonal Celebration" on Sunday, December 2, 2012. It will include Tchaikovsky's Nutcracker Suite with guest harpist Kate Kunkel, as well as the Brass Quintet from the band of HMCS York, Toronto's Naval Reserve Division.
DEFINITION DEPARTMENT
This month's lesser known musical term is Articulosis: to be unable to play staccato. We invite submissions from readers. Let's hear your daffynitions. 
Jack MacQuarrie plays several brass instruments and has performed in many community ensembles. He can be contacted at bandstand@thewholenote.com.