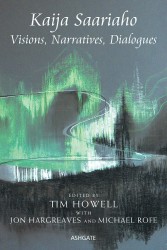 Kaija Saariaho: Visions, Narratives, Dialogues
edited by Tim Howell with Jon Hargreaves and Michael Rofe
Ashgate Publishing Company
238 pages, score samples; $99.95 US
Like István Anhalt, Finnish composer Kaija Saariaho has spent most of her career outside her homeland. But unlike Anhalt, she left under no duress, having benefited from Finland's supportive culture and enlightened political values.
This collection of essays charts the development of Saariaho's distinctive voice as a composer, with its unusual sensual beauty, expressive power and emotional directness. "Harmony, texture and timbre: those three things were then, and still are, at the heart of my musical thinking," Saariaho says in the interview with Tom Service included here. In her stage works — three operas and an oratorio so far — she creates something new and challenging, with inventive, unclichéd storytelling and innovative use of painting, mime, lighting, electronic sounds and pre-recorded materials. Yet traditional musical devices are also part of her operatic language. As Liisamaija Hautsalo writes, "The musical topics within Saariaho's works, often modified into the musical language of our time, could be described as whispers from the past: a link between tradition and the composer's individual expression."
A number of writers discuss how dreams play an essential part in Saariaho's work. While L'Amour de loin (Love from Afar) features a dream scene, the whole opera can be seen, as Anni Iskala describes it, as "an opera about dreaming of, and loving, the unattainable." In fact, dreams have been a direct source of inspiration right from Saariaho's earliest works like From the Grammar of Dreams, and, starting with Im Traume, she has used her own dream diaries to provide material.
While these eight essays and the interview with the composer provide an invaluable perspective on Saariaho's music, they do not attempt to situate her music in today's contemporary music scene. The contributors are all from either Finland or England — oddly there are none from France, where she has lived since coming to Paris as a student in 1982.
It's certainly noteworthy that when the Canadian Opera Company produces L'Amour de loin in February, it will be the first opera by that company written in the 21st century. Even more noteworthy, this will be the first opera written by a woman to be produced on their main stage. Even though Saariaho resists being defined as a woman composer — or as any type of composer, for that matter — she has never stepped back from breaking down barriers, as this book shows.
Concert Notes: On Monday January 30, Soundstreams presents soprano Carla Huhtanen performing music by Kaija Saariaho at 7:30pm in the Gardiner Museum.
On Tuesday January 31 at 12pm, Soundstreams presents the Elmer Iseler Singers performing Saariaho's Tag des Jahrs and soprano Carla Huhtanen performing the Leino Songs, as well as chamber works by the composer in the Richard Bradshaw Amphitheatre.
On Thursday February 2 at 12pm in the Richard Bradshaw Amphitheatre, artists of the COC Ensemble studio perform vocal works by Saariaho, including From the Grammar of Dreams and Lohn (From Afar). These performances will be introduced by Saariaho.
On Thursday February 2 and Friday February 3 at 8pm in Koerner Hall, Soundstreams presents Saariaho's Tag des Jahrs, performed by the Elmer Iseler Singers under Lydia Adams.