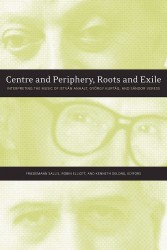 Centre and Periphery, Roots and Exile: Interpreting the Music of István Anhalt, György Kurtág, and Sándor Veress
edited by Friedemann Sallis, Robin Elliott, and Kenneth DeLong
Wilfrid Laurier University Press
480 pages, score examples; $85.00
In 2005, István Anhalt's The Tents of Abraham won the JUNO Award for best Canadian classical composition of the year. It was remarkable for such a provocative, uncompromising and politically ambitious piece. But it seemed even more remarkable, because for the 54 years Anhalt had lived in Canada, as William Benjamin points out in this collection of essays, his music had been almost totally neglected by performers and audiences in his adopted homeland.
Anhalt is one of the three composers, along with Sándor Veress and György Kurtág, whose relationship to the place of his roots, and the process of displacement that took him away, is looked at. But the ideas of place and displacement are treated not just as physical states. As Gordon Smith writes, "They also embody metaphorical ideas of being and dwelling, and ideas pertaining to danger, persecution, exile, adaption, and the resultant imperative discovery of others and the emergent self."
Anhalt, Veress, and Kurtág were all born in Hungary and all studied in Budapest at the Franz Liszt Academy — Anhalt and Veress with Zoltán Kodály, and Kurtág with Veress. All left Hungary, having survived the war and the subsequent Soviet occupation of their homeland. Anhalt and Veress left soon after the war ended, but Kurtág, who is younger, didn't leave until 1993. Anhalt and Kurtág are Jewish, and all three are haunted by a past which is memorialized in their music.
These 20 papers by various academics, composers and performers were first presented at a symposium at the University of Calgary in 2008. To set the scene, there's a lovely musical tribute to Veress, who died in Switzerland in 1992, by his son, Claudio Veress. Kurtág, who has the greatest international reputation of the three, is recalled in an insightful reminiscence by his godson, Hungarian-born Canadian pianist Gergely Szokolay. Anhalt, now 93 years old and living in Kingston, Ontario, where he spent many years teaching at Queen's University, contributes a brief personal memoir to complement John Beckwith's astute portrait, and emerges as a thoroughly fascinating figure.
The strength of this probing collection lies in the way the various approaches to place and displacement offer insights into interpreting key works by these three composers. But the connection between Anhalt, Veress and Kurtág is left unexplored — only Friedemann Sallis's introduction links them together. Otherwise, each paper deals with an individual composer and his own milieu. So in the end I was left wanting to know more about how the shared roots and experiences of these three composers influenced the development of their individual styles.
Concert Note: The Toronto Symphony Orchestra will perform Kurtág's Messages on Thursday March 1 in Roy Thomson Hall, as part of their New Creations Festival, curated by Hungarian composer Peter Eötvös.