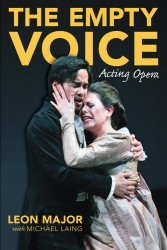 The Empty Voice: Acting Opera
by Leon Major
Amadeus Press
190 pages, photos; $19.99 US paper
Canadian director Leon Major opens this book by recalling how a tardy and overly-confident soprano responded when he explained to her his concept of her role, Tosca. She simply said, "That's not the way I do it." Her static and cliché-ridden approach, lacking conflict, tension, or drama, represented what Major decries in this detailed study of techniques for acting in opera.
Major, who has directed operas around the world, is based at the University of Maryland, where he the founding artistic director of the opera studio. But he made his mark in his native Canada with imaginative productions at Halifax's Neptune Theatre, which he also founded, the Stratford Festival, where he did a fondly-remembered H.M.S. Pinafore, and of course the Canadian Opera Company, where he directed the landmark 1967 production of Louis Riel.
As Major explains here, an opera director's main job is to make the story clear. To illustrate, he looks closely at some pivotal scenes from a number of operas. These range from L'incoronazione di Poppea and Xerxes to Eugene Onegin and Falstaff. But there's nothing, unfortunately, from the twentieth or twenty-first century, even though Major has done a number of innovative stagings of modern operas.
By breaking down scenes in detail, and asking all kinds of questions, Major reveals some fascinating insights. On the difficulty of playing a character who is lying, he writes, "Singers are already playing roles: to play characters who are themselves playing roles is an extra challenge."
On the problems a gorgeous show-stopping aria can cause for a production, he writes, "We forget why the singer is singing what he has to sing, we ignore what has happened to bring him to this point, and we don't care where he has to go; we lose the drama." The singer has to create a context for each aria so that audiences will respond not just to its beauty, but to what it contributes to the drama.
For drama, Major distils his approach into five questions for each character–where am I coming from? where am I going? what do I want? what is blocking me? how do I overcome this obstacle? It's a thought-provoking approach, and it's effective.
This book will undoubtedly benefit singers. But I find it surprising that Major still feels the need today, especially with the prevalence of DVDs and live video broadcasts, to convince singers of the obviously crucial importance of acting a part as well as singing it. Opera lovers as well will find this book rewarding, especially in the ways that Major draws on his own experiences as a director and shows how he works.
Pamela Margles can be contacted via bookshelf@thewholenote.com. Books for consideration for review may be mailed or delivered to
WholeNote Media Inc.,
503–720 Bathurst Street,
Toronto, ON M5S 2R4.