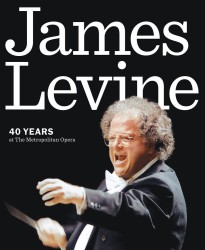 James Levine: 40 Years at the Metropolitan Opera
edited by Ellen Keel
Amadeus Press
230 pages, photos; $35.00 US paper
This attractive book marks conductor James Levine's 40 years working with the Metropolitan Opera. It's a celebration, but there's a poignant undercurrent, since, after this book went to press, lingering health problems forced Levine to give up his position as music director of the Met and withdraw from conducting assignments.
Singers and orchestra musicians talk about working with Levine, and he, in turn, offers comments on his experiences conducting them. We begin to understand what makes a great opera conductor. But all that mutual admiration stifles discussion of the controversial issues — and inevitably there have been plenty during his tenure — that would make these comments more incisive. Levine himself remains elusive.
We get an inkling of the power Levine wields at the Met when he says that for the revival of director Robert Wilson's polarizing Lohengrin in 1998, "I insisted on a few changes." But by all reports here, Levine exercises his power with sensitivity, support and inspiring passion. So it's hardly surprising that singers love working with him. Sherrill Milnes says, "For me, Jim was the first 'love conductor,' versus the old-time 'fear conductors'" …