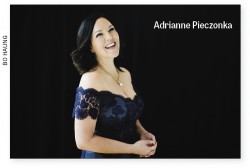 In 1963 Lawrence Cherney was still in his teens learning to play the oboe. One day his teacher, Perry Bauman, who was the first oboe in the CBC Symphony Orchestra, asked Cherney to join him in the orchestra as a third oboe was needed. The work to be played was something called Symphony of Psalms. It was only after Cherney arrived for a rehearsal in Massey Hall that he realized that the Symphony was by Igor Stravinsky and that Stravinsky himself would conduct. Stravinsky remained important to Cherney. In 1982 he was concerned that the centenary of Stravinsky's birth was not being noted, oddly not only because of Stravinsky's centrality to modern music but also because of his long association with Canadian orchestras. It was in that year that Cherney, by then a well-known oboist (he was one of the original members of the York Winds as well as the National Arts Centre Orchestra), founded Chamber Concerts Canada (later renamed Soundstreams). Its opening concert was a centenary celebration of Stravinsky's work.
Over the years Soundstreams has specialized in the performance of contemporary works. Many of the composers featured were Canadian and a number of new works were commissioned. In 1988 Soundstreams programmed George Crumb's Ancient Voices of Children. The soloist was a young soprano called Adrianne Pieczonka. September 29 at Koerner Hall, Pieczonka, now a famous singer, will again sing this work with Soundstreams. She will also perform Luciano Berio's arrangements of songs by John Lennon and Paul McCartney. Together with the mezzo Krisztina Szabó she will sing selections from Crumb's American Songbook as well as the world premiere of Analia Llugdar's Romance de la luna, luna based on the poetry of Frederico García Lorca (as is Crumb's Ancient Voices of Children). Soundstreams is also presenting, on September 18 at the Gardiner Museum, an exploration of the connections between poetry and music through the work of Lorca, including four short new works. The singer will again be Krisztina Szabó. PWYC.
Hannigan sings Nono at TSO: Another important concert featuring modern music will take place on October 7 and 8 at Roy Thomson Hall, when the soprano Barbara Hannigan will perform Djamila Boupacha by Luigi Nono. Boupacha was a member of the Algerian National Liberation Front. She was arrested in 1960, subjected to torture and rape, and condemned to death in 1961. She was released in 1962 after the Evian Accords. The work has been recorded by Sophie Boulin and there is a haunting rendition by Janet Pape on YouTube. Hannigan has never been the kind of artist who restricts herself by concentrating on only one kind of music. The concert will also include three arias by Mozart as well as a number of orchestral works conducted by Hannigan: Haydn's Symphony No. 49 "La Passione," Ligeti's Concert Românesc and Stravinsky's Symphony in Three Movements.
The Cathedral Church of St. James continues its Cantatas in the Cathedral sequence. On September 2 Sheila Dietrich, soprano, Christina Stelmacovich, alto, and David Roth, bass, will perform Bach's Cantata BWV 78; on October 7 the featured work is Bach's Cantata BWV 5. Roth will again be the bass soloist and the other singers are Julia Morson, soprano, Laura McAlpine, alto, and Andrew Walker, tenor. PWYC.
Lunch-time recitals in the Richard Bradshaw Auditorium at the Four Seasons Centre will resume on September 22 with a performance by the incoming artists of the COC Ensemble Studio. On September 29 Arraymusic will present Love Shards of Sappho, with music by Barbara Monk Feldman, and Hieroglyphs by Linda Catlin Smith. October 6 is "Alma Innamorata," a free program of Italian baroque music about love, composed by Handel, Corelli and Scarlatti. Free.
The Friends of Gravity perform The Seven Deadly Sins, a "ballet chanté," composed by Kurt Weill to a text by Bertolt Brecht, on September 25 and 26 at St. Bartholomew Anglican Church, with Stephanie Conn singing the main part. This work was first performed in Paris in 1933 with Weill's wife Lotte Lenya taking the main role of Anna. It has since been recorded several times by Teresa Stratas, Ute Lemper and Anne Sofie von Otter. The role of Anna is split between two performers: Anna One, a singer, and Anna Two, a dancer. The full title of the work is The Seven Deadly Sins of the Petty Bourgeoisie: it is Anna's virtues that are considered sins.
Other Events:
September 10 traditional Welsh folk music will be performed at the Tranzac Club. The singer will be Bethan Rhiannon.
September 13 Missa Septem Dolorem, a new composition for two sopranos and organ by Philip Fournier, will be performed at The Oratory, Holy Family Church. Free.
September 16 to 20 Tafelmusik opens its 2015/16 season with "The Human Passions." The mezzo Mireille Lebel will sing arias by Handel and Vivaldi; the concert will also include instrumental work by Bach and Vivaldi at Trinity-St. Paul's Centre.
September 20 instrumentalists of Ensemble Caprice and vocal soloists from the Theatre of Early Music will perform works by Handel and Vivaldi. This is a fundraising event for the Early Music/Historical Performance of the University of Toronto. On September 27 music students from the Baroque Academy will perform. Both events are in the Trinity College Chapel.
There are several events at the University of Toronto. On September 22 Michael Albano will lead a performance class for singers which will concentrate on the relationship between song and the spoken word. On September 24 there will be a discussion of the mythic, literary and visual art sources that inspired Barbara Monk Feldman's opera Pyramus and Thisbe (to be premiered by the Canadian Opera Company later in the fall). With Professors Caryl Clark, Holger Schott Syme, Alison Syme and Robin Elliott and composers Barbara Monk Feldman and Norbert Palej. On September 29 graduate students in vocal music will perform. All three events are free and take place in Walter Hall.
October 1 the baritone Wilbert Ward will sing a free concert at Metropolitan United Church. Free. Also on that day there will be a concert of traditional songs from Mali and of the sounds of ancient Africa mixed with blues and rock. The singers are Vieux Farka Touré and Julia Easterlin at Revival Bar.
October 1 and 2 Tim Albery and David Fallis will explore the dangers of looking too long or too closely, inspired by the Baroque repertoire at The Black Box Theatre. PWYC.
October 4 Kripa Nageshwar, soprano, and William Shookhoff, piano, will perform works by Dvorák and Kaprálová at St. Wenceslaus Church.
And beyond the GTA: October 7 Jennifer Potter, soprano, and Keiko Kuepfer, piano, will perform in the "Midday Music with Shigeru" concert at Hi-Way Pentecostal Church, Barrie.
Hans de Groot is a concertgoer and active listener who also sings and plays the recorder. He can be contacted at artofsong@thewholenote.com.