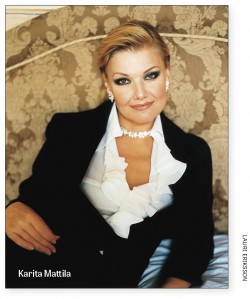 For the last ten years, summer in Toronto has for many lovers of vocal music revolved around the Toronto Summer Music Festival. This year, the year of the Pan Am Games, the focus is on the music of both North and South America. The festival kicks off on July 16 with a concert featuring the music of Gershwin and Copland, in which Measha Brueggergosman will be the soprano soloist. The great Finnish soprano Karita Mattila will give a recital on August 7. Both concerts are in Koerner Hall. Among this year's Art of Song fellows (eight singers and four pianists) are soprano Danika Lorèn, baritone Samuel Chan, bass-baritone Erik Van Heyningen and collaborative pianists Maria Hwa Yeong Jung, Jérémie Pelletier and Andrea Van Pelt. Their mentors are Soile Isokoski, Martin Katz and Steven Philcox. The 2015 Art of Song fellows will perform on July 24 in two afternoon concerts at Walter Hall.
Elora: the Elora Festival opens with a performance of Handel's oratorio Solomon on July 10; tenor Mark Masri will sing on July 15; there is a performance of Bach's B minor Mass on July 17; and Jackie Richardson will perform with her trio and the Elora Festival Singers on July 25. These concerts are all at the Gambrel Barn. St. John's Church will be the venue for the July 19 concert by the Studio de musique ancienne de Montréal, conducted by Christopher Jackson and also for two performances of "Dark Days, Bright Victory," a program of the words and music of World War II on July 18. The vocal octet, Voces8, will sing at Knox Presbyterian Church on July 16.
Parry Sound: At the Festival of the Sound in Parry Sound, Patricia O'Callaghan will sing in "From Weimar to Vaudeville" on August 4. On August 8 Leslie Fagan, soprano, Mark DuBois and Keith Klassen, tenors, and Bruce Kelly, bass, perform in "Love, Laughter, and Passion." This concert will also introduce three young singers: Julia Obermeyer, Emma Mansell and Elisabeth DuBois. Adi Braun sings songs from the repertoires of Rosemary Clooney, Judy Garland and Peggy Lee on July 31. Leslie Fagan sings Pergolesi arias on July 28 and performs in "Songs and Dances of the Americas" on July 29. These concerts are all at the Charles W. Stuckley Centre.
Huntsville and Leith: The Huntsville Festival of the Arts presents Buffy Sainte-Marie on July 29 and Molly Johnson on August 1, both at the Algonquin Theatre.
At the Leith Summer Festival you can hear three singers: Rebecca Caine in "A Soprano in Hollywood" on July 18, Julie Nesrallah in "Voyages à Paris" on August 8 and Isabel Bayrakdarian in a program of Spanish music ranging from classical works to zarzuelas and tangos on August 22. All concerts are in the historic Leith Church.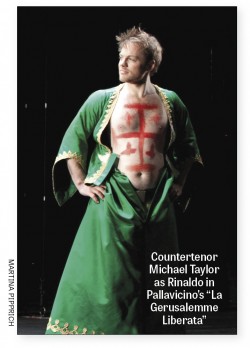 The Music and Beyond Festival in Ottawa offers several vocal concerts. Dominique Labelle, soprano, and Daniel Taylor, countertenor, will sing in "Love and Betrayal" on July 5; there will be a coffee concert featuring the Theatre of Early Music with Rebecca Genge and Agnes Zsigovics, soprano, and Daniel Taylor, countertenor and conductor, the morning of July 6. Both concerts are in Christ Church Cathedral. Two other concerts will be given in Southminster United Church: a recital by the mezzo Wallis Giunta on July 9 and one by the soprano Donna Brown featuring the music of Schubert and Brahms on July 11. The soprano Yannick-Muriel Noah sings a selection of first and last works by various composers including Richard Strauss (the Four Last Songs), Bizet, Puccini, Brahms and Verdi, on July 16 in the Dominion-Chalmers United Church.
Stratford Summer Music presents Rebecca Caine on July 25 at Revival House; Daniel Taylor and the Theatre of Early Music in a re-enactment of the Coronation of George II on August 6 at St. James Church; R. Murray Schafer's Music for an Avon Morning on August 7 and 8 on Tom Patterson Island; a concert of Schafer's Sacred Music on August 7 at St. James Church; and Michael Schade, tenor, in a program of opera arias on August 9 at St. Andrew's Church. The 2015 Vocal Academy will be in session during the week beginning August 10; their work will culminate in a final concert on August 15 at St. Andrew's Church. Mozart's Magic Flute will be performed on August 15 and 16 at Revival House.
Westben: At the Westben Arts Festival in Campbellford, the soprano Marie-Josée Lord will sing spirituals, opera arias by Puccini and Gershwin as well as music by Bernstein and Cole Porter on July 18.
Other Events:
June 5 Ann Monoyios, soprano, and Peter Harvey, baritone, will be the soloists in a free concert by Tafelmusik, at Trinity-St. Paul's Centre.
June 7 the Off Centre Music Salon will celebrate its 20th Anniversary with a concert which will feature a whole array of singers ranging (alphabetically) from Isabel Bayrakdarian to Ilana Zarankin at Glenn Gould Studio.
June 8 the soprano Sara Swietlicki will sing songs by Stenhammar, Rangström and Sibelius as well as arias by Mozart and Puccini at Heliconian Hall.
June 20 medieval songs connected with the pilgrimage to Santiago de Compostela will be performed by Linda Falvy and Mary Enid Haines, sopranos, and Catherine McCormack, alto, at the Church of St. Mary Magdalene.
June 22 Maria Soulis will sing classical and folk music from Turkey, Greece and Spain at the Church of the Holy Trinity.
June 27 at the Aradia Ensemble Baroque Ensemble concert, mezzo Marion Newman will sing in the new composition Thunderbird by Dustin Peters, based on a legend popular among the native peoples of the Pacific Northwest and sung in Kwakwala. The concert at the Music Gallery will also include pieces by Purcell and Locke.
July 16 Summer Music in the Garden at the Harbourfront Centre presents Michael Taylor, countertenor, in a concert of music by Handel and others.
August 3 Monique McDonald and Irina Rindzuner, sopranos, and Ricardo Rosa, baritone, all soloists from the CUI International Music Festival, will sing in a program featuring works by Schumann, Wagner and Gershwin at the Church of the Holy Trinity.
Looking back: I don't normally go to two concerts on the same day but I could not resist the double attraction of the Off Centre concert and the recital by Meredith Hall and Brahm Goldhamer on April 26. The main item on the Off Centre program was Schoenberg's Pierrot Lunaire, which was brilliantly performed. It dates from 1912 but, a century later, it remains a difficult and I don't think altogether successful work. The program was rounded off with arias and ensembles by Mozart. I was particularly impressed with the baritone Jesse Clark and the soprano Maeve Palmer.
Hall's superb recital that evening included Haydn's cantata Arianna a Naxos as well as parts of the Pyramus and Thisbe cantatas by Hasse and Rauzzini. Here too Mozart rounded off the recital. A particular delight was to hear Jean Edwards join Hall in the letter duet from The Marriage of Figaro. Edwards is now 88, but her voice is as pure and as fresh as it was when she was the soprano soloist in the Toronto Consort.
And looking ahead: Soundstreams will begin its 2015/16 season with performances by soprano Adrienne Pieczonka and mezzo Krisztina Szabó of music by George Crumb, Kurt Weill (in Luciano Berio's arrangements) as well as Lennon and McCartney on September 29.
Hans de Groot is a concertgoer and active listener who also sings and plays the recorder. He can be contacted at artofsong@thewholenote.com.