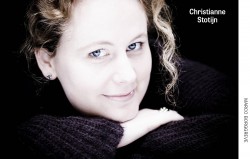 I am an admirer of the Dutch mezzo Christianne Stotijn but I only know her singing from recordings. I look forward to her Toronto debut, organized by the Women's Musical Club of Toronto, on April 16 at Walter Hall, in which she will be accompanied by the fine pianist Julius Drake. She will sing Shostakovich's settings of six poems by Tsvetayeva, four Shakespeare songs by Korngold, and songs by Tchaikovsky and Strauss.
The name Stotijn is well known in the Dutch musical world. The story begins with Johannes Louis Stotijn (1852-1915), who began adult life as a baker but who also played the harmonica as a hobby. Three of his four children became professional musicians. The most distinguished was Jacob, usually known as Jaap. He was the first oboist of the Residentie Orkest in The Hague from 1919 to 1956. We can still hear his playing in a recording of Mozart's oboe quartet (K370) on the Globe label. In the 1930s he played with the Palestine Symphony Orchestra, an orchestra that consisted largely of Jewish musicians who had fled Nazi Germany. The orchestra's concerts were conducted by Arturo Toscanini, who was a great admirer of Stotijn's playing. Stotijn was also a pioneer of period performance: he joined the Collegium Musicum Antiqua, which was founded in 1952. He died in 1970.
Another fine oboist was Jaap's son Haakon. He became the first oboist of the Concertgebouw in 1940. In the early 1950s he was banned from the radio by two of the Dutch radio organizations because of his alleged Communist sympathies. In 1954 he, along with three other members of the Concertgebouw, was not allowed entry to the United States. He died at 49 in 1964.
And there are other musical Stotijns: a violist, a bassoonist and a double bass player. The son and pupil of that bass player, Christianne's younger brother Rick, is also a bassist. Christianne herself began her musical career as a violinist. After she became a singer, she studied with Jard van Nes and Janet Baker. I can hear some of Baker's qualities in her singing, although her sound is always individual. I am thrilled that half of her recital will consist of Russian music. My only regret is that she will not sing any Mahler, of whose music she is such a fine interpreter.
Other Events: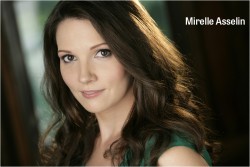 Bradshaw Amphitheatre: There are several free vocal events at the Richard Bradshaw Amphitheatre in the Four Seasons Centre: a preview of Errol Gay's Alice in Operaland will be given by the Canadian Children's Opera Company April 1; Andrew Haji, tenor, will sing Schumann's Dichterliebe, and Gordon Bintner, bass-baritone, will perform Schubert's Schwanengesang April 4. Parts of Rossini's The Barber of Seville will be sung by members of the COC Ensemble Studio April 28.
Walter Hall: On April 2 there will be a recital by the winners of the Jim and Charlotte Norcop Prize in Song and Gwendolyn Williams Koldofsky Prize in Accompanying in Walter Hall.
New Music Concerts: Ilana Zarankin, soprano, is the soloist in a program of contemporary Ukrainian music April 4 at the Betty Oliphant Theatre.
Two at the Royal Conservatory: Max Raabe and the Palast Orchestra will recreate the cabaret music and the popular songs of the Weimar years April 11 and 12 at Koerner Hall. Mireille Asselin, soprano, will sing with the Amici Ensemble in a concert that will include Schubert's The Shepherd on the Rock as well as the Akhmatova Songs by Tavener April 12 at Mazzoleni Concert Hall.
Schubert: There will be another performance of The Shepherd on the Rock, part of an all Schubert concert April 17 at Heliconian Hall, in which the singer will be the soprano Barbara Fris. Another all-Schubert concert will be given at the Canadian Music Centre April 28 and will include Schwanengesang. The singers are Ryan Downey, tenor, and Bradley Christensen, baritone.
Two at Met at Noon: Cathy Daniel, mezzo, sings at noon in a free concert in Metropolitan United Church April 16. Also at noon at Metropolitan and also free: Olga Tylman, mezzo, and Michael Fitzgerald, baritone April 23.
Rozario: The soprano Patricia Rozario will be the soloist in a concert of music by John Tavener, presented by Soundstreams April 16 at Trinity-St. Paul's Centre. Rozario was central figure in Tavener's career; he wrote more than 30 works for her. The concert will also include works by Christos Hatzis, Jonathan Harvey and Vanraj Bhatia.
Bayrakdarian: The soprano Isabel Bayrakdarian will sing with the Toronto Symphony Orchestra in a concert of Armenian music April 22 at Roy Thomson Hall.
Oakham House: Wendy Dobson, soprano, and Michael Robert-Broder, baritone, will be the soloists in a concert April 25 at Calvin Presbyterian Church given by the Oakham House Choir of Ryerson University. The main works will be Handel's Coronation Anthem My Heart is Inditing, the first movement of Elgar's Coronation Ode and the Polovetsian Dances from Borodin's Prince Igor.
The soprano Meredith Hall and the pianist Brahm Goldhamer will perform works by Mozart, Haydn and Rauzzini, April 26 at 8pm in Heliconian Hall. The program will include Haydn's cantata Arianna a Naxos.
Also: The soprano Tessa Laengert will sing Handel, Dvorak and Puccini in a cocnert with the Oakville Chamber Orchestra May 2 and 3 at St. John's United Church, Oakville. Andrew Haji, tenor, will be the soloist in a celebration of songs from opera, operetta and musical theatre with the VOCA Chorus of Toronto May 2 at Eastminster United Church. The Vesnivka Choir and the Toronto Ukrainian Male Chamber Choir will present a concert of folk songs celebrating rebirth, romance and love May 3 atHumberValleyUnited Church in Etobicoke. The solo singers are Natalya Matyusheva, soprano, and Justin Stolz, tenor.
The last concert in this year's series for Recitals at Rosedale will be held on May 3 at Rosedale Presbyterian Church. The theme will be journeys, travels and returning home; the music will be by Schumann, Ravel and others. The singers are Lucia Cesaroni, soprano, Emily D'Angelo, mezzo, and Anthony Cleverton, baritone. And the famed singer-songwriter Buffy Sainte-Marie will perform at Koerner Hall May 7.
Beyond the GTA: the soloists in Bach's St. Matthew Passion are Rufus Müller (tenor, as the Evangelist), Tyler Duncan (baritone, as Christus), Agnes Zsigovics (soprano), Laura Pudwell (mezzo), Isaiah Bell (tenor) and Justin Welsh (bass). The conductor is Mark Vuorinen April 3 attheCentre in the Square, Kitchener.
Looking back: in February I wrote that I was looking forward to the recital in which Christian Gerhaher and Gerold Huber were to perform Schubert's Winterreise. I was not disappointed. Koerner Hall was full; the audience listened with rapt attention and saved their enthusiasm for the end. Who says that the song recital is dead?
On a couple of occasions I have written about the emerging tenor Charles Sy. I did not realize until I got to the Macmillan Theatre that he was singing in the Opera Division of the University of Toronto's production of Postcard from Morocco by Dominick Argento. I was very impressed with his singing, particularly with the evenness of tone and the solidity of his lower register.
And looking ahead: Against the Grain Theatre has announced that Colin Ainsworth, tenor, and Krisztina Szabó, mezzo, will sing Schubert's Die Schöne Müllerin and Messiaen's Harawi in May. The Women's Musical Club of Toronto has announced its 2015-16 season. It includes a recital by the fabulous American mezzo Isabel Leonard (we heard her in the COC production of Mozart's La Clemenza di Tito a few years ago). That will be on November 19. Stay tuned!
Hans de Groot is a concertgoer and active listener who also sings and plays the recorder. He can be contacted at artofsong@thewholenote.com.