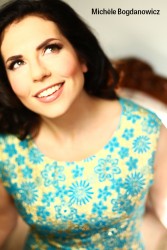 On March 8 the concert presented by Recitals at Rosedale at Rosedale Presbyterian Church will include a world premiere, the song cycle Ya Ya [Tagalog for caregiver], by Elizabeth Raum. The cycle was written in honour of Geraldine Vida-Soverano, the Filipino nanny who looked after the children of Raum's daughters; first Jessica's two children, then the four children (three of whom were triplets) of Raum's younger daughter Erika, the noted violinist.
This is what Raum herself has written about the songs: "Ya Ya is a testament to the strong sense of duty that the nanny feels is her calling. She is more than a caregiver; she is a second mother who loves her charges as if they were her own. At the same time, she is not their mother and is in a foreign country and, although it has become her home, at times a sadness leaks into her consciousness. The words, 'I come from another place...' are optimistic at first, but the second time they appear in a minor key and, although the melody is the same, the sense has changed. As well, she is wistful when she utters, 'I wish...' But the cycle ends optimistically with the nanny content and proud of her profession."
The songs will be sung by the mezzo Michèle Bogdanowicz, who will also perform a song cycle by Norbert Palej, written for her and due to be recorded by the Canadian Art Song Project. The soprano Gillian Keith will perform early songs by Debussy and the tenor Charles Sy will sing songs by Strauss, Schubert and Schumann. The program will conclude with duets by Viardot, Gounod and Rossini. Sy is much in demand. He recently won first prize in the Canadian Opera Company Studio Ensemble competition and can also be heard, along with the soprano Carla Huhtanen and the mezzo Emilia Boteva, in the Off Centre Music Salon concert at the Glenn Gould Studio on March 1. Later in the month Bogdanowicz will also sing in the concert performance of Charpentier's Louise at the St. Lawrence Centre March 29. Next season Recitals at Rosedale will be moving to Mazzoleni Hall in the Royal Conservatory of Music. The dates are already set: November 1; March 6, 2016; May 1, 2016. I wonder whether that will mean a change of name for the series. After all, the Conservatory is not in Rosedale.
Elliot Madore: The programs presented by Music Toronto tend to concentrate on chamber music or piano, but every year there is one recital by a singer. In the recent past we have heard Erin Wall and Phillip Addis. This year the singer is the baritone Elliot Madore. He will perform Lieder eines fahrenden Gesellen by Mahler, Banalités by Poulenc as well as songs by Ives, at the St. Lawrence Centre on March 26 . Not that long ago Madore was known, if at all, as a hockey-loving kid from Etobicoke who once sang O Canada at a Leafs game. That changed when he won the 2010 Metropolitan Opera National Council Audition. Most of his performances have taken place in Europe. He has just finished a series of performances of Harlekin in Strauss' Ariadne auf Naxos in Zurich and will soon return to Europe to sing Pelléas in Debussy's Pelléas et Mélisande, first for the Croatian National Opera, then for the Bayerische Staatsoper.
At the Bradshaw: There are three vocal concerts in March in the Canadian Opera Company free recital series in the Richard Bradshaw Auditorium in the Four Seasons Centre: "Opera Interactive" by artists of the COC Ensemble Studio March 19; a performance of Janacek's The Diary of One Who Disappearedsung by Owen McCausland, tenor, and Charlotte Burrage, mezzo, March 25; and a preview of Errol Gay's opera Alice in Operaland, performed by the Canadian Children's Opera Company on April 1.
Hannigan: The soprano Barbara Hannigan gave a recital in the Richard Bradshaw Audtiorium on February 24; she also sang, with the Toronto Symphony Orchestra, in George Benjamin's A Mind of Winter on February 28. There will be two more opportunities to hear her. On March 4 she will sing, with the TSO, let me tell you by Hans Abrahamsen, a work which sets the words of Ophelia as spoken in Shakespeare's Hamlet; on March 7 she will sing (again with the TSO) in a concert performance of George Benjamin's opera Written on Skin, along with Krisztina Szabó, mezzo, Bernhard Landauer, countertenor, Isaiah Bell, tenor, and Christopher Purves, baritone (both in Roy Thomson Hall).
Other Events: Another TSO concert that is worth mentioning is that to be given on March 11 (repeated on March 12 and 14) when the distinguished soprano Adrianne Pieczonka sings the Four Last Songs by Strauss and the Liebestod from Wagner's Tristan und Isolde. The concert is conducted by Gianandrea Noseda and will also include my favourite Beethoven symphony, the Seventh in A.
Tapestry Opera presents the soprano Carla Huhtanen, who is especially known for her performances of contemporary music, and the Montreal composer, turntable artist and electronics specialist Nicole Lizée in a multimedia concert at the Ernest Balmer Studio in the Distillery District March 20 and 21.
There is some speculation that the composer John Dowland was actually Irish and that his name is a variant on Dolan. That is the starting point for Dowland in Dublin, a concert at Trinity-St.Paul's Centre March 27 and 28, in which tenor Michael Slattery and Ensemble La Nef will give us an Irish version of Dowland's songs
Other Events: Capella Intima and the Gallery Players of Niagara present "An Evening of Antient Music" at Trinity-St. Paul's Centre on March 6. The program includes music from Purcell's Dido and Aeneas as well as a selection of rounds, catches and airs. The singers are Sheila Dietrich, soprano, Jenny Enns Modolo. alto, Bud Roach. tenor, and David Roth, baritone.
"Fairest Isle," a concert at Rosedale United Church on March 8 of English music, includes works by Dowland, Purcell, Handel, Vaughan Williams and Britten. The singers are Deborah Overes, contralto, and Robert Missen, tenor
The Talisker Players present "On a Darkling Plain" at Trinity-St. Paul's Centre, March 10 and 11 The program will include Dover Beach by Barber, the Seven Romances on Poems by Alexander Blok by Shostakovich and the Akhmatova Poems by Tavener. The singers are Ilana Zarankin, soprano, and Joel Allison, baritone.
Tafelmusik presents Bach's St. John's Passion at Trinity-St. Paul'sCentre March 19 to 22. Soloists are Julia Doyle, soprano, DanielTaylor, countertenor, Charles Daniels, tenor, and Peter Harvey, baritone.
Maureen Batt, soprano, performs in a recital of new music from New Mexico to Nova Scotia at Heliconian Hall March 27.
A free concert at the Canadian Music Centre at 2pm March 28 will include the Visions infernales d'après des poèmes de Max Jacob by Henri Sauguet, to be sung by the baritone Grant Allert.
Danie Friesen, soprano, will sing Schumann's opus 39 Liederkreis and Fiançailles pour rire by Poulenc at the Gallery 345 March 29.
Hans de Groot is a concertgoer and active listener who also sings and plays the recorder. He can be contacted at artofsong@thewholenote.com.