Emma Kirkby: It has sometimes seemed to me that my interest in early music began with listening to Kirkby. When I checked dates, I realized that that was not true. I bought my first early music LP (two of Bach's Brandenburg Concertos, conducted by August Wenzinger) when I was a schoolboy in the early 50s, while Kirkby's career did not begin until 1971 when she joined the Taverner Choir as a founding member. But my mistake highlights the fact that Kirkby's singing has been central to early music performances ever since. On October 18 she and her accompanist, the fine lutenist Jacob Lindberg, gave a recital of English music ranging from William Byrd to Henry Purcell at Trinity College Chapel. Now that Kirkby is in her mid-60s the incomparable beauty of her singing is also layered with a lifetime of nuance; every presentation provides a lesson in how these songs can be delivered.
In the first half of the program we heard a number of students, members of the University of Toronto's Schola Cantorum. Until recently the University had not shown much interest in early music but this changed with the appointment of Daniel Taylor (best known as a countertenor but now also a conductor) as Early Music Area Head. Many of these performances were very fine, a tribute to the singers but also to Taylor's leadership and to the extra coaching the singers received from Kirkby and Lindberg.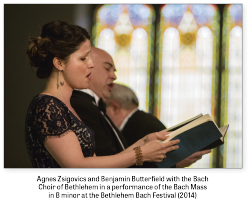 Agnes Zsigovics: Kirkby studied classics at Oxford University and became a schoolteacher. At that time she would have had no notion that a professional career could be built on the singing of early music. That is no longer the case and Kirkby's career is one reason why that change became possible. There are now many singers who specialize in Early Music and one of the finest is a Canadian soprano Agnes Zsigovics whom we shall be able to hear on November 14 with the Ottawa Bach Choir and York University Chamber Choir in a performance of Bach's Mass in B Minor at Grace Church on-the-Hill. The other soloists are Daniel Taylor, alto, Rebecca Claborn, mezzo, Jacques-Olivier Chartier, tenor, Geoffrey Sirett, baritone, and Daniel Lichti, bass-baritone. The conductor is Lisette Canton.
When I asked for an interview with Zsigovics, she accepted readily and added: "Isn't it every soprano's wish to talk about themselves all day long?" I decided not to take this too literally and I was right not to do so. She is not a self-absorbed diva but a down-to-earth and disciplined artist committed to her craft. As a young woman she sang in choirs at school and as a member of the Bell'Arte Singers. Her first big break came in 2005, when she sang with the Toronto International Bach Festival and was asked by the conductor, Helmuth Rilling, to sing the soprano solo in Bach's Cantata BWV106 (the Actus Tragicus). Daniel Taylor heard her and invited her to sing part of Pergolesi's Stabat Mater at a private function and to join the Theatre of Early Music. In 2007 she sang in Bach's St. John Passion under Rilling with the Toronto Symphony Orchestra.
I have heard her four times in recent years: in the virtuoso soprano part of Allegri's Miserere and as Belinda in Purcell's Dido and Aeneas (both with the Theatre of Early Music), in Vivaldi's Gloria (with Tafelmusik) and as the soprano soloist in the Grand Philharmonic Choir's performance of Bach's St. Matthew Passion in Kitchener last Good Friday.
She has now sung outside Ontario many times. In May she performed at the Bethlehem Bach Festival (and she will return there next May) and she took part in the reconstructed St. Mark Passion by Bach at the Festival d'Ambronay in France in September. As for the near future: in January she will be in Montreal in a program of Bach cantatas, in April she will sing Monteverdi's 1610 Vespers in Chicago with Music of the Baroque and in May she will sing Bach in Calgary. She will make her debut in a fully staged operatic performance when she will sing the role of Eurydice in Gluck's Orfeo ed Eurydice in Grand River, Michigan. We can also hear her voice on several recordings, two with the Theatre of Early Music (The Voice of Bach on RCA, and The Heart's Refuge on Analekta) and one with Les Voix Baroques and the Arion Baroque Orchestra under Alexander Weimann (Bach's St. John Passion, on ATMA). Zsigovics is now looking at the possibility of launching her first solo recording.
Simone Osborne: Like Zsigovics, Simone Osborne could be described as a lyric soprano but, unlike Zsigovics, she is primarily an opera singer. In 2008, when she was 21, she won the Metropolitan Opera National Concert Auditions. In 2012, Jeunesses Musicales Canada chose her as the first winner of the Maureen Forrester Award. She was a member of the Ensemble Studio of the Canadian Opera Company and has performed a number of roles for the COC on the main stage: Pamina in Mozart's The Magic Flute, Oscar in Verdi's Un Ballo in Maschera, Gilda in Verdi's Rigoletto, Nannetta in Verdi's Falstaff and Lauretta in Puccini's Gianni Schicchi. She will return to the COC later this season to sing Micaela in Bizet's Carmen. On November 12 and 14, we have a chance to hear her in concert with the Toronto Symphony Orchestra. Part of the TSO's Decades Project, that concert will show the diversity of styles in works from the first decade of the 20th century. Osborne will sing three pieces: the aria Depuis le jour from Charpentier's Louise, first performed in 1900; the Song to the Moon from Dvořák 's Rusalka (1901) and the soprano solo in the final movement of Mahler's Fourth Symphony (1901).
Isabel Leonard: The Women's Musical Club of Toronto can always be relied on to provide artists and programs of interest. I, myself, am very much looking forward to the recital by the American mezzo Isabel Leonard on November 19 inWalter Hall. A few seasons ago Leonard sang with the COC in Mozart's La clemenza di Tito and she was splendid in the role of Sesto. The recital will include works by Montsalvatge, de Falla, Ives, Higdon and others.
Sondra Radvanovsky: I last heard Sondra Radvanovsky in a dazzling performance as Queen Elizabeth I in Donizetti's Roberto Devereux for the COC. On December 4 she will give a recital in Koerner Hall. The program includes the aria Sposa son disprezzata from Bajazet by Vivaldi, the Four Last Songs by Richard Strauss, the Song to the Moon from Dvořák 's Rusalka and songs and arias by Bellini, Barber, Giordano and Liszt.
Magali Simard-Galdès: Jeunesses Musicales Canada has announced that the winner of the 2015 Maureen Forrester Prize is the soprano Magali Simard-Galdès. The prize consists of a 30-city tour in which she will perform a program of art songs including a new song cycle by Tawnie Olson, commissioned by the Canadian Art Song Project.
Hans de Groot is a concertgoer and active listener, who also sings and plays the recorder. He can be contacted at artofsong@thehwolenote.com.