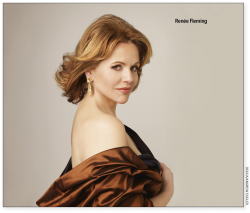 Reviewers and publicists have long searched for the right adjective to describe Renée Fleming's voice: "sublime," "creamy," "sumptuous," "luxurious," "ravishing." None of these seem adequate to give a real sense of the beauty of her singing. She is a lyric soprano with a full voice.
In 1981, when she was still a student at the Eastman School of Music, she sang the role of Zerlina in Mozart's Don Giovanni, a light soprano role. She soon moved to the fuller lyric soprano roles in Mozart's operas: the Countess in The Marriage of Figaro (Aspen Music Festival, 1983), Konstanze in The Abduction from the Seraglio (Salzburg Landestheater, 1986), Pamina in The Magic Flute (Virginia Opera, 1988), Fiordiligi in Così fan tutte (Geneva, 1992) and Donna Anna in Don Giovanni (Paris, 1996).
While Mozart constitutes a centre for her operatic performances, there is now a second centre in the operas of Richard Strauss. She has sung the Marschallin in Rosenkavalier (Houston, 1995), the title role in Arabella (Houston, 1998), the Countess in Capriccio (Paris, 2004) and the title roles in Daphne (University of Michigan, 2005) and Ariadne auf Naxos (Baden-Baden, 2012). She is a noted performer of a number of other parts. They include the soprano roles in three Verdi operas: Violetta in La Traviata, Amelia in Simone Boccanegra and Desdemona in Otello. She has also sung Tatyana in Tchaikovsky's Eugene Onegin, the soprano parts in three of Massenet's operas (Manon, Thaïs, Hérodiade), the title role in Dvorak's Rusalka and both Mimì and Musetta in Puccini's La Bohème. It may seem surprising that her repertoire also includes two operas by Handel (Alcina and Rodelinda), both of which she has also recorded. In both she has demonstrated that early music is not the preserve of early music specialists.
Fleming is now in her mid-50s, an age at which many singers start thinking about retirement. I don't think Fleming is. One of the reasons must be that, although her repertoire is extensive, she has always been careful not to tackle roles for which she did not feel ready or which she did not consider right for her voice. Thus she has sung Eva in Wagner's Die Meistersinger (Bayreuth, 1996) but not Isolde or Brünnhilde, several Verdi roles but not Aida or either of the Leonores, a great deal of Strauss but not Electra or Salome or either of the soprano parts in Die Frau ohne Schatten.
Her work in the concert hall and in recitals has been equally extensive. One thinks first of all of the Four Last Songs by Richard Strauss but she has also performed and recorded the soprano part in Mahler's Fourth Symphony as well as songs by Schubert, Wolf, Berlioz, Duparc, Strauss, Rachmaninoff, Berg and many others. Fleming will sing at Roy Thomson Hall on October 30. The program will include three songs by Rachmaninoff as well as three of the Songs from the Auvergne by Canteloube.
Concerts at Koerner Hall: The Royal Conservatory Orchestra will perform a concert that includes Mahler's Fourth Symphony on October 2. Mireille Asselin will be the soprano soloist. (The concert will be repeated on October 3 at the Isabel Bader Centre for the Performing Arts in Kingston.) The singer-songwriters Joan Armatrading and Liam Titcomb will perform on October 3. The all-Bach concert by Masaaki Susuki's Bach Collegium Japan on October 28 will include the cantata Mein Herze schwimmt im Blut. Anne Carrère is the singer in a program about Edith Piaf on October 30.
Move to Mazzoleni: The Recitals at Rosedale series has been moved to Mazzoleni Hall and now has a new name: Mazzoleni Masters Songmasters. Its first concert, November 1, "Songs of Remembrance," will feature the soprano Monica Whicher and the pianist Rachel Andrist.
The Toronto Symphony Orchestra: On October 7 and 8 Barbara Hannigan will sing and conduct. The vocal works are Nono's Djamila Boupacha and three arias by Mozart. On October 21 and 24 Erin Wall, soprano, and Russell Braun, baritone, are the soloists in Vaughan Williams' Sea Symphony.
COC Ensemble Competition: The Canadian Opera Company announces its annual competition for positions in the COC's Ensemble Studio at the Four Seasons Centre, November 3. The free lunch-time concerts in the Richard Bradshaw Auditorium resume on October 6, when the Ensemble Les Songes will perform music about love by Handel, Corelli and Scarlatti. It will be followed by "The Art of the Prima Donna," October 15, in which arias by Bellini, Donizetti, Verdi and others will be sung by students from the University of Toronto Opera Division, and by a recital by the baritone Quinn Kelsey on October 27, in which he will sing Vaughan Williams' Songs of Travel, Finzi's Let Us Garlands Bring and other works.
The Talisker Players: Many years ago I sang with the Toronto Classical Singers. One of the pleasures of singing with that choir was that one ended up performing with a real orchestra, something quite unusual in those days. The orchestra was called the Talisker Players. They made themselves available to any choral group that wanted to perform with an orchestra. Now the focus of the Talisker Players has shifted and they are largely concerned with the relationship between words and music. Their concerts on October 27 and 28 at Trinity-St. Paul's Centre will include works by Raum, Seiber, Forsyth, Uyeda and Jordahl as well as readings from James Thurber. The singers are James McLennan, tenor, and Doug MacNaughton, baritone.
The Canadian Art Project this year launches a three-concert recital series, with concerts in November, February and May, But before that, their opening concert October 15, co-presented with the Canadian Music Centre sees soprano Allison Angelo and the pianist Simon Docking launching the CD, Moon Loves Its Light, at the CMC. Next, on November 7 at the Extension Room, 30 Eastern Ave., there will be a recital with the sopranos Ambur Braid and Carla Huhtanen. The concert will include works by Eric Ross, Brian Harman, Richard Strauss and Libby Larsen.
Other Events: The mezzo Maria Soulis will sing the Bach cantata Ein Ungefärbt Gemüte as well as settings of poems by Frederico García Lorca at the Heliconian Club on October 16. The Capella Intima will (twice) perform a short recital of English madrigals and part songs October 17 at Fort York National Historic Site. The singers are Sheila Dietrich, soprano, Jennifer Enns Modolo, alto, Bud Roach, tenor, and David Roth, baritone. The Toronto Masque Theatre will open its new season with a salon, "Ben Jonson and the Masque," in which the singers will be Katherine Hill, soprano, and Larry Beckwith, tenor on October 20 at the Atrium, 21 Shaftesbury Ave.
And beyond the GTA: October 25 the Spiritus Ensemble will perform Bach's Cantata, Ich Ruf zu Dir, Herr Jesu Christ, and Purcell's Hear my Prayer, O Lord. The singers are Stephanie Kramer, soprano, Jennifer Enns Modolo, mezzo, and Steve Surian, tenor at St. John the Evangelist Anglican Church, Kitchener; free. Adi Braun sings at the Visual and Performing Arts Newmarket Theatre on November 1.
Hans de Groot is a concertgoer and active listener who also sings and plays the recorder. He can be contacted at artofsong@the wholenote.com.