Most songs are not created for the purpose of fighting injustice. There is, however, a definite period in the history of the English-language song when the political potential of songwriting craft became obvious: the 1960s and 1970s in the US, with roots reaching back to the 1930s and the odd branch extending into the 1980s. It's this period, which we now call the golden age of protest song, that Art of Time Ensemble's artistic director Andrew Burashko homes in on for the three-day festival "All We Are Saying" at Harbourfront Theatre. The festival runs May 10 to 12 with "The Songs Program" performed on May 10 and 12 and "The Classical and Folk Program" on May 11.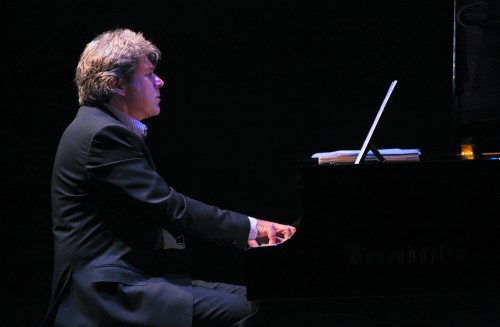 Where was the cutoff point for the protest song, I ask Burashko when we meet to talk about the festival. (It seems to me that few popular songs come out of political grievance these days.) They continue to be made, he replies, but generationally and aesthetically, he feels closest to the songs from this period, when the political songwriting was at its most creative. "Much of the first song program in our festival comes from the African-American experience. Nina Simone's To Be Young, Gifted and Black, Sam Cooke's A Change is Gonna Come, Gil Scott-Heron, Marvin Gaye. Billie Holiday in the extraordinary Strange Fruit.
"Then there's Stevie Wonder's Village Ghetto Land, which he opens with a string orchestra and gives it a surprisingly light, almost ironic tune, while the lyrics talk about extreme poverty and ghettoization," Burashko says. How do you explain that discrepancy? Perhaps as a distancing of sorts, avoidance of sentimentality? "It's hard to tell, but it's fascinating, and Stevie Wonder did it in some other songs too." For this occasion, Burashko asked a few Canadian composers to create original arrangements for the songs. "We had to find the fine line between too complex and 'classical' arrangements, and remaining true to the spirit of the song. There's such a thing as being too clever as an arranger."
Music in songs like these is there to amplify the words, not distract. And the lyrics have a core meaning that should be honoured. "In all fairness, some of the legendary singer-songwriters like Dylan and Cohen haven't been particularly great musicians. They have been great poets, though. Words are what matters."
As they do, I suggest, in hip-hop today, though only some of the hip-hop is political or concerned with injustice. And in pop and electronic music there are even fewer instances of songs concerned with broader societal issues. At the risk of sounding like an old person complaining about "the kids today," I ask him, are today's songs across popular genres largely apolitical and indifferent? Burashko demurs: young people surely have their own causes in pop song, it's just that perhaps we aren't following them very closely. An interesting coincidence, he says: just before this interview somebody sent him a piece by Theodore Adorno in which the German sociologist of music was being typically sceptical about the freeing potential of pop music. In Adorno's view, the so-called popular song is opium for the people, crafted by corporations and selling the illusion of happiness and the illusion of political engagement. "And what we usually find in Top 40 is not far from that description," says Burashko, unlike the best protest songs which have had mobilizing effects, have voiced the previously unsaid, and served as a form of collective memory.
The largely American program of the song night won't be entirely devoid of Canadian creators. Buffy Sainte-Marie's Universal Soldier, Bruce Cockburn's 'Red Brother Red Sister and Joni Mitchell's Big Yellow Taxi are also on the program. One wonders what a heavily Canadian program of political song would have looked like; it would certainly have more Quebec and other Canadian Francophonie in it, possibly the reggae remix of Michèle Lalonde reading Speak White (which exists on YouTube). On this occasion, it's the performers who will bring in the Canadian component: singers Shakura S'Aida and Jackie Richardson, guitarist and vocalist Colin James, and instrumentalists Rob Piltch, Lina Allemano, Rob Carli and John Johnson, with Burashko at the piano. Among those Canadian composers who have be asked to rearrange the protest song classics are Andrew Staniland, Jonathan Goldsmith (who composed the music for Sarah Polley's excellent Take This Waltz and Stories We Tell and who is an Art of Time Ensemble founding member) and Kevin Fox, composer, cellist and frequent Steven Page collaborator.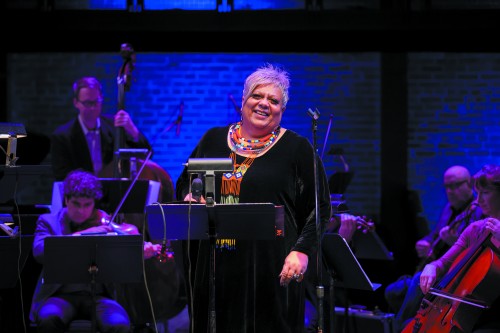 The second program of the "Festival of Protest Music" is a classical- and folk-flavoured night on May 11. It will feature the Rolston String Quartet in George Crumb's Vietnam War-era Black Angels for electric string quartet, and Burashko himself at the piano in a selection of variations from Frederic Rzewski's The People United Will Never Be Defeated. A set of roots and folk songs will be performed by Skydiggers' Andy Maize and Josh Finlayson. Jay Gorney/"Yip" Harbur song of life on a skid row, Brother, Can You Spare a Dime, made famous by Bing Crosby, will be heard, as will Dylan's Masters of War, which borrows its melody from a late-medieval English folk ballad. Pete Seeger was an important link in the survival of the Black civil rights anthem Keep Your Eyes on the Prize and it's his version that will be honoured on May 11.
Before saying goodbye to Burashko, I ask him who his all-time favourite songwriters are. He lists Lennon and McCartney, Tom Waits, George Gershwin, Paul Simon. "The last Leonard Cohen album I thought was exceptional," he says. He also loves P.J. Harvey. Radiohead is still good – and will be touring Canada this July. And he really liked the 2010 album that John Legend released with The Roots, carried on the wave of activism well past Obama's election.
But The Roots and John Legend compiled an album of songs from the 1960s and 1970s, not the Bush-era and Obama-era original content, I thought on my way back home. Not even Obama, the most youth-mobilizing US president in recent memory, managed to inspire much original political content in song. So far Trump's presidency hasn't ignited much either, Eminem's anti-Trump song being one prominent exception. Or have I missed it, while trying to avoid being completely engulfed by American culture? Beyoncé's performances and video art are certainly more political than her song lyrics, and her brand of feminism does mean a lot to a lot of young women. Kendrick Lamar's Pulitzer Prize-winning album DAMN. has only two or three songs that struck me as being of the politically conscious hip-hop kind.
Björk, Alicia Keys, Lauryn Hill and Erykah Badu are extraordinary artists, yet remain mostly non-political in song. Janelle Monaé's recent single 'Pynk' and its accompanying video directed by Emma Westenberg is rightly adored far and wide but it won't turn anyone into an activist. Kate Tempest's songs are political – see her album Let Them Eat Chaos – but Brits are on the other continent and do things differently: it's American and Canadian song that strikes me as privately focused.
Ani DiFranco, Kathleen Hanna and Amanda Palmer are still around, though working for smaller, not planetary audiences, and not very much in the media. Was punk the last crowd of musicians who were overtly political in their work? (Grunge wasn't exactly political, despite a political lyric here and there.) To echo Marvin Gaye, what has been going on, reader? When were you last stirred and made to pay attention to a problem in the world by a song? Or does the issue lie with the media and the Internet: pop artists who are multinational corporations hog everybody's attention broadband?
Let me know your thoughts through the email below. Meanwhile, the protest song festival on May 10 to 12 is for taking stock, and maybe even inspiration.
Lydia Perović is an arts journalist in Toronto. Send her your art-of-song news to artofsong@thewholenote.com.