What is a thriving artist to do if serious illness strikes while everything else in life is going gloriously? Erin Wall, an elegant Straussian soprano in demand on both sides of the Atlantic, who defined Arabella and Kaija Saariaho's Clémence for Torontonians and redefined Mozart's Countess in a recent COC Figaro, had an extraordinarily difficult December last year. That winter, amidst all that bloom, professional and familial – she is happily partnered and a mother of two – she was diagnosed with breast cancer.
While looking at the treatment options, she also had to decide how to redraw the dense schedule of her professional engagements. She was going to have to invent for herself a new way of being in the world for some time to come: a much-travelled soprano who's also in cancer treatment.
It's crucial not to abandon everything – and to continue with life as you know it as much as possible, she tells me when we meet on a mild weekend afternoon in mid-August. Her hair, growing back after chemotherapy, is in a short boyish cut, which gives her a touch of punk. We met to talk about her upcoming song recital with Carolyn Maule at Prince Edward County Chamber Music Festival, but soon enough move on to the much bigger issue: how to go on living and working while healing.
"Generally the week after the chemotherapy is not easy – you feel sick and don't want to go out – but the second week I would start to feel better and by the third I felt normal. Luckily a lot of the gigs fell on those second and third weeks. I only had to cancel, like, two jobs." A few dates had to be negotiated. "Staff at Princess Margaret Hospital at first thought I was crazy. They're used to saying to the patients, 'This is when your surgery will be, just show up, and this is when your appointment will be, and you show up.' They're used to sort of everybody abandoning everything, and I'd go, 'That date is not going to work for me, I need it to be next week so I can go to Cleveland and record Beethoven's Ninth.' And they worked with me." Meanwhile, with her manager she let all the symphonies know that she may not feel okay the day of the concert. "He told them, if you'd like Erin to back out now, she will, and most of them said: 'No, we'll hire a cover and we'll play it by ear.' People were wonderful about it." This summer, she's keeping her two engagements at the British Proms: the first concert was on July 21, four weeks after her surgery, and the next one is coming up on September 6, Britten's War Requiem with the Royal Scottish National Orchestra conducted by Peter Oundjian.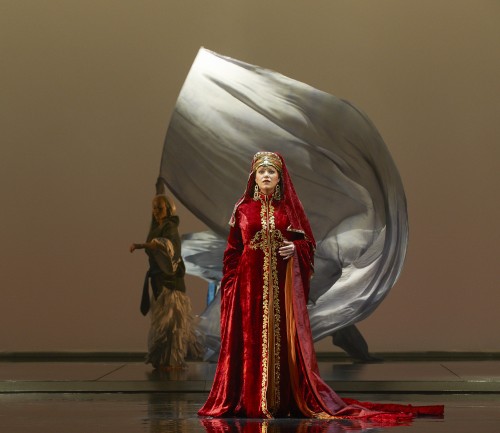 Singing has been a lifeline in the thick of the treatment; when we talked in August, she was undergoing radiation, which she was finding much easier. Singing, and also the rituals around getting ready and being in concert. "It was really nice to do, put on a dress and a wig and pretend that life was normal and not just be a cancer patient sitting on a couch watching Netflix." You travelled quite a bit too? "It was fun actually because every time I got to go sing between the chemos, it's like a vacation from cancer. Cancer treatment is like having a job. I rode to the hospital every day on the GO Train with the businessmen in suits, and it's for weeks in a row, no gigging while this is happening-- it becomes your job." As soon as she's recuperated, it's back to singing. "I've never sung more Beethoven Ninths in my life," she jokes. "Which I love! And they're easier to handle than, say, Mahler 8. I did a Mahler 8 I think between chemo four and five, and that put me absolutely to my limit." This was in the Netherlands, with Yannick Nézet-Séguin. "Any other time when I'm healthy, the amount of effort in Mahler 8 is between six and seven but there, I was at eleven out of ten."
How does the chemotherapy affect a singer's body? "The thing that it affected the most is breathing," she says. As a later side effect, it turned out that she was becoming anemic; the red blood cells were not able to bounce back as quickly as the white cells until with the help of medication, they did. "I had to stop running toward the end of chemo." You maintained your running schedule?! "I was sort of able to keep it up in the beginning, going slower and slower, but toward the end it became impossible as your blood can't carry enough oxygen."
I rewind the conversation back to the wigs and ask her about the practicalities around that. As soon as she was diagnosed, Wall emailed a friend who's a professional wigmaker at the COC to ask her if she could create a wig specifically for her performances. Then she cut her hair short – she was told by girlfriends who've been through treatment that it's easier to mourn the loss of short hair – and sent all the hair extensions she used over the years to the wigmaker friend to incorporate in the wig about to be created. "A week or two after chemo, when it was about to start to fall out, I had my husband shave my head. We had a party in my bathroom with my kids and my parents. I was about to go to Calgary and sing Mendelssohn and I didn't want chunks of hair in my hands in the hotel room, and also didn't want to carry hair brushes, and hair dryers and shampoo AND a bagful of wigs. It was all too much: I'm going to go to Calgary with no hair." But what grew back since that bathroom symposium actually did fall off while she was in Calgary. "I woke up in Calgary and it was all over the pillow. It was still traumatic because it was real."
She doesn't dwell too much. "It's nice to have hair again. I dyed it bright magenta a while ago, and will try platinum on Tuesday." Then she shifts into a comedy mode. "I used a long straight wig for social occasions, but they're so hot and itchy when you have no hair on your head." There are also the hot flashes to contend with, another side to cancer. "When you're getting hot flashes and you have a wig on, it's un-bearable. There were times when I was in public and decided that the wig has got to come off. I'd go somewhere and 30 minutes in, the wig would go into my bag and I would put a little cap on. And people give you looks, they know you're a cancer patient… but you stop caring."
As she's made me laugh multiple times during our conversation, I tell Wall that she's coming up with some stand-up quality stuff that reminds me of Tig Notaro, the first US comic to talk about her cancer onstage and to, in fact, turn the illness into comedy material. Wall's eyes lit up. "I love her work! Her comedy about having cancer and all the horrible things that came with it, I could not stop listening to it. It's what got me through December. Everything is so true. The most horrible thing about it – she had a double mastectomy – is, she says, that nobody can hug you after surgery. It's the thing you most need and you can't stand to be touched." The first Notaro video that went viral and broke new ground in comedy? Wall keeps it on her phone. "She made the hard things funny. And I love that bit where she talks about making fun of her breasts for being so small, and how they have turned on her and went 'we're gonna kill her now'… I just love her. I remember driving through Texas with my sister – my aunt passed away from breast cancer in March – my whole family went there to say goodbye and as we were driving back through Dallas after, really depressed about it all, I was like: you need to listen to this, it's about when life is really really horrible and how you can ache and still be funny. So we listened together."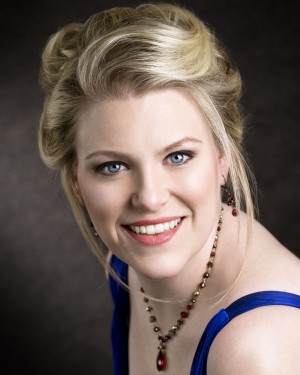 Already in August when we spoke, in between the preparations for the Proms, Wall was rehearsing the songs for the September 14 recital in Picton with Carolyn Maule. A beautifully crafted program awaits, with long, complex songs by Debussy and Duparc, the three Korngold songs of the Opus 22, the delightfully mad Poulenc cycle Fiançailles pour rire, and a three-song cycle by the fin-de-siècle American composer Charles Tomlinson Griffes. "They're all songs that I like and know really well, that are fresh in my mind, body and voice," she says. "These Debussy songs – I started singing them about 13 years ago. Which was ambitious of me then because I didn't always have the low part of the voice to sing them. So I put them away for ten years, and then came back to them a few years ago, after I became a mother." While she's sung Thaïs and quite a few Marguerites as a fledgling singer, and had a French repertoire specialist for a coach, she's more often asked to sing German rep now.
Which will also soon enough include Wagner. The recital program is capped off by Elsa's Dream, the soprano aria from Act 1 of Wagner's Lohengrin – something she's never sung before. Is this a sign of things to come? She smiles but can't divulge too much. "There may be a staged Lohengrin in the cards. In a couple of years. But I can't say more." Can we at least know in what country? "…Spain." Then adds: "I always thought my inroad to big Wagner roles would be either Elsa or Eva from Die Meistersinger… you know, the blonde ones. And that's exactly how it turned out: Elsa it is."
September 14 at 7:30pm: Prince Edward County Chamber Music Festival presents "An Evening of Song" with Erin Wall, soprano, and Carolyn Maule, piano. St. Mary Magdalene Anglican Church, 335 Main St., Picton. 613-478-8416. $35. www.pecmusicfestival.com/erin-wall.
Lydia Perović is an arts journalist in Toronto. Send her your art-of-song news to artofsong@thewholenote.com.