You don't often find yourself discussing the concepts of evil and ethical conduct ten minutes into the phone conversation with somebody you've never met before, but that's exactly what happened during my phone interview with the playwright and hip-hop artist Donna-Michelle St. Bernard. I rang her at the agreed time to ask about her latest project, the libretto for the opera Forbidden, and while phone interviews usually take time gearing up, she was immediately deeply engaging and generous. A Tapestry Opera production that runs February 8 to 11, Forbidden is created out of scenes of interdiction, loosely held together by the character of a girl who is visited by Lucifer. As a hip-hop emcee, St. Bernard brings the song into the mix, and how!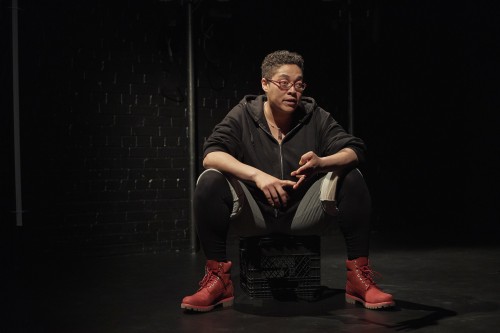 How did Forbidden come together?
Director Michael Mori and composer Afarin Mansouri started the project, and Michael invited me in and we just hit it off. It was a very collaborative process. We generated about 40 story ideas – the piece now has a number of vignettes that are stitched together – and we started out by asking what is forbidden and what interests us about the forbidden. We went with stories that both of us found most intriguing. And then talked them out. Afarin was able to describe to me scenes that she actually experienced that absolutely captivated my imagination. And I would take that back to the text and mix it with my own experience and then go back to her.
I won't ask you what the libretto is "about," as that's always the hardest question, but still – what is the libretto going to be like?
We looked at questions around the management of women's bodies, around religious restrictions, around political oppression. In the stories that we've chosen, the thread was rules and restrictions imposed by authority figures. I'm really interested in the conflict between the letter of the law vs. the spirit of the law. I come from a Catholic upbringing and I'd get into these arguments as a child when I was trying to understand: Why don't we bring that homeless person to our home, mom? Well that's not what you do, was her reply. OK, but here in the Bible… Yeah, but that's not realistic, she'd say. What does realistic have to do with it, you told me this is absolute truth!
And as an adult I am exactly that unreasonable. If you have something that someone needs, you give it to them. I don't understand why churches lock their doors and are gilded in gold when they can feed people instead.
So when you accept what you've been taught from a moral authority, and that moral authority seems to be inconsistent with what they've imposed on you, you have to question the teaching, you question the teacher and you have to re-orient your understanding of how the world works. That's the territory that we're living in. Why are things forbidden, who has the authority to forbid things, and what moral ground are they standing on – and am I following them as a matter of choice or is this somehow imposed on me? And that kind of thread runs through all of the stories in the opera.
Do all religions share a fear of the female body and the will to control it?
There are people who are drawn to leadership in those faiths who misuse the intentions of the spiritual teachings in that way. There are very few faiths with female spiritual leadership. In most faiths of which I have any experience, formal religious training happens from a male authority in a formal institution, while personal individual spiritual training happens in a home from a maternal authority. We found that to be an interesting dichotomy; institutional leadership in any faith tends to be male, but then the ongoing management of that faith tradition tends to be female-led. We are being taught to self-manage and to impose on each other rules that are not our rules; you are handed the rules and then handed a stick to keep other women in line with.
Should women not abandon all existing religious traditions, then? Why try to reform and salvage something that proscribes you?
I am very interested in Christian faiths that have women ministers. I attended a wedding once that had a woman minister officiating and I was really confused. And I have from then till now retained great disappointment in myself for how confused I was by that. Women who are fighting for leadership within the church are kind of doing it alone – women of the faith are not supporting them because we are taught not to question the religious authority. I have mixed feelings about it because as a child I thought being a nun was the greatest thing one could achieve. I really wanted that, until actually one day – I went to an all-girl Catholic school – one day a nun who was teaching there punched a student in the face. And that day I understand that being a nun would not make me a better person. That I would still be the person that I am. And that I can be the person that I am in my own clothes. And still do what I consider to be God's work.
This is a roundabout way to say: when we think about salvaging, I think about how people who are oppressed by patriarchal structure have a desire to be absorbed into that patriarchal structure just because of the absence of alternatives – and the inability to imagine alternatives. Myself included. When I say, for example, that we should abolish prisons, that's just obvious to me, and when people ask me then what should we do with people who break the law, all I can say is I don't know because we haven't been permitted the space to imagine things being any different. Maybe the institution can be salvaged, but what would it look like if we rethink the institution?
Are you in favour of the Catholic church finally allowing women to be ordained and priests to get married?
Wouldn't that be awesome? I mean, I grew up with deacons who are married and have children and if I had a question for somebody I'd go to a deacon before a priest because I understand that they know what life is – that they're not living in a way that's separate and above me and at a distance from all the experiences I'm struggling with.
I guess I hope for those things, but at the same time the church has become such a political organ, and I don't mean now with this new Pope, or with the evolution of what Islam is right now… Catholicism, and Islam, and Buddhism, it's all becoming quite perverted in a political way and my understanding of what Christianity is is not a political Christianity. It's so unreasonably and childishly absolute and whole. I care for everybody. I value all light. It's hard to do, yes. That's why it's a goal; your spiritual life is not supposed to be easy. It's not supposed to be, in my opinion, all about serenity. The way that the Buddhists teach that all life is a struggle, and that the struggle has a reason – yeah. Yeah. There will be poor people – give them stuff. It's that easy to me. Yet it's not easy. It's simple, but nothing simplistic about it. I think that all the faiths have a valuable core. Religion is like driving or work or anything in the world – what's wrong with it is people. And people will always be flawed, so this will always be a problem. But at the core most faiths have really valuable guidance for us. And this is not to say that if you're atheist or agnostic, you don't have a moral code – you do, it's just based in something else. We all look to find things that make us our best selves.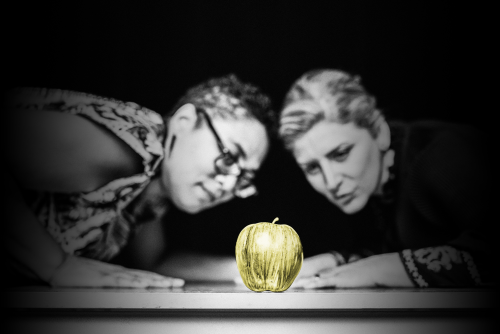 Lucifer too features in the Forbidden. How does that play out?
In our story, Lucifer is both the catalyst to enlightenment, and an object of pity. The central interaction is between Lucifer and a child and there's some negotiation there. Lucifer says something I believe to be true, which is: you can't just blindly follow this authority, you have to question things. What we'll be seeing is a child – in my understanding, everyone's spiritual positioning is childlike – who's torn between the intellectual understanding that rules have to be followed, and the visceral alignment with what Lucifer is saying, You know that that guy is not always right, so why follow? Look at the world; is the world what they've told you?
Probably the longest conversations that I've had were on the nature of Lucifer. Both Afarin and I spent a lot of time looking at our respective traditions. In both cases, Lucifer has always wanted nothing but to be close to God, and my concept of how not to be allowed to be close to God is what is done to Lucifer…. I feel like western pop culture has inflated the importance and the power of Lucifer. Because it's "juicy." The idea that the devil wants all the souls, and evil for evil's sake. I don't believe in evil for evil's sake; I believe that every villain is trying to achieve an objective, and we don't always agree that that objective is worthy. I think that Lucifer is on this eternal punishment, and who would not be spiteful, who would not be bitter and angry in such circumstance? Who would not hurt so much that they would want to hurt everyone that they can reach?
How can I not have some compassion for that? We're bunch of saps, I tell ya. We are a couple of soft-hearted saps, Afarin and I. But we really worked from aspects of Lucifer that are consistent between our faiths. And sort of negotiated a shared story about Lucifer. I honestly think that the devil from the movies is for people who haven't read the Bible. If you really read the story and really look into the fallen angel concept, it's the saddest story every told.
I don't know if you've read J.M. Coetzee's Elizabeth Costello? The title character, who's an atheist, says something that struck a chord with me, also an atheist: evil, as a concept, survives even for the atheists. We've all seen it – if not in person, then in the news of war crimes, concentration camps... You don't need an elaborate religious system; the concept remains useful, unfortunately.
Yes. There is such a thing as certain things being wrong. And if there was no God, those things would still be wrong.
But let's return to the libretto. And the music. The opera will have Persian, Western classical and hip-hop music. Hip-hop is there thanks to you?
Yes, hip-hop is my primary artistic form. And because it's TAP:EX, we want to experiment with form, we want to see what happens when the aesthetics collide. It's not only a matter of rapping on opera, which is not a brand new thing, but it's also a matter of engaging hip-hop aesthetics. We're going to be doing something that's probably uncomfortable for the singers - coming into rehearsals and going, like, "Switch it up!" Equally, we'll be doing some things that are uncomfortable for the rapper. In the kind of hip-hop that I practise, you do not speak what you didn't yourself write. And in this performance, that's not the case. I'll be writing rap for another emcee. In Tapestry Lib Labs, we worked on how opera is structured, and how different roles interact, and how it comes together. And then I went back home to hip-hop, and did a show where if I didn't feel like saying a thing, I wouldn't say that thing and would say something else instead. Now we're trying to work in this way, with a certain amount of prepared material. And then every day – we unsettle it. Which to me is at the heart of what we're doing: we're unsettling both practices. And then, if possible, unsettling your entire spirit.
TAP EX: Forbidden runs February 8 to 11 at the Tapestry Opera Ernest Balmer Studio in the Distillery District, featuring Neema Bickersteth, soprano; Shirin Eskandani, mezzo; Alexander Hajek, baritone; Saye Sky, Farsi rapper/spoken-word artist; and Michael Shannon, conductor.
Lydia Perović is an arts journalist in Toronto. Send her your art-of-song news to artofsong@thewholenote.com.