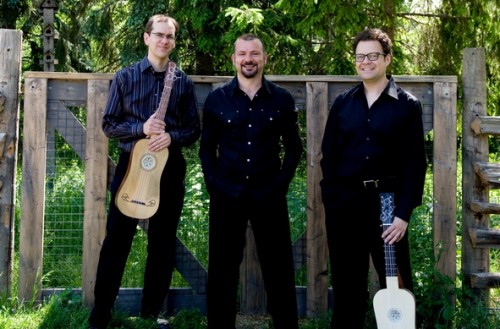 If anything's desperately needed in Toronto in December, it's a dash of the south. The Vesuvius Ensemble to the rescue: the trio that specializes in Southern Italian music (mostly from Naples and Campania but also Calabria and Puglia) is preparing a pastoral Christmas program for mid-December, just as the Toronto winter is about to take over.
Vesuvius is a three-lad enterprise: Francesco Pellegrino is the voice of the group, while Marco Cera and Lucas Harris play a variety of plucked string instruments, and are most likely to be found manning Baroque guitar and theorbo respectively. Various other period instruments are added depending on the songs chosen, like tammorra, a large tambourine with bells, or ciaramella, an early oboe with an ear-trumpet-like shape. This instrumentarium is there to accompany the songs both folk and composed, roughly from the same period, the 1500s and 1600s. The most interesting part of the Vesuvius mission is this mix of the popular and the authored material. There have always been song composers open to the influence of the folk, and among those who have used either folk music or folk lyrics you are likely to hear in Vesuvius concerts are Andrea Falconieri (d. 1656), Giovanni Girolamo Kapsberger (1580-1651), Athanasius Kircher (1602-1680), Leonardo Vinci (1690-1730), and Francesco Provenzale (1624-1704).
The study of Italian folk song got a significant boost in the 20th century thanks to recording technology. In the mid-1950s, Alan Lomax and Diego Carpitella travelled to villages up and down Italy to record traditional peasant songs sung in dialect. Some of the songs were work songs, some were dances like the tarantella (which, myth has it, cures poisonous spider bites and bilious moods of other kinds), and others were laments, or love songs, or wedding songs. Commercially released recordings of some of the Carpitella-Lomax treasures still exist – the Italian Treasury series of CDs divided into regions is not exactly easy to buy (an Amazon search will yield second-hand, vinyl or MP3 offers) and is best sought out in large and university libraries. Puglia: the Salento (2002), Calabria and Folk Music and Song of Italy: A Sampler (1999), for example, are available at the Toronto Reference Library and each includes booklets with lyrics and translations.
Another important figure of the Italian folk revival of the 20th century is the musicologist, theatre artist and composer Roberto de Simone (b. 1933). In addition to the research and archiving of the popular chant, de Simone incorporated folk practices into his own writing and stage directing and is probably best known internationally for the opera La gatta Cenerentola. (Look for Secondo coro delle lavandaie – The Second Chorus of the Washerwomen – on YouTube.)
Which of the Italian traditional and composed treasures will Vesuvius perform in their Christmas concert? We'll find out on December 17 or 19 in Heliconian Hall, though a few days earlier is also a possibility since the group will perform a similar program at the Four Seasons Centre's Richard Bradshaw Amphitheatre on December 12 at noon. When I spoke with Francesco Pellegrino for this article in mid-October, the program had not yet been finalized. What is certain is that Tommaso Sollazzo, a connoisseur of the Italian bagpipes called zampogne, will be joining in. The trio performed with him in Italy a few years back and now he's making the trip to wintry Toronto.
And since the tarantellas and the tammurriatas are so danceable, will Vesuvius let the audience dance during their concerts, maybe preceded by some dance instruction? "Not yet," says Pellegrino, "but we are expanding this program and in the next couple of years our concerts may also have dancers from Italy who are well versed in tarantella or tammurriata. We're working on it."
Outside Toronto, you can hear (though not yet dance to) Vesuvius' Christmas concert on December 18 in Hamilton and December 20 in Montreal.
January
Twenty-five years after its world premiere, the song cycle Honey and Rue is still regularly performed by symphony orchestras and coloratura sopranos in the US. Carnegie Hall commissioned it and André Previn composed it for Kathleen Battle, who was a keen reader of Toni Morrison and wanted her as a lyricist. We don't hear the cycle that often in Canada, and it's St. Catharines, not Toronto, that got lucky this season, with two Honey and Rue performances with the Niagara Symphony Orchestra in January. Morrison's poems are a rich and intense read and should be relished without the music first (keep those programs, concertgoers: the poems are not easy to find).
Young soprano Claire de Sévigné will sing. Last time I heard de Sévigné was in the COC's Arabella, where she effortlessly produced the coloratura for the Viennese ball ingenue, Fiakermilli. There probably isn't another Canadian soprano whose timbre more resembles Battle's. I caught up with the travelling soprano via email to learn more about her take on the piece.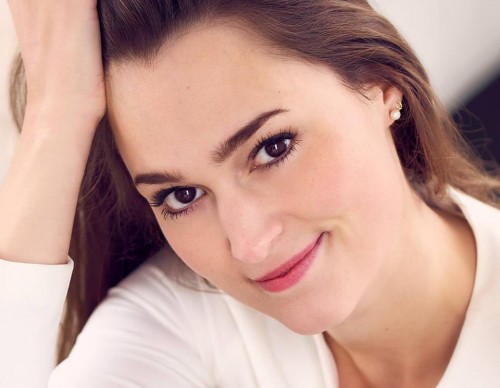 When I ask her what it is that she likes about Honey and Rue, she starts with the orchestration. "Singing with an orchestra is always thrilling but singing a piece that's in the style of 'classical-jazz-blues fusion' feels like a real jam. The fourth song is a huge contrast to the rest of the cycle in that it is a cappella, and this moment can be magic. I also adore the lyrics. Very strong text with stunning imagery."
I tell her that my first impression of it was that it was extremely high. Her answer doesn't surprise me: "I don't notice it being all that high actually – but that's coming from a coloratura soprano and my voice lives in the clouds, haha. I think that Previn knew how to write for the voice, since the performer doesn't notice it being all that high! I actually find the set quite lyric – the highest note is only a B flat, a whole fourth lower than my high notes, and the set sits in quite a nice place for a light soprano's voice to spin and shimmer while still being able to sing the text… It's quite a pleasure to sing."
The cycle was written by an African-American writer for an African-American singer originally, and although it's still frequently sung by African-American singers, it's become a cycle for any talented soprano who can meet its challenge. I ask de Sévigné what she thinks of the recent rise in discussions about what cultural material can be performed by who, and in what context. "It's true, the cycle was originally commissioned after Battle read The Bluest Eyes by Toni Morrison. The poems of Honey and Rue are different however – they don't explicitly or exclusively portray the same themes from the book, with the exception of the sixth song, which I would say is outwardly about slavery and abuse." The final poem is based on the African-American spiritual Take My Mother Home, though with added lyrics and musical material. "The cycle as a whole," writes de Sévigné, "explores questions around equality, suffering, freedom and acceptance, which are themes that humanity as a whole has experienced and can appreciate."
This will not be the young singer's first encounter with the piece. "It's the second time I've been asked to sing it. I first performed it with piano in the Aspen Music Festival concert series in 2012 and have performed excerpts over the past years in several recitals. I find something new every time I perform it. I have found that my best way to interpret the songs is by switching between the first person and the narrator."
And what is next on her schedule? "I'm currently doing a concert tour in China with the Hantang International Music Festival in collaboration with the Salzburg Festival (writing to you from Beijing right now!). I'm back to Canada in December for the Messiah with the Edmonton Symphony and in February, I'll be at the Canadian Opera Company singing the role of Blonde in Mozart's Die Entführung aus dem Serail. There's also a Mozart C Minor Mass this season, and a Carmina Burana with the Grant Park Festival in Chicago."
But as the first thing in the new year, Honey and Rue: January 20 and 21, 7:30pm, with the Niagara Symphony Orchestra. Also on the program: Wagner's Siegfried Idyll and Ravel's Mother Goose (complete ballet). Bradley Thachuck, conductor. FirstOntario Performing Arts Centre, St. Catharines.
Lydia Perović is an arts journalist in Toronto. Send her your art-of-song news to artofsong@thewholenote.com.