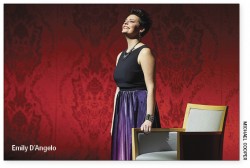 Last year the mezzo-soprano Emily D'Angelo won both First Prize and the Audience Choice Award at the annual vocal competition for a place held by the Canadian Opera Company. She went on to win the very prestigious First Prize at the National Council Audition Finals of the Metropolitan Opera.
I have long had a special fondness for the warm sound of the mezzo-soprano, a fondness which probably began with my hearing the great Janet Baker in concert, on the opera stage and in recordings. Later I enjoyed the singing of Jennifer Larmore and Anne Sofie von Otter, of Elina Garanča and Allyson McHardy and, most recently, Jamie Barton and Isabel Leonard.
D'Angelo is still at the beginning of her career but she is already such an assured performer that there is nothing odd in writing about her in this context. She herself names Cecilia Bartoli as a model, not only for the beauty of her singing but also for her scholarship in finding and reviving long forgotten works. D'Angelo also admires the English mezzo Alice Coote. She will have had many opportunities to hear Coote recently as she understudied her for the title role in Handel's Ariodante in the COC production.
She recently appeared at one of the lunchtime concerts in the Richard Bradshaw Auditorium at the Four Seasons Centre and gave a lovely performance of the music-lesson scene of Rossini's Barber of Seville. She had also sung that aria at the Ensemble Studio Competition but before that, in the afternoon portion of the event, she had performed Cherubino's Voi che sapete from Mozart's Marriage of Figaro. That I did not hear, but Bruce Ubukata, no mean judge, tells me that she was wonderful.
D'Angelo clearly has a special affinity with the music of Rossini, an affinity that recalls the career of Marilyn Horne. When I talked to D'Angelo, she emphasized that the situations may be comic on the surface in Rossini but for her there is an underlying seriousness and that Rossini's characters are believable. We shall be able to hear D'Angelo next on November 10 when she will perform with other emerging artists at Koerner Hall. There she will sing Rossini's cantata Giovanna D'Arco. That work is not entirely unknown to Toronto audiences (I remember hearing Janet Baker sing it in concert), but it represents a facet of his work that is less well known than the comic operas.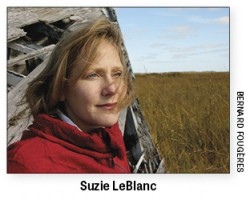 Suzie LeBlanc and Elizabeth Bishop. The soprano Suzie LeBlanc is best known for her performances of early music and also of Acadian folk song. Recently she has been commissioning and performing new work. A major influence has been the American poet Elizabeth Bishop. LeBlanc's interest in Bishop's life and poetry began in the summer of 2007 when, quite by chance, she found a leaflet about Bishop in a church in Nova Scotia. That leaflet not only dealt with the time Bishop spent as a child in Nova Scotia but also recorded a walking tour she undertook in Newfoundland in 1932. LeBlanc and a friend retraced that tour in 2008. She continued to immerse herself in Bishop's poetry and commissioned several settings from four Canadian composers: Emily Doolittle, Christos Hatzis, John Plant and Alisdair Maclean (all have been recorded on the disc I am in need of music, issued by Centredisc).
On December 1, in a Music Toronto concert at the St. Lawrence Centre, LeBlanc will perform settings by Doolittle, MacLean and Plant and will add two world premieres, also settings of Bishop's poetry: Paris 7am by Ivan Moody and Lullaby for the cat by Peter Togni. LeBlanc, who will be accompanied by the pianist Robert Kortgaard, will also sing Six Songs Op.107 by Robert Schumann as well as Heitor Villa-Lobos' Cançao do Poeta do século XVIII. The program is rounded out by two other works by Villa-Lobos: Serra Da Piedade de Belo Horizonte (played by Kortgaard) and the first three movements from his String Quartet No.1 (played by the Blue Engine String Quartet). Bishop lived in Brazil for many years and the concert will bring together the two places dear to her: Brazil and Nova Scotia.
Russian Song at the Off Centre Music Salon: The next Off Centre Music Salon concert at Trinity-St.Paul's Centre, November 13, will have an all-Russian program: songs by Tchaikovsky, Rachmaninoff and Prokofiev as well as the Canadian premiere of Valery Gavrilin's Seasons and the Piano Trio in D Minor op.32 by Arensky. The singers are Joni Henson and Ilana Zarankin, soprano, and Ryan Harper, tenor.
Healey Willan and the Canadian Art Song Project: The Canadian Art Song Project and Syrinx Concerts present "The Art Song of Healey Willan" at Trinity-St. Paul's Centre, November 18. The singers are Martha Guth, soprano, Allyson McHardy, mezzo, and Peter Barrett, baritone. The pianist is Helen Becqué.
The 2016 COC Annual Vocal Competition: The COC has released the names of the finalists in this year's Ensemble Studio Competition to be held at the Four Seasons Centre; November 3. They are: Myriam Leblanc, Maria Lacey, Andrea Lett, and Andrea Nunez, soprano; Simone MacIntosh, mezzo-soprano; Samuel Chan and Geoffrey Schellenberg, baritone.
Toronto Masque Theatre: At one time, a long time ago, a rumour circulated that the great baritone Dietrich Fischer-Dieskau had become interested in performing early music, that he had consulted some early music guru but that he had been told not to bother, as performing this music required special abilities. I am very skeptical about the authenticity of that story. First, because Fischer-Dieskau has never struck me as the kind of singer who allowed anyone to tell him what he could and could not sing. But also because it cannot be true: Fischer-Dieskau performed and recorded a great deal of early music, much of it by Bach but also works by other composers. One of the works he recorded was the part of Apollo in Handel's cantata Apollo e Dafne. For some reason that LP was never issued as a CD and has become something of a collector's item. (I have seen it offered on eBay.)
The Toronto Masque Theatre will perform the cantata on November 17, 18 and 19, with the baritone Geoffrey Sirett as Apollo and the soprano Jacqueline Woodley as Dafne. There is a double bill: the other half consists of Richard Strauss' monodrama for speaker and piano, Enoch Arden, a setting of Tennyson's poem. (Glenn Gould was interested in this work and recorded it; his performance is still available in a CD version.) In the Toronto Masque Theatre performances the pianist is Angela Park, a fabulous musician, perhaps especially known as a member of the trio Made in Canada. The speaker is Frank Cox-O'Connell.
QUICK PICKS
Nov 2 to 6: a celebration of the Tafelmusik Chamber Choir, now 35 years old, at Trinity-St. Paul's Centre. The soloists are Sherezade Panthaki, soprano, Philippe Gagné, tenor, and Jonathan Woody, bass-baritone. The concert will include works by Handel, Rameau, Lully and Zelenka (Trinity-St. Paul's Centre).
Nov 11: Deborah Voigt, soprano, and Brian Zeger, piano, will perform works by Bach, Strauss, Tchaikovsky and Bernstein at Koerner Hall.
And looking ahead: Show One's Svetlana Dvoretsky, in collaboration with the COC, has announced the Canadian debut of Trio Magnifico, at the Four Seasons Centre, April 25. This new opera trio consists of Anna Netrebko, soprano, her husband, the Aberbaijan-raised tenor Yusif Eyvasov and the baritone Dmitri Hvorostovsky. Tickets for this event are now on sale.
Hans de Groot is a concertgoer and active listener who also sings and plays the recorder. He can be contacted at artofsong@thewholenote.com