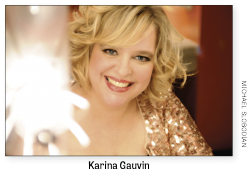 As in preceding years, Attila Glatz Concert Productions bring two events to Roy Thomson Hall, a salute to Vienna (Strauss waltzes and melodies from operettas by Strauss and Lehar) on New Year's Day, to be repeated in Hamilton at Hamilton Place on January 3, and on New Year's Eve, Bravissimo!, a selection from the most popular operas by Rossini, Offenbach, Verdi and Puccini.
Care has always been taken to have both Canadian and non-Canadian singers in Bravissimo! This year both the tenor, Stefano La Colla, and the baritone, Lucio Gallo, are Italian, while the female singers are Canadian: Karina Gauvin, soprano, and Krisztina Szabó, mezzo. We have heard Szabó's eloquent and powerful voice a number of times recently: in the dramatized version of Schubert's Die Schöne Müllerin by Against the Grain Theatre and in the Canadian Opera Company's triple bill of Monteverdi and Monk Feldman. Gauvin has performed in Toronto many times, with the Toronto Symphony Orchestra, with Tafelmusik and in recital, but she has been away too long and the December 31 concert will be a good opportunity to catch up.
Toronto Masque Theatre presents "A Newfoundland Christmas Kitchen Party" on December 17, 18 and 19 at Enoch Turner Schoolhouse with music by Dean Burry. The singers are Carla Huhtanen, soprano, Marion Newman, mezzo, Christopher Mayell, tenor, and Giles Tomkins, baritone. Other performers are members of the Canadian Children's Opera Company as well as two step dancers (Pierre Chartrand and Hannah Shira Naiman) and a jug band led by Larry Beckwith. This is a revival of The Mummers' Masque, a work commissioned by the Toronto Masque Theatre and first performed on December 3, 2009.
Looking back: On November 3, I attended the annual COC Ensemble Studio Competition, eight finalists chosen from a large number of contestants. The first prize (and the Audience Award) went to mezzo Emily D'Angelo, who gave a beautifully paced performance of Contro un cor from Rossini's The Barber of Seville. She needed a chair to lean on as she was on crutches, having broken her foot, but she deftly turned the chair into part of her act. The second prize went to Lauren Eberwein, also a mezzo, who sang Parto, parto from Mozart's La Clemenza di Tito; third to Bruno Roy, baritone, who performed Hai già vinta la causa!, the Count's aria from Mozart's The Marriage of Figaro. When there are prize-winners, there must also be those who receive no prizes, in this case including two especially fine performers: the baritone Zachary Read, who sang Valentin's aria Avant de quitter ces lieux from Gounod's Faust, and the soprano Eliza Johnson, who sang Caro Nome from Verdi's Rigoletto.
Other Events of Note (see listings for details):
Dec 2: The Cathedral Church of St. James resumes its series "Cantatas in the Cathedral." Soloists are Sheila Dietrich, soprano, Christina Stelmacovich, alto, Robert Busiakiewicz, tenor, and David Roth, bass.
Dec 3,4,5,6:Tafelmusik Baroque Opera and Chamber Choir, conducted by Ivars Taurins, present Bach's Christmas Oratorio. Soloists are Jana Miller, soprano, Benno Schachtner, countertenor, James Gilchrist, tenor, and Peter Harvey, baritone. Dec 6 Toronto Classical Singers present the same work, conducted by Jurgen Petrenko with Jennifer Taverner, soprano, Sandra Boyes, mezzo, Asitha Tennekoon, tenor, and James Baldwin, baritone. Yet another performance of the work by the Spiritus Ensemble takes place in Waterloo Dec 13 with Sheila Dietrich, soprano, Jennifer Enns Modolo, mezzo, Steve Surian and Bud Roach, tenors, and Richard Hryztak, baritone.
Dec 4 Sondra Radvanovsky, soprano, will give a recital on at Koerner Hall. The program includes Vivaldi's Sposa son disprezzata from Bajazet as well as songs and arias by Strauss, Liszt, Barber and Giordano.
Dec 5 there is an Aradia Ensemble concert and CD launch of sacred music by Vivaldi; the singers are Hélène Brunet, soprano, and Vicky St. Pierre, contralto.
Dec 5 and 6 there will be two performances by Pax Christi Chorale of Berlioz's L'enfance du Christ with soloists Nathalie Paulin, soprano, Olivier Laquerre, baritone, Alain Coulombe, bass, Sean Clark, tenor, and Matthew Zadow, baritone.
Also Dec 6 Eliska Latawiec sings Dvořák at St. Wenceslaus Church. Dec 12, The Neapolitan Connection presents Allison Arends, Jennifer Mizzi and Victoria Gydov, sopranos, at Montgomery's Inn. Dec 15 Mooredale Concerts presents the extraordinary Calmus Ensemble in "Christmas Carols of the World." Dec 18, at St. Andrew's Church, another concert of Christmas carols features Allison Angelo and Xin Wang, sopranos, as soloists; admission is by freewill offering in support of St. Andrew's Syrian Refugee Sponsorship Fund.
January the TSO brings us a mini-Mozart Festival. On Jan 16 at Roy Thomson Hall and Jan 17 at George Weston Recital Hall tenor Frederic Antoun will sing Dalla sua pace and bass-baritone Philippe Sly will sing Madamina, il catalogo è questo, both from Don Giovanni. On Jan 21, 22 and 23, the TSO will perform Mozart's Requiem with Antoun and Sly, Lydia Teuscher, soprano, and Allyson McHardy, mezzo, as soloists..Bernard Labadie conducts both programs.
Jan 28 After what seems a long absence the University of Toronto Faculty of Music resumes its free "Music and Poetry" series in Walter Hall. The singer is the mezzo Krisztina Szabó, who will perform Cinco Canciones Negras by Montsalvatge and Quattro Canziones by Berio. The pianist is Steven Philcox and a commentary will be provided by Eric Domville.
Jan 27 and 28 Soprano Barbara Hannigan returns to the TSO to perform Dutilleux's Correspondances for soprano and orchestra. The conductor is Peter Oundjian.
Jan 30 the soprano Nathalie Paulin will be the soloist in works by Purcell and others in a program called "Soaring Over a Ground Bass" at Eastminster United Church.
Beyond the GTA:
Feb 7 the Spiritus Ensemble will perform cantatas by Bach and Kuhnau at St. John the Evangelist Anglican Church, Kitchener, on; free will offering.
Looking forward:
Feb 21 the Russian baritone Dmitri Hvorostovsky will sing in Koerner Hall. More in our February issue.
Hans de Groot is a concertgoer and active listener, who also sings and plays the recorder. He can be contacted at artofsong@thewholenote.com