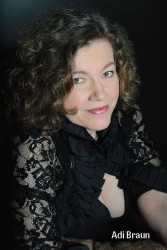 Adi Braun was born into a distinguished musical family. Her father was the great baritone Victor Braun, who died in 2001 (and who almost certainly crossed paths with this column's second subject, Aprile Millo, at the Met, in the years following Millo's debut there in 1985). Not many of Victor Braun's recordings are at present available but I would recommend the Solti recording of Wagner's Tannhäuser, in which he sings Wolfram and is easily the finest singer in the cast. Adi Braun's mother is Eraine Schwing-Braun, a mezzo-soprano who in recent years has taught at the Royal Conservatory and has also acted as German language coach for the Canadian Opera Company. The elder of Adi Braun's brothers is the now-famous baritone Russell Braun, who is currently appearing as Ford in Verdi's Falstaff and whom we shall be able to see as Don Giovanni in the spring (both for the COC). The younger of her brothers, Torsten, is the lead singer in the alt-rock band Defective by Design.
Braun's training was classical and she appeared in productions by the COC and by Opera Atelier. Some years ago, however, she decided to concentrate on singing jazz since she felt that she was able to bring out the essence of the music in ways she could not do in opera or in the art song. This change of field also marked a change from Adreana Braun, the opera singer, to Adi Braun, the jazz vocalist. She performs jazz regularly and now has four CDs to her credit. Her concert on December 6 at the Royal Conservatory of Music is best described as "cabarazz," a blend of jazz and cabaret. It features the songs of Kurt Weill with pianist Dave Restivo, bassist Pat Collins and drummer Daniel Barnes. Braun gave an earlier version of this recital last season at one of the Richard Bradshaw Auditorium recitals at the Four Seasons Centre. I was at that show and I very much look forward to hearing her again on December 6, a performance which will include some additional songs as well as readings from the correspondence between Weill and his wife, the singer Lotte Lenya.
Braun also maintains a busy teaching schedule through her studio as well as through the RCM. She was formerly a conductor and accompanist with the Canadian Children's Opera Company and still coaches there. She has succeeded her mother as the German language coach for the COC. This month she is also giving a three-lecture series on the history of cabaret at the RCM November 12, 19 and 26, 6:30 to 8pm.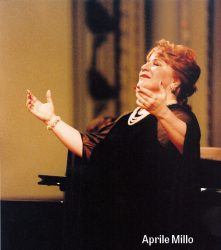 Aprile Millo.There is a rare opportunity to hear the soprano Aprile Millo on November 15 at Trinity-St. Paul's Centre. The collaborative pianist will be Linda Ippolito; guest artists are Mary-Lou Vetere, soprano, Giacomo Folinazzo, tenor, Gustavo Ahauli, baritone and Merynda Adams, harp. The recital will include works by Donaudy, Strauss, Wolf, Verdi, Bellini, Donizetti, Boito and Puccini.
Millo began singing professionally in the late 1970s but her big break came in 1982, when she replaced the indisposed Mirella Freni in the role of Elvira in Verdi's Ernani. Since then she has become especially famous as an interpreter of Verdi, in I Lombardi alla prima crociata, La battaglia di Legnano, Luisa Miller, Il trovatore, Un ballo in maschera, La forza del destino, Don Carlo, Aida, Simone Boccanegra and Otello. Recordings of many of these operas in which she sings the soprano part are still available on CD as is a recital of Verdi arias (EMI). She has also performed in operas by other composers, notably Puccini's Tosca, Boito's Mefistofele, Ponchielli's La Gioconda, Rossini's Guillaume Tell as well as the rarely performed verismo opera Zazà by Leoncavallo (you can hear an excerpt of her performance in this work on YouTube).
Critics have often seen Millo as one of the few singers still active who can be placed in a tradition which goes back to Maria Callas and Zinka Milanov, Renata Tebaldi and Magda Olivero. On the other hand, Millo does not see herself as the embodiment of a lost art and she has recently written about her admiration for Anna Netrebko's singing in Verdi's Macbeth. Millo is now 56, an age at which many singers think of retirement, but she will have none of that. On her blog she points out that the great Kirsten Flagstad did not find her true voice until she was 39. She herself feels that as a singer she is in the prime of her life and is only now emerging as a true spinto. "Fine wine gets better with time. It was and is supposed to be that way with voice too."
Millo is also strongly interested in the future of opera. The recital on November 15 will be preceded by a concert in which Millo will present young Canadian singers from the Vetere Studio November 13, also at Trinity-St. Paul's Centre. This studio is directed by Mary-Lou Vetere, a soprano and a musicologist with a special interest in Italian opera of the late 19th century, who also plays piano and accordion professionally.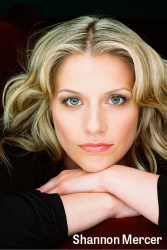 Other Events: The mezzo-soprano Catherine Wyn-Rogers will give two masterclasses (opera on November 3; art song on November 4) as well as a concert with student singers November 5. All in Walter Hall, the events are open to the public and are free of charge.
On November 7 Opera By Request presents the soprano Tsu-Ching Yu will sing works by Clara Schumann, Chaminade, Eric Whitacre, Tchaikovsky and others
The Art of Time Ensemble presents songs and the poems which inspired them (Petrarch/Liszt, T. S. Eliot/Lloyd Webber, Whitman/Crumb, Cohen and others). The reader is Margaret Atwood and the singers are Thom Allison, Gregory Hoskins and Carla Huhtanen at Harbourfront, November 7 and 8.
On November 8 Kira Braun, soprano, will sing works by Schubert, Rachmaninoff and Ravel at Calvin Presbyterian Church. Also on November 8 the baritones Serhiy Danko and Alex Tyssiak will sing with the Vesnivka Choir and the Toronto Ukrainian Male Chamber Choir at Runnymede United Church.
Recitals at Rosedale begins its new season with "A Walk on the Dark Side: Myths, Legends and Fairy Tales." The works are by Mahler, Debussy, Szymanowski, Weill, Gershwin and others. The singers are Leslie Ann Bradley, soprano, Allyson McHardy, mezzo, and Geoff Sirett, baritone at Rosedale Presbyterian Church, November 9.
Kirsten Fielding, soprano, Scott Belluz, countertenor, Rob Kinar, tenor, and David Roth, baritone, will be the soloists in Bach's cantata Nur jedem das Seine at St. James Cathedral, November 12; PWYC. Also on November 12, Responsories from the Office of the Dead by Victoria, Lassus and Palestrina, along with Gregorian Chant will be sung, with soloists Richard Whittall, countertenor, Paul Ziade and Jamie Tuttle, tenor, and Sean Nix, bass, at Holy Family Church; free.
Leslie Bickle, soprano, will give a free noontime recital at St. Andrew's Church on November 14.
The next Tafelmusik concert will present music from the English Baroque. The director is the violinist Pavlo Beznosiuk and the singer will be the American soprano Joélle Harvey, who will perform arias from Handel's Rinaldo at Trinity-St. Paul's Centre, November 19 to 23.
Allison Arends, soprano, Christy Derksen, mezzo, Lenard Whiting, tenor, and Jesse Clark, bass, will be the soloists in Bach's Christmas Oratorio at St. Matthew Catholic Church, Oakville, November 22 and 23. There will be another performance of this work on November 28 at Runnymede United Church with soloists Monica Whicher, soprano, Allyson McHardy, mezzo, Lawrence Wiliford and Colin Ainsworth, tenor, and Russell Braun, baritone
On November 25 Soundstreams presents Vespro della Beata Vergine by Monteverdi and Les Vêpres de la Vierge by Tremblay. The soprano soloist is Shannon Mercer.
The second instalment of the three-part series "International Divas" will take place at Trinity-St. Paul's Centre on November 27. The singers are Eliana Cuevas, Fern Lindzon, Nathalie, Samidha Joglekar, Chloe Charles and Kathryn Rose.
On November 29 there are a number of concerts to choose from. The Eastman School of Music Bach Chamber Orchestra and Soloists present two cantatas by J. S. Bach, Alles nur nach Gottes Willen and Schwingt freudig euch empor. The soloists are Paulina Swierczek, soprano, Katie Weber, alto, Steven Humes, tenor, and Joel David Balzun, bass at Grace Church on-the-Hill. A performance of C. P. E. Bach's oratorio Die Israeliten in der Wüste will have as soloists Emily Ding, soprano, Michelle Simmons, mezzo, Alex Wiebe, tenor, and Geoffrey Keating, baritone, at Bloor Street United Church. The soprano Lesley Bouza will perform Rachmaninoff, Chopin, Canteloube and others at Metropolitan United Church. The soloists with the Oakham House Choir in Haydn's Nelson Mass are Zorana Sadiq, soprano, Adriana Albu, mezzo, Riccardo Iannello, tenor, and Michael York, bass, at Calvin Presbyterian Church.
On December 3 Bach's cantata Wachet! betet! betet! wachet! will be sung by Erin Bardua, soprano, Christina Stelmacovich, mezzo, Charles Davidson, tenor, and Graham Robinson, baritone at St. James Cathedral, PWYC.
Pax Christi Chorale performs work by Bach and Martin, in which the soloists are Michele Bogdanowicz, mezzo, Sean Clark, tenor, and Doug MacNaughton, baritone at Grace Church on-the Hill, December 6 and 7.
And beyond the GTA: Melanie Conly, soprano, and Bud Roach, tenor, sing Noël Coward, in Grace United Church, Barrie November 9. What may be the first Ontario performance this year of Handel's Messiah takes place on December 6. The soloists are Jennifer Taverner, soprano, Kimberly Barber, mezzo, Cory Knight, tenor, and Daniel Lichti, bass-baritone at the Centre in the Square, Kitchener.
And looking ahead: TorontoSummer Music has announced that the mentors in the 2015 Art of Song program will be the soprano Soile Isokoski and the collaborative pianist Martin Katz. Steven Philcox will coordinate and will also act as coach (as he did in 2014).
Hans de Groot is a concertgoer and active listener who also sings and plays the recorder. He can be contacted at artofsong@thewholenote.com.