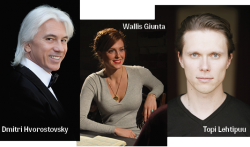 Rachel Andrist, the co-director of Recitals at Rosedale (held at Rosedale Presbyterian Church), tells me that when it was first suggested to her that she might start a new recital series she was only lukewarm to the idea. She got more enthusiastic when she heard that the recitals of the Aldeburgh Connection would soon be no more. At the same time she realized that it would not be a good idea simply to repeat the kind of programs that the Aldeburgh Connection had always mounted: they tended to concentrate on a particular composer or on a particular milieu and they were elaborately documented through the use of letters and diaries.
By contrast, the programs at Rosedale have been wide ranging and they have been unified by a common theme. The 2013-14 season began with "The Seven Virtues" and will, in the season's final concert, May 25, end with its logical complement, "The Seven Deadly Sins." All the Sins will be represented, from Lust (the Don Quichotte songs by Ibert) to Sloth (Lob der Faulheit by Haydn). The singers will be Lindsay Barrett and Ambur Braid, soprano, Michael Colvin, tenor, and Robert Gleadow, bass. Besides Ibert and Haydn, they will perform solo songs and duets by Schubert, Verdi, Mahler, Poulenc, Barber, Porter and Somers. Three concerts are planned for next season: "A Walk on the Dark Side: Myths, Legends and Fairy Tales" with Leslie Ann Bradley, soprano, Allyson McHardy, mezzo, and Geoffrey Sirett, baritone, on November 9 (song cycles by Zemlinsky, Szymanowski and Heggie; songs and ballads by Wolf, Schumann, Finzi and others); "Serenades: Forgotten and Found" on March 8, 2015, with Gillian Keith, soprano, Michèle Bogdanowicz, mezzo, and Charles Sy, tenor (song cycles by Raum, a world premiere, and Palej, selections from the Debussy Vasnier album, songs and duets by Gounod, Rossini, Schubert, Strauss and others); "Wanderlust: There and Back Again" with Lucia Cesaroni, soprano, Emily D'Angelo, mezzo, and Anthony Cleverton, baritone, on May 3, 2015 (the Mignon Harper songs by Schumann as well as works by Fauré, Duparc, Wolf, Schubert, Vaughan Williams and others).
Topi Lehtipuu is a Finnish tenor who is acclaimed for his work in Baroque music (Monteverdi, Bach, Handel, Vivaldi, Rameau) and in Mozart's operas (Belmonte, Ferrando, Tamino). But he has also performed a great deal of Romantic and modern music. His debut was at the Savonlinna Festival in Britten's Albert Herring; he has sung (and recorded) the part of David in Glyndebourne's production of Wagner's Die Meistersinger von Nürnberg as well as, also at Glyndebourne, that of Tom Rakewell in Stravinsky's The Rake's Progress. This month he will be singing contemporary music at Carnegie Hall in New York with the ACJW Ensemble and he will return to New York in October to sing the tenor arias in Bach's St. Matthew Passion with the Berlin Philharmonic under Sir Simon Rattle. The Canadian Friends of Finland are sponsoring Lehtipuu's debut performances in Ottawa (May 20 at the First Unitarian Church) and in Toronto at the Agricola Finnish Lutheran Church May 22. The recital will begin with Schumann's Dichterliebe and will also include arias by Vivaldi and Mozart as well as songs by Duparc and Fauré. Finnish music will be represented by two songs by Sibelius and by The Forest Maid (Siniipika) by Toivo Kuula, Sibelius' pupil. The recital will end with music by Gershwin. The pianist is Christophe Larrieu.
Wallis Giunta, mezzo, will be the soloist in Anaïs Nin, a monodrama by the Dutch composer Louis Andriessen. The work is based on Nin's Journals; it was first presented in Siena in 2010 and the Toronto performance at Koerner Hall, May 22, constitutes its Canadian premiere
Dmitri Hvorostovsky, the Russian baritone, became well-known in the West in 1989, when he won the BBC Cardiff Singer of the World competition, beating out the bass-baritone Bryn Terfel, who had to settle for the Lieder Prize. Hvorostovsky is especially known for his performances of Russian opera and song, but not exclusively. In April he sang the role of Germont in La Traviata at the Royal Opera House, Covent Garden, and will return to London next season to sing Renato in Un ballo in maschera. In September he sang Iago in Otello at the Wiener Staatsoper and he will again sing in Vienna next season, as Germont and as Rodrigo in Don Carlos. On June 1 he will be in Toronto at Koerner Hall to perform a recital with Ivari Ilja, which will include music by Tchaikovsky, Rachmaninoff, Medtner and Liszt.
Richard Bradshaw: As always, many of the most interesting recitals will take place at noon at the Richard Bradshaw Auditorium in the Four Seasons Centre: on May 6 the mezzo Allyson McHardy, with pianist Liz Upchurch, tenor Andrew Haji and violist Keith Hamm, will perform Two Songs for Alto, Viola and Piano, Op.91, by Brahms, the second Canticle (Abraham and Isaac) by Britten and The Confession Stone by Robert Fleming; on May 13 the baritone Russell Braun will perform Dover Beach by Samuel Barber and La bonne chanson by Fauré (with Marie Bérard, violin, and other members of the COC Orchestra); on May 15 members of the COC Orchestra and Ensemble Studio will perform instrumental and vocal works by Handel, Bach and Albinoni; on May 20 there is a farewell concert given by the graduating members of the COC Ensemble Studio; on May 22 Stephen R. Clarke will play and comment on recordings by Feodor Chaliapin, the bass who, in 1910, created the role of Don Quichotte in Massenet's opera (staged this month by the COC). These events are all free.
Women in Song is the title of a benefit concert at St. Andrew's Church; May 24, in support of the Out of the Cold program. The singers are Allison Angelo, Nathalie Paulin and Monica Whicher, soprano, and Norine Burgess and Elizabeth Forster, mezzo. The pianist is John Greer.
Other Events in the GTA: Mireille Asselin is the soprano soloist in Schubert's Der Hirt auf dem Felsen. The clarinetist is Camilo Davila and the pianist, Jean Desmarais. The program also includes Brahms' Sonata for Clarinet and Piano in F minor, Op.120 as well as other works by Schumann and Davila. Shannon Mercer is the soprano soloist in a fundraising concert for the Women's Musical Club of Toronto at Integral House, 194 Roxborough Drive, May 4. The pianist is Steven Philcox
Also on May 4, at Glenn Gould Studio, Off Centre Music Salon will present the music of Romantic Russian composers who were active in a modernist age: Rachmaninoff, Medtner, Grechaninov and Rebikov. The singers are Erica Iris Huang and Michèle Bogdanowicz, mezzo, Edgar Ernesto Ramirez, tenor, and Peter McGillivray, baritone (Glenn Gould Studio).
On May 10 at Eastminster United Church, the Academy Concert Series presents a Handel concert which will include selections from his Nine German Arias as well as other works. The singer is Nathalie Paulin, soprano.
On May 27 and 28at Trinity St. Paul's Centre, the Talisker Players will present "A Poet's Love." The program includes Schumann's Dichterliebe and Fauré's La bonne chanson as well as works by Beckwith and Rappoport. The singer is Alexander Dobson, baritone, and the reader, Stewart Arnott.
Leigh Ann Allen and Natalya Matyusheva, soprano, Lauren Phillips, mezzo, and Keith Lam, baritone, are the winners in the NYCO Mozart Competition. They will perform with the NYCO Orchestra on May 31 at St. Michael's College School.
Hans de Groot is a concert-goer and active listener who also sings and plays the recorder. He can be contacted at artofsong@thewholenote.com.