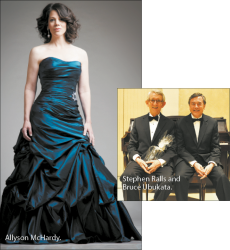 Last September Stephen Ralls and Bruce Ubukata, the artistic directors of the Aldeburgh Connection, announced that this season, their 32nd, would be their last. Sad news, but nobody would want to force the directors to see the series as a life sentence. In any case, they want to end things now rather than wait until the time when people would say, "they have obviously run out of ideas," however remote and even hypothetical that must seem at present.
Ralls' work at Aldeburgh, the seaside town in southeast England, and his professional involvement with the operas of Benjamin Britten, began in 1972 when he worked as pianist and vocal coach on A Midsummer Night's Dream; subsequently he played the piano in Britten's final opera, Death in Venice (he can be heard as the pianist on the opera's original recording). Ubukata arrived in Aldeburgh in 1977 with the intention of auditing some of the masterclasses, but there was a last minute vacancy and he stayed as a coach and accompanist instead. It was then that Ralls and Ubukata first met but they realized they could have met four years earlier when Ubukata was in the audience at an Edinburgh performance of Death in Venice, in which Ralls played the piano.
The Aldeburgh Connection's main goal has always been to help young Canadian singers gain experience in the song repertoire. Recently I have been struck by the way Aldeburgh's concerts have maintained a balance between emerging singers and established artists. Its most recent concert, for instance, had the well-known soprano Monica Whicher but also the tenor Isaiah Bell and the bass-baritone Gordon Bintner, neither of whom is at all well known in Toronto. (That is bound to change now that Bintner has become a member of the COC Ensemble Studio.) But the established singers were also young emerging singers at one time and many were given important professional experience by the Aldeburgh Connection early in their careers. That is as true of singers who retired many years ago (Henry Ingram, Ingemar Korjus, Catherine Robbin, Janet Stubbs) as it is of those who are still in the middle of successful careers (Colin Ainsworth, Russell Braun, Brett Polegato, Michael Schade). A number of singers made their first professional appearance with the Aldeburgh Connection: Alexander Dobson, Virginia Hatfield, Joni Henson, Benjamin Covey and Lucia Cesaroni. Over the years the Aldeburgh Connection has commissioned a number of works. Several of these were recorded on the CD Our Own Songs, with Adrianne Pieczonka, Monica Whicher, Elizabeth Turnbull, Colin Ainsworth and Mark Pedrotti.
Ralls and Ubukata have always acknowledged the help they received from their patrons. First and foremost was Peter Pears, Britten's partner and the singer for whom he wrote many of his works. Another was Greta Kraus, pianist and harpsichordist, vocal coach and accompanist. It is in her memory that the Aldeburgh Connection established its annual Schubertiad.
One of the finest things about the concerts of the Aldeburgh Connection is the work that the directors have done to establish the cultural contexts of the songs. The first of their concerts that I attended was based on songs that were performed in Jane Austen's family. To prepare for that concert Ralls and Ubukata travelled to the Jane Austen's House Museum (in Chawton in Hampshire) where they examined the music that Austen had copied out. The first half of their most recent concert consisted of Schubert songs with texts based on the poetry of Ovid, Virgil and Catullus. It is those poems that were read (Ralls and Ubukata are excellent readers). There have also been contributions over the years by leading Canadian actors. There my finest memory is Christopher Newton's reading of the Christmas dinner chapter from James Joyce's Portrait of the Artist as a Young Man. Incorporating readings is now a feature of many concerts, a practice no doubt influenced by the Aldeburgh Connection. The danger is that these readings are often rather loosely related to the music. That has never been true of the Aldeburgh Connection.
Special attention has always been given to the anniversaries of composers: Schubert, Poulenc, Hugo Wolf. It is fitting that in this, their final year, they will finish with three concerts devoted to the work of Britten, who was born 100 years ago. The first of these concerts, at Glenn Gould Studio on April 26 at 8pm, presents three of the Canticles as well as The Ballad of Little Musgrave and Lady Barnard and Britten's Purcell Realizations. The soloists are Daniel Taylor, countertenor, Benjamin Butterfield, tenor, and Alexander Dobson, baritone. The second of the concerts will take place on May 7 in the Glenn Gould Studio at 8pm, featuring Shannon Mercer, soprano, and Susan Platts, mezzo, as soloists in On this Island, A Charm of Lullabies, The Poet's Echo and some of the folksong arrangements. A Charm of Lullabies and The Poet's Echo have a special meaning for Ralls and Ubukata as they were written for singers whom they knew and remember fondly: Nancy Evans and Galina Vishnevskaya. "A Britten Festival of Song" (and indeed the Aldeburgh Connection) will end with a vocal tapestry, "A Time There Was" in Walter Hall, May 26 at 2:30pm. The soloists are Virginia Hatfield, soprano, Scott Belluz, countertenor, Colin Ainsworth, tenor, and Geoffrey Sirett, baritone.
I feel confident about the continuing presence in Toronto of Ralls and Ubukata. Ralls will be the collaborative pianist in a recital with Allyson McHardy featuring works by Berlioz, Schumann, Rossini and Jonathan Larson, as well as Scottish folksongs, on April 14 in Glenn Gould Studio at 2pm. Last month Ubukata travelled to York University to direct a masterclass with the students of Catherine Robbin and Norma Burrowes. But I am less sanguine about the continuing presence of song recitals in Toronto. The celebrity recitals at Roy Thomson Hall were discontinued a couple of years ago and there is now very little vocal music at Koerner Hall. To some extent the slack has been taken up by the four-concert series "Canadian Voices," organized by Massey Hall/Roy Thomson Hall and given at the Glenn Gould Studio, but, unlike the concerts of the Aldeburgh Connection, these concerts feature established singers, not emerging artists. There are, of course, other concerts that may feature songs. One of the finest things I have heard in a long time was the staged performance of Janáček's The Diary of One Who Disappeared, given by Against the Grain Theatre with Colin Ainsworth, Lauren Segal and Christopher Mokrzewski.
Other series will incorporate sung performances next season: Isabel Bayrakdarian will perform with Tafelmusik in April 2014 and Philip Addis sings for Music Toronto in December of this year. Addis will also pay tribute to the music of Britten: his recital includes the Songs and Proverbs of William Blake as well as one of Britten's Purcell Realizations. The Toronto Symphony Orchestra program for next season includes Britten's Serenade Op. 31 for tenor (Nicholas Phan), horn (Neil Deland) and strings, Alban Berg's Seven Early Songs (Erin Wall), Mozart's Coronation Mass (Leslie Ann Bradley, Lauren Segal, Lawrence Wiliford and Philippe Sly), a range of soprano-mezzo duets (Yulia Van Doren and Wallis Giunta), an evening of music by Lerner and Loewe (Amy Wallis, Colin Ainsworth and Jonathan Estabrooks) and Richard Strauss' Four Last Songs (Sondra Radvanovsky). Many singers now organize their own concerts at venues like the Heliconian Hall on Hazelton Ave. It is there that recently we have been able to hear Meredith Hall (with Brahm Goldhamer), John Holland (with William Shookhoff), Isaiah Bell (with Stephen Ralls) and several others.
The new series that comes closest to what the Aldeburgh Connection has given us is Recitals at Rosedale (Rosedale is short for Rosedale Presbyterian Church), directed by Rachel Andrist and John Greer. The series opens on June 1 at 7:30pm with a special launch concert; the subsequent recitals are on October 6, December 1, February 9 and May 25 (all Sundays at 2:30pm, a day of the week and a time inherited from the Aldeburgh Connection). Like the Aldeburgh Connection, Recitals at Rosedale is committed to using only Canadian singers (their lineup includes major talents like Ambur Braid and Lauren Segal, Colin Ainsworth and Gregory Dahl). I am looking forward to these concerts but I have to add that the emphasis in their advance publicity on "renowned Canadian artists" does not suggest that bringing out emerging singers will be one of their priorities.
OTHER EVENTS
On April 5 and 6 in Trinity-St. Paul's Centre at 8pm, the Toronto Consort presents Emma Kirkby, soprano, and Jakob Lindberg, lute, in a concert of music by Dowland and Purcell. Kirkby will give a masterclass on April 7 at 2:30pm, also at the Trinity-St. Paul's Centre.
On April 11 and 13 in Roy Thomson Hall at 8pm, Measha Brueggergosman, soprano, will sing four songs by Duparc and Samuel Barber's Knoxville: Summer of 1915 with the Toronto Symphony Orchestra.
Lucy Fitz Gibbon, soprano, will give a free recital in Mazzoleni Hall at the Royal Conservatory on April 14 at 5pm. The program includes songs for voice and harp — Rubbra's Jade Mountain and Britten's A Birthday Hansel, with Ingrid Bauer — and works for voice and piano — Hymnen an die Nacht by Vivier, Cinq mélodies de Venise by Fauré and The Ugly Duckling by Prokofiev, with Peter Tiefenbach. Fitz Gibbon will also sing at the Canadian Music Centre (20 St. Joseph St.) on April 13 at 5:30pm.
There are four free vocal performances at the Richard Bradshaw Amphitheatre in the Four Seasons Centre next month, all at noon: "A Celebration of Canadian Art Song" on April 16 includes a world premiere of a work by Norbert Palej performed by Lawrence Wiliford, tenor, a new work by Andrew Ager, dedicated to and performed by Shannon Mercer, soprano, and songs by Jean Coulthard sung by Peter McGillivray, baritone — Stephen Philcox is the collaborative pianist; songs from Newfoundland sung by tenors Michael Barrett and Adam Luther are featured on April 23; the April 30 concert, "Inspired by Lorca," showcases La selva de los relojes, a new chamber work by Chris Paul Harman with Krisztina Szabó, mezzo; and "Sérénade Française," French arias and art songs with the COC Ensemble Studio takes place on May 2.
"Greece to Granada," a program of Greek, Balkan and Spanish music, will be performed on April 26 at 8pm in the Heliconian Hall. The singer is the mezzo Maria Soulis and the instrumentalists are William Beauvais, guitar, and Julian Knight, violin. Soulis has had a busy career in Europe, where her roles included the title role in Carmen and Rosina in The Barber of Seville. She has recently returned to Canada. Here she has sung, among other parts, the role of Clara in a workshop production of the second act of The Enslavement and Liberation of Oksana G. (music by Aaron Gervais and libretto by Colleen Murphy) for Tapestry Opera. 
Hans de Groot is a concertgoer and active listener. He also sings and plays the recorder. He can be contacted at artofsong@thewholenote.com.