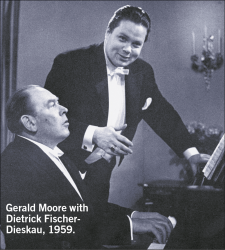 One of the most accomplished accompanists (or, as we now prefer to say, collaborative pianists) of the late 19th and early 20th centuries was Coenraad V. Bos. It was Bos who played the piano in the first performance of Brahms' Vier Ernste Gesänge in 1896. In his autobiography, The Well-Tempered Accompanist (1949), Bos wrote about his long association with singers like Helen Traubel and Elena Gerhardt but he also mentioned an unfortunate experience with the Wagnerian tenor Ernest van Dyck. In a London recital van Dyck and Bos were performing Schumann's song "Ich grolle nicht," a song which ends with a piano postlude. Bos was disconcerted to find that people started clapping before he had had a chance to play that postlude. He was even more disconcerted when he found out why. Van Dyck had bowed as he sang his last note and left the stage. Bos insisted on playing the postlude and managed to silence the applause. Van Dyck was furious.
A central figure in Bos' autobiography is the tenor Raimund von zur-Mühlen. While von zur-Mühlen was initially very critical of Bos' playing, he became more appreciative later. At one point, after a recital in Berlin, he sent Bos a note which read: "Last night you must have played well, because I was not conscious of your playing throughout the recital." When Gerald Moore came to write his autobiography, the ironically titled Am I Too Loud? (1962), he quoted that passage and expressed his dissent, something that would not surprise anyone who had read Moore's earlier book, The Unashamed Accompanist (1943). Throughout the autobiography Moore expressed his appreciation for the singers and instrumentalists with whom he had worked, but like Bos he too had some unfortunate experiences. One of these was with the soprano Frieda Hempel. A recital she was giving with Moore included two songs by Hugo Wolf with substantial postludes. Hempel told Moore: "Just play a chord when the voice part ends — else my applause will be spoiled." Moore wanted none of this — as one would expect.
Moore, more than anyone else, raised the profile of the accompanist through his recitals, his recordings and his books. He had a long career: when he was quite young ("my voice still unbroken"), he became the organist of St. Thomas's Church on Huron Street in Toronto. His career ended with a farewell recital in 1967. The other performers were Elisabeth Schwarzkopf, Victoria de los Angeles and Dietrich Fischer-Dieskau. Moore had the last word — the concert ended with a piano transcription of Schubert's song "An die Musik."
We are fortunate that in Toronto we have many accomplished collaborative pianists: in recent months we have been able to hear Sandra Horst (with David Pomeroy), Steven Philcox and Rachel Andrist (in the COC Ensemble Studio competition), Jennifer Tung, Brahm Goldhamer and Peter Tiefenbach (with the artists of the Glenn Gould School at the Royal Conservatory) and Stephen Ralls and Bruce Ubukata (in the concerts of the Aldeburgh Connection).
On March 7 at the Jane Mallett Theatre at 8pm, John Hess is the pianist in a recital with the soprano Erin Wall. The program will include works by Schubert, Korngold, Strauss and Ricky Ian Gordon. Hess is especially known as an authority on contemporary opera and song in Canada. He has worked with many singers, including Valdine Anderson, Jane Archibald, Ben Heppner and Wendy Nielsen. He teaches in the Faculty of Music at Western University.
On March 10 at 2:30pm at Walter Hall, Stephen Ralls and Bruce Ubukata present the Aldeburgh Connection's annual "Schubertiad." The singers are Monica Whicher, soprano, Isaiah Bell, tenor and Gordon Bintner, bass-baritone.
Also on March 10 Peter Longworth will be the pianist in a concert with Melanie Conly, soprano, and Anita Krause, mezzo, in works by Fleming, Chausson, Raum, Schubert, Barber and Delibes in the Heliconian Hall at 3pm.
The Canadian Voices concert at 2pm on March 24 in the Glenn Gould Studio features New York-based pianist Ken Noda with mezzo Wallis Giunta. Noda has worked with many distinguished soloists including Jessye Norman, Kurt Moll and the late Hildegard Behrens. The main work on the program is Kurt Weill's Die sieben Todsünden, a work originally produced as a sung ballet in 1933. The text is by Bertolt Brecht. As the work's full English title, The Seven Deadly Sins of the Bourgeoisie, makes explicit, the emphasis is on what sin means in a capitalist society. Giunta is a former member of the COC Opera Studio Ensemble and is at present a member of the Lindemann Young Artist Development Program at the Metropolitan Opera in New York. We recently saw her as Annio in the COC production of Mozart's La clemenza di Tito — a tomboy Annio because that is how the director, Christopher Alden, saw the part. She will return to the COC next January as Dorabella in Mozart's Così fan tutte, a roleshe sang in an acclaimed Lindemann/Juilliard production in New York last fall.
Other events: On March 5 and 6, 8pm at Trinity-St. Paul's Centre, the Talisker Players presents a program of musical settings (by Buczynski, Finzi, Good and Toch) of poems by de Pizan, Hardy and others on the changes that time will bring. The soloists are Carla Huhtanen, soprano, and Peter McGillivray, baritone; Stewart Arnott is the reader.
On March 9 at Metropolitan United Church at 7:30pm there will be a concert of music from the French baroque including the achingly beautiful Leçons des Ténèbres by Couperin. The soloists are Ariel Harwood-Jones, soprano, and Christina Stelmacovich, mezzo. Another concert at Metropolitan will present music by Gilles, Duruflé and Lili Boulanger on Good Friday, March 29, at 7:30pm.
March 12, in a 7pm free concert at University of Toronto's Scarborough campus, AA303 Arts and Administration Building, tenor Lenard Whiting will sing Schubert's Die schöne Müllerin with the pianist Brett Kingsbury.
On March 16 at 7:30pm in the Bloor Street United Church, Capella Intima performs the anonymous 1650 oratorio Giuseppe. The soloists are Lesley Bouza and Emily Klassen, soprano, Laura McAlpine, alto, Bud Roach, tenor, and James Baldwin, bass. The same program will take place at McNeill Baptist Church in Hamilton on March 16 at 2pm and at Kingston Road United Church in Toronto on March 17 at 2pm.
On March 26 in the Richard Bradshaw Amphitheatre, there will be a free concert at noon of art songs and poetry by the artists of the University of Toronto's Voice and Collaborative Piano departments. The conductors are Darryl Edwards and Steven Philcox.
On April 3 the Toronto Latvian Concert Association presents Vestard Shimkus, piano, and Elina Shimkus, soprano, in works by Wagner, Vasks, Shimkus, Mozart and Rossini at 7:30pm at the Glenn Gould Studio.
And beyond the GTA: on March 10 at 3pm Primavera Concerts presents Shannon Mercer, soprano, and Andrew Ager, organ, in a concert of works by Bach, Ager and others at St. Barnabas Church in St. Catharines. 
Hans de Groot is a concertgoer and active listener. He also sings and plays the recorder. He can be contacted at artofsong@thewholenote.com.