The swiss tenor Hugues Cuénod made his name in 1937 in the pioneering recordings of the music of Monteverdi, directed by Nadia Boulanger. Subsequently he became a noted performer of French song. In 1987, in his 85th year, he made his debut at the Met in New York in the role of the Emperor Altoun in Puccini's Turandot. He continued to perform in public until he was 90; he died in 2010, at the age of 108. Cuénod's career was unusual but he was not the only singer who has gone on performing into old age. Placido Domingo is now 72; he began as a baritone (like Jean de Reszke, John Coates, Lauritz Melchior and Ramon Vinay) and he has now moved back to the baritone repertoire (while still singing tenor parts) and is performing some of the great Verdi baritone roles.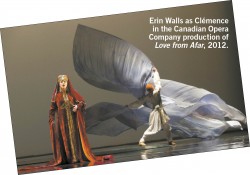 On the other hand, many singers have retired from public performances in middle age. I remember the sadness I felt when Elly Ameling and Janet Baker retired but, looking back, I am sure they made the right decision. It would not have been a good thing if some old codger were to say "She is good but you should have heard her 12 years ago." Still, some singers retire very early. Norma Burrowes began her career in 1970 (Glyndebourne, Royal Opera House Covent Garden). In 1971 she joined the English National Opera and later in the 70s she performed in Salzburg, Aix-en-Provence, the New York Met and the Paris Opéra. I heard her several times in London and I treasure the recording of Acis and Galatea in which she sings Galatea. She retired in 1982, when she was in her 38th year. She became a vocal coach at the University of Saskatchewan in 1992, moved to Toronto in 1994 and now teaches at York University. My colleague Ori Dagan writes: "Norma was always warm and encouraging to me, going out of her way to suggest repertoire that might suit my voice. I remember in particular the way her eyes lit up when talking about a particular song by Fauré — "It would be so perfect for you, Ori" — Her passion for teaching this music was undoubtedly infectious."
Another singer who retired early is the versatile soprano Jennie Such. She has sung opera, oratorio, song recitals and even musical comedy. I have vivid memories of her superb Susanna in Mozart's Marriage of Figaro for Opera Ontario in Hamilton. She now has a young child and finds combining motherhood with a full-time performing career difficult. But she remains a teacher and an adjudicator and is now exploring a new field: music therapy.
Kathy Domoney was a member of the COC Ensemble Studio and the COC chorus, gave recitals and performed with groups such as the Aldeburgh Connection and Opera in Concert, performed at Banff and at the National Arts Centre in Ottawa. She no longer performs (although she is still active as an adjudicator) but has instead opened an agency. It is a small agency (a boutique agency as she calls it) and she wishes to keep it that way as that allows her to help the artists she represents in a more effective way than would be the case in a bigger firm. At present she has 17 artists on her list, ranging from the soprano Charlotte Corwin to the recorder player-conductor-composer Matthias Maute.
The soprano Adreana Braun has moved sideways, so to speak. Braun trained as a classical singer and performed with Opera Atelier and the Canadian Opera Company. Over the past 12 years, however, she has established herself as a jazz singer and it is as Adi Braun that she is now best known. You will be able to hear her on March 6 at 8pm, when she will perform at Musideum.
Some other events
The French soprano Sandrine Piau sang Vivaldi and Handel with Tafelmusik on January 31; there will be further performances on February 1 and 2 at 8pm and on February 3 at 3:30pm, all at Trinity-St. Paul's Centre.
On February 9 at 8pm at the Eastminster United Church, Nathalie Paulin will be the soprano soloist in a concert of music by Bach, titled "Bach's Blessings." According to the presenter, Academy Concert Series: "In the Baroque era, G major was the key of Benediction or 'blessing' and is central to the theme of this concert."
Also on February 9, Gillian Keith, soprano, and Keith Weber, piano, will perform works by Schumann, Britten, Purcell, Lehár and others at the Rosedale Presbyterian Church, 7:30pm.
Colin Ainsworth will be the vocal soloist in the Toronto Masque Theatre production of "Les Roses de la Vie" at the Enoch Turner Schoolhouse, February 7 to 9, 8pm.
There will be two free vocal recitals by the Canadian Opera Company Ensemble Studio: "Vive l'amour," a musical celebration of love, on February 14, and a concert of arias and songs by Richard Strauss on February 21, both at noon in the Richard Bradshaw Auditorium.
On February 16 soprano Carla Huhtanen is the soloist in "The Tapestry Songbook," a concert of Canadian music at 7:30pm in the Ernest Balmer Studio drawn from Tapestry Opera's 33-year history of new opera productions.
The Canadian Voices series at Glenn Gould Studio, February 24 at 2pm, returns with David Pomeroy, tenor and Sandra Horst, piano. The program includes music by Handel, Beethoven, Duparc, Quilter and de Curtis as well as three Newfoundland sea song arrangements with clarinet obbligato. We last heard Pomeroy in the role of Alfred in Die Fledermaus. That role is a parody of the operatic tenor: a randy male with a high voice. But the part can only be performed properly by someone who can sing the real thing, as Pomeroy did in his superb performance as Offenbach's Hoffmann for the COC last season.
On March 1 and 2 at 8pm, Against the Grain Theatre presents two song cycles: Janáček's Diary of One Who Disappeared and Kurtág's Kafka-Fragments. The performers: in the Janáček, Lesley Bouza and Sarah Halmerson, sopranos, Eugenia Dermentzis and Lauren Segal, mezzos, Colin Ainsworth, tenor, and Christopher Mokrzewski, piano; in the Kurtág, Jacqueline Woodley, soprano, and Kerry DuWors.
Earlier this year soprano Erin Wall took three months off on maternity leave but she returns to the stage in the TSO performance of Beethoven's Ninth Symphony, along with mezzo Allyson McHardy, tenor Joseph Kaiser and bass-baritone Shenyang at Roy Thomson Hall, February 13, 15 and 16 at 8pm. On March 7 at 8pm she will perform with the pianist John Hess, in a program of works by Schubert, Korngold, Strauss and Ricky Ian Gordon at the Jane Mallett Theatre. Rather surprisingly, this is part of Music Toronto's Discovery Series—those who heard Wall's fine performances in the COC productions of Love from Afar and The Tales of Hoffmann must feel that she no longer needs to be discovered.
A postscript: I was privileged to attend the competition for entry to the COC Ensemble Studio on November 29. First prize as well as the audience prize went to the bass-baritone Gordon Bintner, the second prize was awarded to the tenor Andrew Haji and the mezzo Charlotte Burrage won third prize. All three will be members of the Ensemble Studio for 2013/14; they will be joined by soprano Aviva Fortunata, mezzo Danielle MacMillan and baritone Clarence Frazer. 
Hans de Groot is a concertgoer and active listener who also sings and plays the recorder. He can be contacted at artofsong@thewholenote.com.