Praise the Lord, O Jerusalem! Praise thy God, O Zion!
—Psalm 147
Allah, May He Be Praised, said of Jerusalem: You are my Garden of Eden, my hallowed and chosen land.
—Ka'ab al-Ahbar
I will not cease from mental fight,
Nor shall my sword sleep in my hand,
Till we have built Jerusalem
In England's green and pleasant land.
—William Blake
And come forth from the cloud of unknowing
And kiss the cheek of the moon
The New Jerusalem glowing
—Leonard Cohen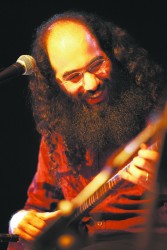 Jerusalem is sacred to three faiths: Judaism, Christianity and Islam. On January 27 at 3pm, in Koerner Hall, Soundstreams will explore music and poetry centering on the city of Jerusalem. The singer will be Françoise Atlan, who was born in a Sephardic family in France but now lives in Morocco. She has performed and recorded several kinds of medieval music: Sephardic, Arabic and Spanish. In the Soundstreams concert she will perform Sephardic songs as well as a new work by James Rolfe. Persian music will be represented by the setar playing of Kiya Tabassian, a musician born in Iran, who now lives in Montreal. As for the Christian tradition, there will be a performance of Claudio Monteverdi's motet Lauda Jerusalem, Dominum, a setting of Psalm 147. There will also be poetry readings from Blake, Cohen and John Asfour as well as new poetry by André Alexis. The musical direction will be in the hands of David Fallis, well known to Toronto readers as the artistic director of the Toronto Consort and the musical director of Opera Atelier.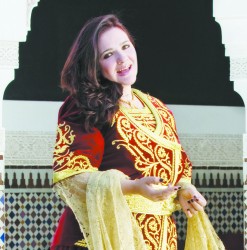 Around the venues: The Aldeburgh Connection will present its season's second concert, "Madame Bizet," December 2. The performers are Nathalie Paulin, soprano, and Brett Polegato, baritone, with readings by Fiona Reid and Mike Shara. The music is by Bizet, Debussy, Ravel and Hahn. The third concert in the series will take place January 27. Its title, "Valse des Fleurs," is an allusion to Sacheverell Sitwell's evocation of Imperial Russia. In this concert the singers are Leslie Ann Bradley, soprano, Anita Krause, mezzo, and Andrew Haji, tenor (with readings by Ben Carlson). The music is by Glinka, Borodin, Mussorgsky and Tchaikovsky. Both concerts are at Walter Hall at 2:30pm.
The Canadian Opera Company announces three free concerts in its Vocal Series: "GrimmFest," arias and duets inspired by the Brothers Grimm, December 4; music by Mozart and Salieri, January 8; songs on the theme of travel and homeland, January 24. All three concerts are in the Richard Bradshaw Auditorium in the Four Seasons Centre at 12 noon.
Opera Five presents "Waking up the Senses," with works by Hindemith, Rachmaninoff, and Granger at Gallery 345, December 4, 5 and 6 at 7:30pm.
There will be a recital of French carols and other Christmas music with singers Aurélie Cormier, mezzo, and Bruno Cormier, baritone, a freewill offering at the Newman Centre on December 7 at 7:30pm.
At the Heliconian Hall on December 8 at 7:00pm, Carla Huhtanen, soprano, and Heidi Saario, piano, will perform Finnish songs from Sibelius to Saariaho.
Also at the Heliconian Hall, on December 16 at 2:00pm Jacqueline Gélineau, contralto, and Brahm Goldhamer, piano, with John Holland, baritone, and Darlene Shura, soprano, will perform works by Brahms, Reichenauer and Handel.
Bravissimo: On December 31 at 7:00pm at Roy Thomson Hall you can hear "Bravissimo," an anthology of opera's greatest hits ranging from Don Giovanni to La Bohème. Two of the soloists are Canadian, the tenor Gordon Gietz and the baritone Gregory Dahl. The others are the Spanish soprano Davinia Rodriguez, the Italian mezzo Annalisa Stroppa and the Korean tenor Ho-Yoon Chung. I remember Dahl from a fine performance in Britten's Paul Bunyan when he was still a student at the University of Toronto Opera School; Gietz made his debut at the Met in the role of the Nose in Shostakovitch's opera of that name (I suppose we can call it the title role). On New Year's Day at 2:30pm, also at Roy Thomson Hall, there will be a performance of "A Salute to Vienna," with soprano Elena Dediu and tenor Alexandru Badia as soloists.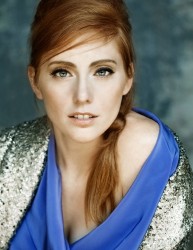 Layla Claire: Every January at Roy Thomson Hall the TSO presents a mini-Mozart Festival. This year the series is titled "Mozart At 257" and will include two concerts with the soprano Layla Claire. On January 9 at 6:30pm, Claire will sing Susanna's recitative from The Marriage of Figaro,"Giunse alfin il momento," but she will then not go on to the aria "Deh vieni non tardar," but will substitute the aria which Mozart wrote for the 1789 revival of the opera: "Al desio di chi t'adora." In the January 10 concert at 2pm, she will also sing an aria from La Finta Giardiniera. The "Alleluia" from "Exsultate Jubilate" will be part of both concerts. Claire is a Canadian singer (she was born in Penticton, B.C.), who studied in Montreal and now lives in New York City.
Mad Dogs and more: On January 13 at 3pm the Talisker Players will present "Mad Dogs and Englishmen: the Noel Coward Songbook" at Trinity St. Paul's Centre. Also on January 13, at 6:30pm, Ariel Harwood-Jones will give a recital as a Prelude to Evensong, a freewill offering at St. Thomas's Church.
There will be a free recital by voice students at York University January 18 at 1:30pm in the Martin Family Lounge, Room 219 Accolade East Building.
Monica Whicher, soprano, Liz Upchurch, piano, and Marie Bérard, violin, will perform a program of English-language songs by British, American and Canadian composers at 8pm on January 27 in the Mazzoleni Concert Hall.
The soprano Angela Meade will be the soloist in a performance of Richard Strauss' Four Last Songs with the Ontario Philharmonic, conducted by Marco Parisotto. The concert, in Koerner Hall at 8pm on January 20, will also include Bruckner's Fourth Symphony. And Adrienne Pieczonka performs the same work with the Hamilton Philharmonic led by James Sommerville on December 15 at 7:30pm in Hamilton Place.
On February 2 at 7:30pm in the Mazzoleni Concert Hall, the Glenn Gould School presents a concert in which voice students at the school perform art songs and arias.
And beyond the GTA: Anne Morrone, soprano, Marianne Sasso, mezzo, Anthony Macri, tenor, and Ian Amirthanathan, baritone, will be the soloists in a Christmas Concert December 14 at 7:30pm at St. Mary's Roman Catholic Church, Nobleton.
A postscript: I always have an eye (and two ears) open for newly emerging singers and it gave me great pleasure to attend the double bill offered by the Glenn Gould School at the Royal Conservatory on November 16. The works were the modernist Three Sisters Who Are Not Sisters by Ned Rorem (libretto by Gertrude Stein) and the romantic Le Lauréat by Joseph Vézina. The latter work was written in 1906 (it is an opéra comique with spoken dialogue but with arias and duets which reminded me of Puccini); the production was updated to the 1960s. The casts in both works were accomplished and there were especially fine performances by the soprano Lucy Fitz Gibbon and the mezzo Ekaterina Utochkina. In February the Glenn Gould School will mount its annual production of a full-length opera. This year it will be Mozart's Don Giovanni and that will be something to look forward to. 
Hans de Groot taught English Literature at the University of Toronto from 1965 until the spring of 2012, and has been a concert-goer and active listener since the early 1950s; he also sings and plays recorder. He can be contacted at artofsong@thewholenote.com.