There was a time, not so very long ago, when Toronto in the summer was a cultural desert and if one wanted to see or hear anything, one had to go to the Shaw Festival at Niagara-on-theLake or to Stratford for either the Stratford Shakespeare Festival or Stratford Summer Music. That changed when Soulpepper began its summer season and when the Toronto Summer Music Festival opened. This year the festival will present two outstanding singers: the bass-baritone Gerald Finley and the tenor Colin Ainsworth.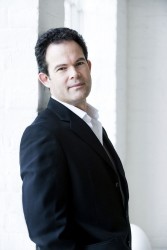 Finley has sung in opera and in concert in many cities: he is especially well known as a Mozart singer, particularly in the role of Count Almaviva in Le Nozze di Figaro and the title role in Don Giovanni, both of which he has performed in many of the world's leading opera houses. He has also sungthe title role in Tchaikovsky's Eugene Onegin at the Royal Opera House, Covent Garden, and Hans Sachs in Wagner's Die Meistersinger at Glyndebourne. As a recitalist he is especially well known for his performance of Schumann's Dichterliebe. In recent years he performed in Toronto twice: in May 2010 he gave a recital with the pianist Julius Drake (Schumann, Ravel, Barber, Ives) and last February he took part in the Aldeburgh Connection's 30th anniversary gala. Finley's recital for this year's Toronto Summer Music is on July 18 at 7:30pm (Koerner Hall, Royal Conservatory) when he and pianist Stephen Ralls will perform a recital that begins with Carl Loewe and ends with Benjamin Britten. Finley will also give a masterclass (July 19 at 10am, Walter Hall, U of T Faculty of Music). He will sing baritone arias at Westben in Campbellford on July 22 at 2pm. He has made a number of CDs and DVDs. I would particularly recommend the DVD of the Helsinki production of Kaija Saariaho's L'amour de loin. This opera was done by the COC last season (the baritone part was taken by Russell Braun). Although musically the Toronto performance was also very good, it was hampered by too busy a production; by contrast the Helsinki production by Peter Sellars was much sparer and that brought out the tragic quality of the story much better. Finley will be back in Toronto in May 2013 to sing in Brahms' German Requiem with the Toronto Symphony.
Colin Ainsworth is a tenor with a high and remarkably full voice. He is especially known for his performances in French baroque opera; many readers will have heard his stunning performance in Lully's Armide with Opera Atelier last season. His repertoire is much wider, however, than my introduction suggests: he is a frequent performer at the concerts mounted by the Aldeburgh Connection and there he sings a very different repertoire. I am told that in December 2010 he sang (at very short notice) a wonderful performance of Schubert's Die Schöne Müllerin at the Arts and Letters Club. On August 2 at 7:30pm Ainsworth will perform, with the Nash Ensemble, Vaughan Williams' song cycleOn Wenlock Edge, a setting of poems by A. E. Housman for piano, tenor and string quartet (Koerner Hall). The WholeNote recently featured Ainsworth as May's child: I can usually identify these children through the clues provided but Ainsworth was immediately recognizable through his face and expression alone. He looks a little older now but only a little.
As was the case last year, Harbourfront is presenting a series of concerts under the general title Summer Music in the Garden. These include several recitals which feature vocal music: songs and dances from early 19th-century Upper Canada (July 5 at 7pm), a voice and tabla concert of Indian music (July 15 at 4 pm), Maryem Hassan Toller (July 27 at 7pm), French-Canadian and Irish traditional music with singer Molly Hebert-Wilson (August 2 at 7pm). All concerts in this series are free.
The Elora Festival begins on July 13 and ends on August 5. Performances include: Mendelssohn's Elijah (July 13 at 8), Britten's 1937 radio operaThe Company of Heaven (July 15 at 2pm), a program of renaissance music sung by the vocal quartet New York Polyphony (July 26 at 8), Purcell'sDido and Aeneas (July 29 at 2 pm), the Noel Coward Song Book with Shannon Mercer and Lawrence Wiliford (July 29 at 4 pm) and an afternoon with Ben Heppner (August 5 at 3pm).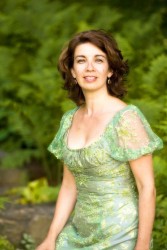 This year's Festival of the Sound (at Parry Sound) will include a number of vocal concerts: on July 20 at 6pm a concert will be given by Mary Lou Fallis, soprano, and the piano duo Anagnoson and Kinton (this is a fundraiser and the tickets are $150); on July 24 at 7:30pm soprano Patricia O'Callaghan and the Gryphon Trio will perform songs and tangos from North and South America; on July 27 at 7:30pm Kerry-Anne Kutz will sing Elvis Costello's Juliet Letters for soprano and string quartet; on July 28 at 7:30pm an opera gala will present Leslie Fagan, soprano, Gabrielle Prato, mezzo-soprano, Mark DuBois and David Pomeroy, tenor, and Peter McGilllivray, baritone; on July 29 at 7:30pm Krisztina Szabó, mezzo-soprano, and Peter Barrett, baritone, will give a song recital which will include music by Ivor Novello, Noel Coward and others; on July 31 at 12 noon Leslie Fagan will sing J. S. Bach's "Wedding Cantata"; Fagan is also singing that evening in a program billed as "an eclectic evening of Music, from the Sublime to the Ridiculous and Back"; on August 1 at 7:30pm she will sing Schubert's The Shepherd on the Rock, a song with clarinet obbligato, as well as some Spanish songs; on August 3 at 2:30pm Peter DeSotto, violin and tenor, and Alexander Sevastian, accordion, will perform gypsy music; on August 12 at 1pm there will be a closing concert (admission free) which will feature Mary Lou Fallis, Leslie Fagan, Mark DuBois and Russell Braun. (These concerts will all be given at the Charles W. Stockey Centre for the Performing Arts, except for the July 31 noon recital which is in St James United Church.) One of my most treasured musical memories is the performance which Elly Ameling gave of The Shepherd on the Rock on July 2, 1981, as part of Stratford Summer Music. On that occasion the clarinet part was played by James Campbell, also a memorable performance. Guess who is playing it at this summer's Festival of the Sound?!
Some other vocal highlights
This summer's Music Mondays (Church of the Holy Trinity) features Allison Lynn in a program of original songs and gospel classics on July 9; singer-songwriter Jennifer Noble on July 23; Christophe Wilson, bass-baritone, and Tom Chilling, piano, on September 3. These concerts all take place at 12:15pm. Admission is free with a $5 suggested donation.
Justine Butkovich will be the soprano soloist in a concert that includes works by Bach, Delibes and Villa-Lobos (Festival Alexandria, July 15 at 3pm).
This year's Brott Festival will include a recital of music by Schumann, Britten and Rachmaninoff, followed by modern classics, sung by Rachael Cleland, soprano, and Sabatino Vacca, piano (St. John's Anglican Church, Ancaster, August 12 at 3pm). 
Hans de Groot is a concert-goer and active listener who also sings and plays the recorder. He can be contacted at artofsong@thewholenote.com.