In the may 2012 issue of The WholeNote, editor David Perlman announced that this particular beat column was here to stay, and invited contributors. I feel very much like the proverbial "new kid on the block" but I am beginning to find my way and I think I shall enjoy the work.
Few artists have done as much for the art of song and for the development of Canadian talent as Stephen Ralls and Bruce Ubukata, the pianists who direct the Aldeburgh Connection. For many years they have presented an annual program in Toronto and a few years ago they added an annual summer program at Bayfield, on the shores of Lake Huron. This year's program looks especially enticing: on June 8 at 8pm, Adrienne Pieczonka, soprano, and Laura Tucker, mezzo-soprano, present a recital with works ranging from Alessandro Scarlatti to Richard Strauss; on June 9, also at 8pm, Alexander Dobson, baritone, sings Schumann, Vaughan Williams and Ivor Novello; on June 10 at 2:30pm, a vocal quartet (Andrea Cerswell, soprano; Alexandra Beley, mezzo-soprano; Andrew Hadj, tenor; David Roth, baritone) will celebrate Queen Elizabeth II's Diamond Jubilee by presenting a varied repertoire ranging from Handel to John Beckwith.
Readers who, like me, have a special fondness for the soprano Meredith Hall will have two chances to hear her this month. On June 17 at 2pm, as part of Music at Sharon's summer series held at Sharon Temple, she will be singing Dido in a concert performance of Henry Purcell's Dido and Aeneas with the baritone Todd Delaney as Aeneas. They are accompanied by the Toronto Masque Theatre, directed by Larry Beckwith. Hall is especially well known for her performances of early music, from medieval plainchant to the operas of Mozart, and also for her recording of Scottish songs (Robert Burns and others) with the ensemble La Nef. On June 29, however, she and the pianist Brahm Goldhamer will move into different territory with a program consisting entirely of the songs of Franz Schubert, at 8pm at the Heliconian Club, 35 Hazelton Ave.; admission is pay-what-you can. Hall tells us that she has been a lover of Schubert's songs ever since her student days, that she and Goldhamer have been singing and playing a large number of Schubert songs during the last year and that the recital on June 29, entitled "Oh, for the love of Schubert," will give us a selection of these. Hall and Goldhamer will be joined by Bernard Farley, guitar.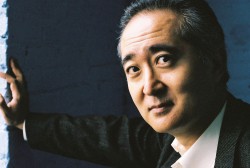 Frank Nakashima used to be a counter-tenor; he has sung with the Toronto Consort and with The Gents. I have a reason to know this since, many years ago, he gave me a series of lessons. He is now a tenor and will be performing Elizabethan music (Byrd, Holborne, Dowland, Gibbons, Bull) with the Cardinal Consort of Viols in a concert organized by the Toronto Early Music Centre, St. David's Anglican Church, 49 Donlands Ave., on June 17 at 2:30pm. Well, voices change: David Daniels moved the other way since he began as a tenor and became a counter-tenor early on; Placido Domingo started out as a baritone, became a world-famous tenor, and is a baritone again, at least part of the time; I myself, to compare great with small (as Milton would have said), started off as a baritone, had a stint as a tenor (a mistake), then a counter-tenor and now I am a baritone once more.
From July 4 to July 15, Music and Beyond will be held in Ottawa. There will be further details in our July issue but here are some details about a concert on July 5 at 8pm: Wallace Giunta, mezzo-soprano, John Brancy, baritone, and Peter Dugan, piano, will perform "A Lover and his Lass," a concert which will include music by Mozart, Schumann, Britten, Rossini, Vaughan Williams and Bernstein. Giunta is an exciting singer. She is primarily known for her work in opera: she was a member of the COC Ensemble Studio and will sing Annio in the COC production of La Clemenza di Tito in February 2013. The Ottawa concert will give us another chance to hear her in recital (she was at Music Toronto in March) at the Dominion-Chalmers United Church.
Later in July it will be time for the 2012 Toronto Summer Music Festival. The July issue of The Wholenote will provide a detailed account but here is an advance notice: the line-up includes two outstanding singers, Colin Ainsworth, tenor, and Gerald Finley, bass-baritone.
Here are details for some other events taking place in June or early July:
June 3 at 5pm: Hallie Fischel, soprano, and John Edwards, lute and guitar, will also celebrate Queen Elizabeth II's Diamond Jubilee with a concert featuring music from the time of Queen Elizabeth I, at St. Olave's Church, 36 Windermere Ave.
June 7 at 12:15pm: Marina Tchepel, soprano, and Patricia Wright, piano, will give a recital at Metropolitan United Church, 56 Queen St. E.; admission is free.
June 8 at 7pm: the Swedish Women's Educational Association will present Josefine Anderson, mezzo-soprano, and Nigar Dadascheva, piano, in a concert of music by Grieg, Stenhammar, Sibelius, Schumann, Schubert, Mendelssohn and others, at Agricola Lutheran Church, 25 Old York Mills Road.
June 8 at 7:30pm: Guy Moreau and Pamela Hyatt will present "Cabaret a la Franglaise" at The Annex Live, 296 Brunswick Ave.
June 12 at 12:10pm: the University of Toronto Community will present a program entitled "Music and Dance for Haiti." Singers include Laura Hare, soprano, and Sam Broverman, baritone. The concert takes place in the Music Room at Hart House, 7 Hart House Circle.
June 13 at 7:30pm: in a concert presented by the Danish and Swedish Consul Generals and the Icelandic Consul, the Nordic Singers (Randi Gislason and Cecilia Lindwall, sopranos; Magnus Gislason, tenor; Hans Lawaetz, baritone), who last performed in Toronto in 2012, will sing Scandinavian music, Nielsen to ABBA, at the Danish Lutheran Church, 72 Finch Ave. W. Most of the group are members of the Royal Danish Opera.
June 14 at 12:10pm: Claudia Lemcke, soprano, and Christopher Dawes, piano, will perform at Christ Church Deer Park, 1570 Yonge St.; admission is free and donations are welcome.
July 2 at 12:15pm: as part of the Musical Mondays series, Kristine Dandavino, mezzo-soprano, and William Schookhoff, piano, will perform a program which will range from Saint-Saëns to Gospel at the Church of the Holy Trinity, 10 Trinity Sq.
Postscript: As I was about to send this off to the publisher, I read the sad news of the death of Dietrich Fischer-Dieskau. It was my good fortune that I heard him twice in concert in the early 60s: once with Elisabeth Schwarzkopf, once in a program that consisted of the complete Mörike Lieder by Hugo Wolf. He has left a very extensive legacy of recordings. I particularly prize his 1955 performance of Schumann's opus 39 Liederkreis and his 1971 performance of Schubert's Die Winterreise, both with the incomparable Gerald Moore.
Hans de Groot taught English Literature at the University of Toronto from 1965 until the spring of 2012, and has been a concert-goer and active listener since the early 1950s; he also sings and plays recorder. He can be contacted at artofsong@thewholenote.com.