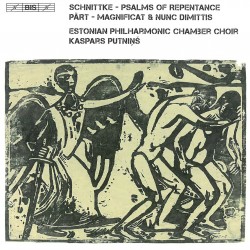 Schnittke – Psalms of Repentance; Pärt – Magnificat & Nunc Dimittis
Estonian Philharmonic Chamber Choir; Kaspars Putnins
Bis BIS-2292 (bis.se)
In the final years of his life Alfred Schnittke became increasingly interested in religious music and in the relationship between his music and the Russian orthodox tradition, both religious and musical. The Psalms of Repentance, which date from 1988, consist of 11 penitential psalms followed by a final wordless humming movement. Some movements are intensely dramatic; others are more lyrical. It is to the latter kind that I found myself especially drawn. The Russian poems which Schnittke set are anonymous; they date from the 16th century. The central narrative event to which the work alludes is the murder of the youngest sons of Grand Prince Vladimir by their brother in 1015, but many of the psalms are penitential in a more general way.
The Schnittke work is complemented by two shorter works by Arvo Pärt, both in Latin: the Magnificat (1989) and the Nunc Dimittis (2003). Both are very moving. The very fine Estonian Philharmonic Chamber Choir has performed in Toronto several times and many readers will have heard the choir in concert. The choir was founded in 1981 by its first conductor Tönu Kaljuste and has, since 2014, been led by Latvian conductor Kaspars Putnins.