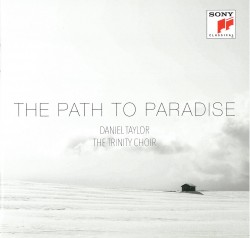 The Path to Paradise
The Trinity Choir; Daniel Taylor
Sony Classical 19075801822 (theatreofearlymusic.com)
The Trinity Choir was founded in 2015 by countertenor and conductor Daniel Taylor. It is a chamber choir (with, on this recording, 32 singers); they sing a cappella. The centre of their repertoire is the 16th century (Thomas Tallis, John Sheppard, Orlando di Lasso, William Byrd, Nicolas Gombert) but they make a point of also including more modern works. This recording includes the Miserere of the 17th-century composer Gregorio Allegri (much the most familiar work on this disc) and Arvo Pärt's Magnificat and Nunc Dimittis (which coincidentally appear on the Estonian Philharmonic Chamber Choir's 2017 Schnittke/Pärt release, also recently reviewed by me for The WholeNote).
Most of the singers are young and at the beginning of their career, although several, like the soprano Ellen McAteer and bass-baritone Joel Allison, are beginning to make a name for themselves through their participation in other choirs. The singing is very fine throughout. I was particularly taken with Gombert's Media Vita with its long melodic lines.