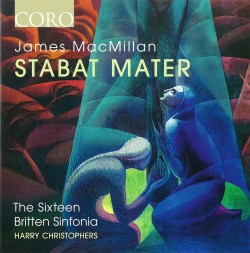 James MacMillan - Stabat Mater
The Sixteen; Britten Sinfonia; Harry Christophers
CORO COR16150
James MacMillan gained his early prominence with the orchestral piece The Confession of Isobel Gowdy. Since then he has generally been recognized as the leading Scottish composer of his generation. He is a Roman Catholic in a largely Protestant country. Sacred music has always been central to his creative work. In the last half decade he has developed a close relationship with the outstanding chamber choir The Sixteen (conducted by Harry Christophers). This CD gives us a sense of that collaboration. The Stabat Mater is an anonymous 13th-century Latin poem that depicts the Virgin Mary at the foot of the Cross and proceeds to meditate on her sorrow and appeals to her as an intercessor with her son.
There have been a number of previous attempts to give musical shape to the text. The versions by Josquin and Pergolesi are especially notable. On this CD the hymn is given in the form of the Medieval plainsong. The following four tracks give us MacMillan's elaboration. It is a brilliant work, dazzlingly performed by the full choir, the soloists (all of them members of the choir) and the accompanying chamber orchestra, the Britten Sinfonia. In a prefatory note in the CD booklet, Christophers ranks MacMillan as one of the three great composers of religious music, along with Victoria and Poulenc. If one is only looking at the Catholic world, it is hard to disagree with that.