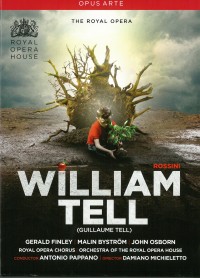 Rossini – William Tell
Gerald Finley; Malin Byström; John Osborn; Royal Opera Hous; Antonio Pappano
Opus Arte OA 1205 D
I first heard William Tell in the spring of 1972, in Florence. That production was billed as the first complete performance since the 1830s. It was clear where a major problem lay. The principal tenor role is long, loud and high. Nicolai Gedda, who was Arnoldo in 1972, had totally lost his voice by the last act.
Since then performances have become more frequent (in Toronto we recently heard a concert performance by the Turin opera) and singers are more able to cope with the demands that their roles impose. It is also notable that, whereas the 1972 performance had been in Italian, companies are now giving it in French, the language in which William Tell was composed.
John Osborn has no trouble with the notorious tenor part, while Gerald Finley is magnificent in the title role. A blot on the 1972 performance was the soprano who sang Mathilde, the Habsburg princess. Malin Byström is much better but her high notes are shrill and unpleasant. There are good performances from Eric Halfvarson as the patriarch Melcthal, from Sofia Fomina in the travesti role of Tell's son and from "our own" Michael Colvin as a very unpleasant army commander.
The DVDs come with a booklet and an interesting essay by Jonathan White, who argues convincingly that the opera is primarily about the occupation of the land and the enslavement of its citizens. That emphasis finds physical expression in a prominently displayed uprooted tree, an emphasis that is reinforced by the excellent chorus.