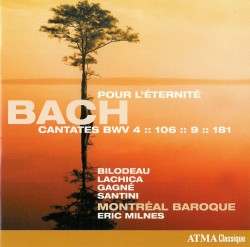 Pour L'éternité: Bach – Cantatas 4; 106; 9; 181
Bilodeau; Lachica; Gagné; Santini; Montréal Baroque; Eric Milnes
ATMA ACD2 2406 (atmaclassique.com)
This CD contains recordings of four cantatas: two very early ones, composed when Bach was working in Mühlhausen (including the earliest one, the beautiful funeral cantata Gottes Zeit ist die allerbeste Zeit, and two later ones which date from Bach's Leipzig period. Two things stand out: firstly, that following the theories and the practice of Joshua Rifkin and Andrew Parrott, the choral sections are sung by the soloists one to a part (which is probably historically correct and produces a real gain in clarity) and secondly, that the soloists are all young singers at the beginning of their careers; they were the winners of a competition held in 2014.
Tenor Philippe Gagné is the only one whom I have heard in concert. He is very good and so are the other three: Odéi Bilodeau, soprano, Elaine Lachica, alto, and Drew Santini, baritone. I found the baritone especially impressive.
In the 18th century it was expected that instrumentalists could play more than one instrument. Here we find that that practice is not entirely obsolete: Margaret Little plays viola and viola da gamba, Susie Napper plays cello as well as viola da gamba, Mélisande Corriveau plays cello and recorder and Matthew Jennejohn plays both oboe and cornetto.
There are now a number of complete recordings of Bach's cantatas. Montréal Baroque has never presented their cantata recordings as a complete cycle but I hope that is what they will become.