Monteverdi – Vespro Della Beata Vergine
Various Soloists; Monteverdi Choir; London Oratory Junior Choir; His Majestys Sagbutts & Cornetts; English Baroque Soloists; John Eliot Gardiner
Archiv Produktion 479 7176
The Beauty of Monteverdi
Various Artists
Deutsche Grammophon 479 7193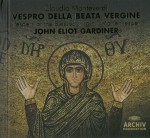 John Eliot Gardiner first heard the Monteverdi Vespers when still a schoolboy: over the radio in a performance from York Minster conducted by Walter Goehr. When Gardiner was an undergraduate at Cambridge, he himself conducted the work, in 1964, in the great Gothic chapel of King's College. It must have seemed to him that here was a great work comparable in scope to Bach's B Minor Mass, yet totally different. Gardiner was also concerned with moving away from what he saw as the bland English choral tradition which sacrificed dramatic vitality to blend and purity of sound. His first recording of the work came in 1974 and is still available. It uses singers like Jill Gomez and Philip Langridge who were in no way connected with the emerging Early Music Movement. Gardiner's second recording, now under review, followed in 1989. The third recording, available as a DVD only, was released in 2016. It was recorded in the Chapelle Royale in Versailles. (I reviewed it in the April 2016 issue of The WholeNote.)
The 1989 recording, now reissued both as CDs and a DVD, was recorded in the spectacular space provided by St. Mark's Basilica in Venice. The DVD fully explores the basilica's architecture, its mosaics and its sculpture. There is no clear record that the music was originally performed there or anywhere else in Monteverdi's lifetime. There is now a critical consensus that its first publication (in 1610) does not represent a proposal for an actual liturgical performance but instead constitutes material on which Monteverdi wished to be judged. It may well be on the strength of the 1610 publication that Monteverdi was offered the prestigious post of Maestro di Cappella at St. Mark's three years later.
The performance is spectacular with rhythmic vitality and precision and with great dramatic emphases. The singers include soprano Ann Monoyios (who has given us so much pleasure in the past in Toronto), tenor Nigel Rogers and, surprisingly, a very young bass-baritone Bryn Terfel. For vitality it will be hard to beat this reissue, but there are now a number of fine recordings. If you prize what has been called "lyric intimacy" over dramatic vitality, you might explore the versions conducted by Savall or Christie, Parrott or Alessandrini.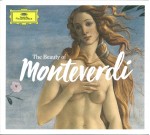 The other CDs reviewed here constitute an anthology of parts of Vespers, several of the operas and a selection of the Madrigals, the Scherzi musicali and the Selva morale e spirituale compiled to honour the 450th anniversary of Monteverdi's birth. Much of the singing is very fine, and the solos by Anne Sofie von Otter and Magdalena Kožená alone are worth the price of admission. This kind of anthology clearly offers limitations, and I would hope that hearing these would spur a listener to explore the works from which they are taken.