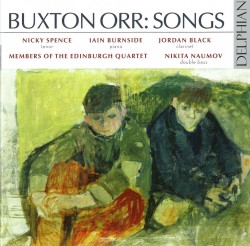 Buxton Orr – Songs
Nicky Spence; Iain Burnside; Jordan Black; Edinburgh Quartet; Nikita Naumov
Delphian DCD34175
The works of the Scottish composer Buxton Orr (1924-1997) were not previously known to me. That is clearly my loss as the songs on this recording are attractive and show an interesting range. The disc opens with a lush setting of a lush poem by James Elroy Flecker. It then progresses to settings of early Scottish poems by Blind Harry, Dunbar, King James I, Robert Burns and John Skinner before turning to the comic worlds of Edward Lear and the Cornish poet Charles Causley. The record then ends with a group of six songs, Songs of a Childhood, again set to Scottish texts. There is an informative essay in the accompanying booklet (by Gary Higginson) but the reference to Burns is misleading. Higginson writes that the words of Tibby Fowler were collected by Burns but it is the tune that is traditional and Burns wrote the words himself (though they may incorporate some traditional elements).
These are all tenor songs and the singer, Nicky Spence, has an attractive lyric voice. He is also sensitive to the different demands of the various songs. There are small accompanying ensembles; the pianist (Iain Burnside) and the clarinetist (Jordan Black) are especially good.