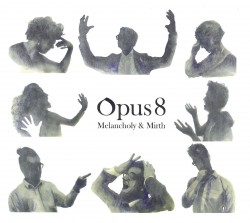 Melancholy & Mirth
Opus 8
Independent OPUS001 (opus8choir.com)
Review
Opus 8 is a new Toronto ensemble. This is their first disc. The ensemble consists of eight singers and it is directed by Robert Busiakiewicz, who also sings tenor. Busiakiewicz is the director of the choir of St. James Cathedral in Toronto and a number of the singers in Opus 8 are members of the cathedral choir.
Great care has been taken on this disc to provide songs from different periods. The oldest is Josquin des Prez's great elegy on the death of Johannes Ockeghem; the most recent is a folk-song arrangement by Keith Roberts, who was born in 1971 (when I myself was in my early 30s). In between we have Renaissance madrigals (Thomas Weelkes and John Ward), part-songs by Delius and Parry and 20th-century works by Ravel and Schoenberg, Stockhausen and Maconchy. There is also variation in the number of singers employed: the three Ravel songs take the form of a duet between mezzo and tenor; the Stockhausen sets a soprano soloist against the choir.
Different listeners will like different things. I myself could do without the Martinů with which the disc opens. On the other hand, I was very moved by How are the mighty fallen by Robert Ramsey, an early 17th-century work, perhaps an elegy written on the death of Prince Henry, the British Crown Prince. I was also much taken by Elizabeth Maconchy's piece on the burial of a dead cat, sad and skittish at the same time.
The performances are very fine in terms of rhythmic precision and purity of intonation. I look forward to the group's next concert and their next CD.