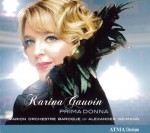 Prima Donna
Karina Gauvin; Arion Orchestre Baroque; Alexander Weimann
ATMA ACD2 2648
The soprano Karina Gauvin has an extensive recorded repertoire which ranges from Purcell in the 17th century to Britten in the 20th, but it is the music of Handel with which she is most closely associated. She has performed in the recording of three complete operas (Alcina, Ezio and Ariodante) as well as in a solo recital and a recording of duets from Handel's oratorios with Marie-Nicole Lemieux.
The decision to centre a recording on one of Handel's singers is not new. In 1996 Harmonia Mundi brought out a collection of four discs, each of which contained music composed by Handel for specific singers: the soprano Francesca Cuzzoni, the mezzo Margherita Durastante, the castrato Il Senesino and the bass Antonio Montagnana. The disc under review is, however, the first recording to centre on Anna Maria Strada del Pò. It contains six arias by Handel with the addition of one piece by Vivaldi and another by Leonardo Vinci.
There have in recent years been a number of recorded anthologies of baroque arias, by Handel and by others, but this disc ranks with the best: Gauvin is equally at home with the coruscating swiftness of "Scherza in Mar" (from Lotario) as with the sustained pathos of "Verdi piante" (from Orlando). For some years much music from the opere serie by Handel and Vivaldi has been available but it is good to see that a not so well-known composer like Leonardo Vinci is beginning to get his due.