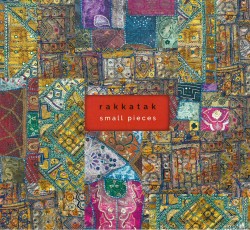 Small Pieces
Rakkatak
Independent RA017 (rakkatak.com)
Toronto tabla player Anita Katakkar founded Rakkatak as a solo project in 2009. Abetted by a laptop and sequencer, hers was a mix of classical Hindustani music and electronica performed with a pop-music aesthetic. For Small Pieces, Katakkar invited into the studio bassist Oriana Barbato, sitar player Rex Van der Spuy who's been playing sitar in Toronto since 1989, plus eight guest musicians. Collectively they represent a cross-section of what has been tagged the Toronto Gharana – local musicians pursuing music rooted in the classical Hindustani tradition. The larger ensemble on the album also effectively broadens Rakkatak's aesthetic focus to embrace a more inclusive sonic palette.
Of mixed Indian and Scottish ancestry, Katakkar noted that "I heard plenty of Indian music growing up from my grandmother." She began studying tabla with the Toronto Tabla Ensemble's Ritesh Das, and later in California and Kolkata with the pre-eminent tablist Pandit Swapan Chaudhuri. As she matured as a creative musician Katakkar found she "had stories to tell." Eesha's Song, track five on Small Pieces, featuring the sitar of Joanna Mack and violin of Jessica Deutsche, was meant as an elegy to a friend's daughter who passed away much too young. In it, Katakkar's tabla solos "were inspired by running up a big hill and barely being able to keep up, sort of like Eesha's heart."
The album closes with Riffing on 9, a solo for Katakkar, bringing the album back to her early career working with just tabla and laptop. It's a stripped down salute to the Asian Underground movement that initially inspired her on her fascinating creative journey.