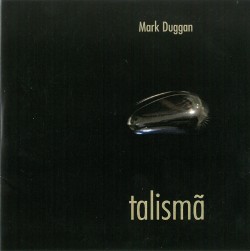 Talismã
Mark Duggan
Independent (markduggan.com/talisma)
Percussionist Mark Duggan demonstrates his wide-ranging abundant musical talent in this project rooted in the Brazilian styles of samba, bossa nova and choro. Be it as a composer of four tracks, arranger of six Brazilian classics, and lead and chamber performer throughout, with outstanding musicians Louis Simão, contrabass and accordion, and Marco Tulio, violão (Portuguese guitar), Duggan's understanding of vibraphone intricacies, compositional form/style and listening skills create music for everyone to enjoy, regardless of one's stylistic preferences.
The trio plays the covers with respect and intelligence. Astor Silva's Chorinho no Gafieira opens the recording with an upbeat happy start, thought-out vibraphone lines, good instrumental balances, and a simple yet colourful middle section. Antonio Carlos Jobim's Triste has slight dynamic modulations and clear phrasing with the violão chords and contrabass keeping the faster vibes part grounded to the final Jobim chord. Duggan's compositions are great. In his Above the Rain, the hypnotic two-note accordion start, with up-and-down melodic lines, is followed by vibraphone runs, which at times double and contrast the accordion chordal swells and staccato notes. Irresoluto is slightly more atonal yet rooted in rhythmic/melodic tradition, while Shifting Sands features a relaxing more traditional vibes melody with background bass groove, and instrumental dialogue throughout. Duggan's firm grasp of the samba form in Samba des Nues is heard in its contrabass/violão rhythmic opening, florid lines and slower ending.
Perfect production values complete Duggan's smart, nuance-abundant, Brazilian music-flavoured release.