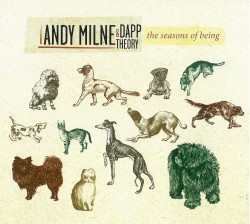 The Seasons of Being
Andy Milne & Dapp Theory
Sunnyside SSC 1482 (andymilne.com)
Following his battle with prostate cancer, gifted composer and pianist, Andy Milne determined to channel the concepts of homeopathy (which he had utilized in his recovery) into a new kind of musical synthesis. This manifested into a fascinating, largely improvisational project for his long-running ensemble, Dapp Theory. During Milne's recovery, his illuminations surrounding the relationship of musical "one-ness" and physical healing, morphed into a Chamber Music America commission, presented here as Seasons of Being. One aspect of Milne's intent was to compose for the individual musicians in his ensemble, in non-restrictive ways that would allow them to grow, explore and also function as an integrated creative organism.
Joining Milne on this recording are his venerable bandmates, Christopher Tordini on bass, Kenny Grohowski on drums, Aaron Kruziki on woodwinds and John Moon on vocals. Also taking part is an array of talented guests, including Ben Monder on guitar, Ralph Alessi on trumpet and Christopher Hoffman, cello.
The CD kicks off with Surge and Splendor – a rhythmic and spoken word foray (perfectly attenuated by Grohowski's drums) which fearlessly probes the rich embroidery of life's components, finally segueing into a woodwind bubble from Kruziki that surrounds the entire ensemble – like a healthy, plump cell – bursting with creativity and life force, exemplified by Mondor's vibrant guitar solo, and lovely, diaphanous cello work by Hoffman. Also of special profundity is The Guardian, featuring Alessi's gorgeous trumpet.
One need not subscribe to the practice of homeopathy to resonate with this heady recording, because no one can dispute the healing power and collaborative magic of music.