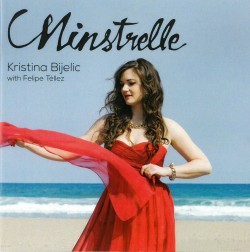 Minstrelle
Kristina Bijelic; Felipe Tellez
Independent (kristinabijelicvox.com)
This imaginative project is not only a tour-de-force for the female voice and a celebration of a distinctly feminine journey (hence the title), but it is also the manifestation of the creative partnership between Toronto-born, multilingual, genre-fluid, classically trained vocalist and lyricist Kristina Bijelic and noted Colombian composer and orchestrator, Felipe Tellez. The six evocative, brilliantly produced, original compositions presented here, embrace a variety of ethnic influences and cultural motifs as well as elegant and poetic English, Spanish and Serbian lyrics written by Bijelic. The infusion of Tellez's stirring orchestral arrangements (performed by the Budapest Art Orchestra) are nothing short of magic.
Of special note is the opening track, On the Horizon. The spaciousness of the composition seems to symbolize the intoxicating lure of travel, of taking the first steps of an irresistible journey. Bijelic's rich, sonorous alto voice is as resonant as a fine cello, and like a cello, it is a pure conduit for the expression of the deepest emotions. Also stunning is Enamorarme de ti (Falling in Love with You). Based on a traditional Spanish bolero, the Latin rhythmic elements and complex, contrapuntal moving string lines transport the listener into a romantic idyll.
Near the end of the album's journey is the jazz-influenced Wandering, which is perhaps the most cinematic composition on the CD, bringing to mind the Film Noir of the 1940s and 50s, and Devajačka Pesma (Girl's Song) is a total delight. Traditional Balkan motifs, chord progressions and instrumentation, as well as the dynamic vocal by Bijelic, make this particular fusion of musics not only original, but thrilling.