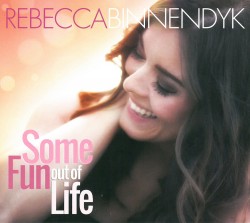 Some Fun Out of Life
Rebecca Binnendyk
Alma Records RBM63052 (almarecords.com)
Review
Emerging Canadian jazz/pop-influenced vocalist/composer Rebecca Binnendyk has fired her opening professional salvo with an impressive and eclectic collection of standards from the Great American Songbook, contemporary pop tunes and original compositions. Equally impressive are her chosen collaborators, including exceptional producer/engineer John "Beetle" Bailey and yeoman musicians of her core group, Attila Fias on piano, Kevin Laliberte on guitar, bassist Drew Birston, drummer Davide Direnzo and dynamic percussionist Rosendo "Chendy" Leon. The tasty arrangements are credited to pianist Steve Wingfield, vocalist/keyboardist Don Breithaupt and pianist/composer/arranger (and Elton John alum), Charles Cozens.
Thankfully, no gratuitous, uninformed scat singing will be found here – but what the listener will happily find is a pure, appealing vocal instrument, interesting musical choices, and a refreshingly forthright skill with the interpretation of a lyric – whether that lyric emanates from her own tunes, Tin Pan Alley or the mind of Jon Bon Jovi.
As a composer, Binnendyk contributes two gorgeous offerings here: Stars, inspired by the untimely passing of troubled music icon Amy Winehouse, and also the inspiring Live Now. Additional standouts include the zesty title track (featuring a historically correct, depression-era arrangement) and Corinne Baily Rae's mega-hit, Put Your Records On. Presented here as a horn-infused, soulful anthem of youth and longing, this performance works – whether sung in Waterloo, Ontario or Manchester, U.K. Another gem is a moving take on Joni Mitchell's Night Ride Home, which features the masterful William Sperandei on trumpet.
The eloquent closer is Charlie Chaplin's Smile – simply presented – crystalline, classic and without artifice, not unlike a mine-cut diamond solitaire.
Concert Note: Rebecca Binnendyk launches "Some Fun Out Of Life" with performances on March 18 and 19 at the Jazz Bistro.