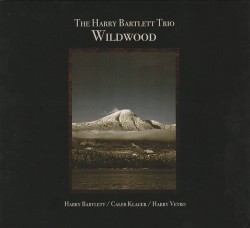 Wildwood
Harry Bartlett Trio
Independent (harrybartlettmusic.com)
Harry Bartlett, an accomplished jazz guitarist and composer with a music degree from the University of Toronto, has played in festivals and venues across Canada and has also toured public schools to provide improvisation workshops. Although currenting living and playing in Toronto, he grew up in the Pacific Northwest and the music for Wildwood was composed while living on Gambier Island (approximately 50 km northwest of Vancouver). Titles like Snowfall on Sword Ferns and Circle of Moss and Fire Smoke evoke the landscapes which inspired Bartlett's music. Wildwood was recorded over three days on that same Island.
All the tunes have an atmospheric quality that is enhanced by the trio's empathic playing. Burgess Falls is hauntingly melodic, and the guitar work combines a Bill Frisell-feel with a few country-ish riffs. Sailing Over Troubled Waters features a distorted and atonal guitar line along with swirling and bashing drums to mimic an occasionally violent storm. Wildwood is an engaging and beautiful album with Caleb Klager (bass) and Harry Vetro (drums) providing nuanced support to Bartlett's superb guitar work.