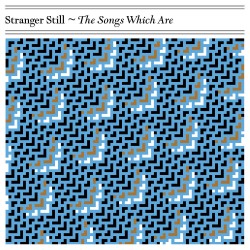 The Songs That Are
Stranger Still
All Set! Editions AS016 (all-set.bandcamp.com)
First gaining recognition as a jazz bassist/composer, Pete Johnston has gradually revealed other facets of his creative imagination. Stranger Still is a song project, a quartet devoted to settings of the distinguished Maritime poet Alden Nowlan (1933-1983), like Johnston once a resident of Hants County, Nova Scotia. Johnston plays acoustic and electric guitars and banjo here and occasionally sings as well, along with the clarion principal singers Mim Adams and Randi Helmers and bassist Rob Clutton.
For the group's second Nowlan collection, Johnston continues to refine his art, continuing to develop an idiom that falls principally in a British folk tradition, but which has expanded its range to suggest medieval plainsong along with touches of the richer harmonic vocabulary of jazz. There's a fundamental affinity between Johnston's music and Nowlan's poetry, a clarity and direct address with subtle nuances of diction and musical phrasing that continually surprise. Nowlan's poetry can comfortably set a mythic theme in a commonplace home: in I, Icarus the narrator explains, "My room was on the ground floor at the rear of the house." In the instrumental introduction to the opening Snapshot, guitar and bass fuse into a single instrument. Johnston occasionally augments the quartet in surprising ways, adding organist (and singer) Andrew Killawee to bring substantial power and depth, notably to The Bhikku, adding cathedral-like grandeur and harmonium wail to an Eastern theme.
Johnston is developing as distinctly Canadian an art-form as one might conceive.