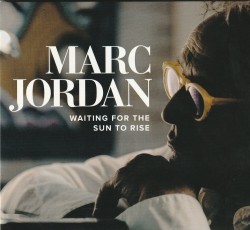 Waiting for the Sun to Rise
Marc Jordan
Linus Entertainment 270730 (marcjordan.com)
Marc Jordan is a member of a very small, select group – Canadian artists who have garnered recognition and success beyond our borders and represented Canada on the global stage with their skill, originality, artistic integrity and creativity. Jordan's latest release, which was produced and arranged by Lou Pomanti and co-produced by Jordan, is yet another shining example not only of Jordan's gifts as a poet, composer and musician, but also of his ineffable taste and understanding of the essential need for human communication through the arts.
The majority of the 12 tracks here were written by Jordan in collaboration with Pomanti, Steven MacKinnon, John Capek and Bruce Gaitsch – with a few treats from Jimmy Webb, Tears For Fears, Blue Nile's Paul Buchanan and Pomanti. The irresistible project kicks off with The Last Buffalo, which features lush, contrapuntal strings and segues seamlessly into Best Day of My Life – a moving romantic ballad, lovingly rendered by Jordan and featuring a sumptuous trumpet solo by the iconic Randy Brecker. Coltrane Plays the Blues invokes Jordan's famous "after-hours netherworld" zone.
The inveigling title track is both visual and potent – a song in search of a film – and Rio Grande explores the damage that has been done to Mother Earth, as well as an invitation to BE the change, as we measure our hope against the eco crisis at hand. Other tasty delights here include the soulful Tell Me Where it Hurts, Jimmy Webb's The Moon's a Harsh Mistress, performed with Jordan's distinctive, sensitive style, and the luminous arrangement and performance of Buchanan's The Downtown Lights. In short, this is a triumph of a recording from a world-class artist, performing at the peak of his skills – rife with creativity, talent and insight.