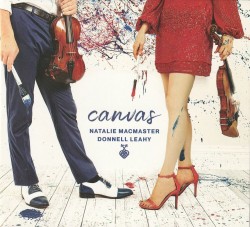 Canvas
Natalie McMaster; Donnell Leahy
Linus Entertainment 270787 (natalieanddonnell.com)
Natalie MacMaster and Donnell Leahy have long been considered Canada's reigning power couple of Celtic music. With their latest project (released on St. Patrick's Day) the virtuosic fiddle duo expands the boundaries of traditional Celtic modalities by embracing global sounds with the help of diverse, world-class guest artists, framed with innovative, contemporary arrangements. Many of the 13 tracks here have been penned by MacMaster, Leahy and co-producer, exquisite guitarist, Elmer Ferrer.
The opening title track is a pulsing wall of sound, parenthesized by thrilling segments of MacMaster and Leahy's masterful fiddle work, which seamlessly segues into the dynamic, Colour Theory featuring Brian Finnegan on both flute and Irish whistle. Other delights include the joyous Dance Arnold Dance, which incorporates a fine horn section, and Woman of the House which features noted Celtic vocalist Rhiannon Giddens, who dives deep into the emotional history of the Irish and Scottish settlers in Canada, and both the joy and pain of their exile.
Iconic cellist, Yo-Yo Ma, brings his soulful presence to So You Love – a diaphanous, heart-rending and deeply moving ballad performed here with perfection, displaying a sinuous string trio of Ma, MacMaster and Leahy. Additionally stunning is the addition of Josemi Carmona's flamenco guitar on both Galicia and Caramelo, which celebrates the deep, ancient Celtic connections in Spain, and The Laird O'Bemersyde where MacMaster and Leahy's fiddles and ensemble literally weep with longing. A truly inspired recording guaranteed to move even the coldest heart.