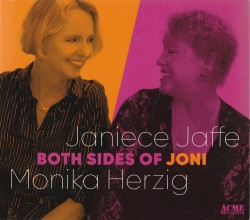 Both Sides of Joni
Janiece Jaffe; Monika Herzig
Acme Records JM001 (acmerecords.com)
There is no question that Joni Mitchell is a member of a small coterie of artists who have contributed to the very ethos of 21st century music itself (in all of its splendid diversity). Mitchell's synesthesiac blendings of unconventional melodies, chordal structures and contemporary poetry have touched our hearts and minds, and it's the eclectic nature of Mitchell's work that has lent itself to a variety of tributes. With this posthumous release from award-winning vocalist Janiece Jaffe and pianist/arranger Monika Herzig, Mitchell's work is interpreted with a fresh, jazz-oriented perspective, which includes stalwart performances from noted jazz artists Greg Ward on saxophone, Jeremy Allen on bass, Carolyn Dutton on violin and Cassius Goens on drums.
Included in this compelling recording are Herzig's innovative arrangements of Mitchell's most commercially successful songs, as well as some lesser-performed gems. First up is Help Me, which features a melodious, a cappella sax intro which then segues into a rhythmic, swinging musical tapestry replete with stunningly beautiful multi-track vocals from Jaffe. Jaffe's voice is a delight to the ear. Her clear, pitch-perfect tones embrace the melody and charge it with meaning and Goens' relentless drums and Ward's improvisational choices propel this superb track.
The title track is rife with emotional content – exploring the nature of hindsight and regret, and Mitchell's melancholy River (from Blue) has been cleverly arranged by Herzig. My Old Man is a total delight, warm and ebullient with well-chosen chord substitutions, fully embracing jazz motifs and featuring a solid electric bass solo from Peter Kienle and lighter-than-air soprano work from Ward. The Hissing of Summer Lawns is a triumph in every way – transporting Mitchell's intent to a whole new dimension of free jazz featuring an energizing piano solo by Herzig. Also of special note is The Circle Game – presented here with a profound innocence and pristine vocal. Although Jaffe died suddenly prior to this release, her vision and musicality will be celebrated with extensive tours in the U.S. and Europe featuring New York City chanteuse Alexis Cole.